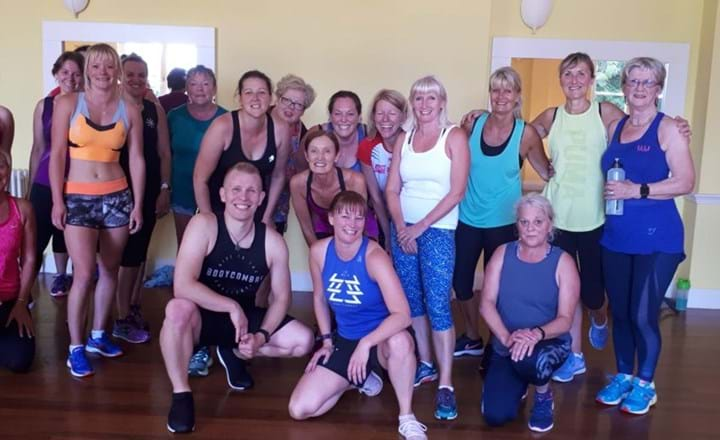 I've joined gyms before, but never stuck it out," says Becky, a regular in Hazel Davies' BODYCOMBAT™ class. "It's so rare to find a super-fit, enthusiastic Instructor who wants to share that feeling of being on top of the world. It doesn't matter what physical shape you're in when you join Hazel's class – there's no judgement, just a huge happy welcome."
Becky is just one of many participants in Hazel's class who couldn't speak highly enough of this Studio Superstar. Based in Hereford, UK, Hazel has been teaching BODYCOMBAT at Holmer Park Spa and Health club for a decade. In fact, she teaches in the very same studio in which she tried her first-ever group fitness class, 12 years ago.
"I joined the gym when I was having a difficult time in my personal life," she explains. "I was in a bad marriage, and the gym became my sanctuary, a place where I could take refuge from everything else that was going on. I started at the back of the class, and gradually progressed to the front row, then into Instructing. But I've never forgotten what it felt like to be the new person in class."
It's Hazel's empathy and welcoming nature to beginners that ensures that new people will come back to her class. She says: "I see new people sitting outside the studio with a nervous look on their faces, and usually other people are already telling them how amazing the class is! I always say hello and introduce them to the other members. I tell them, don't worry if you don't know what you're doing, just kick and punch as hard as you can!"

Her welcoming attitude translates to key results for the club. "I wasn't surprised at all to hear that you wanted to profile Hazel," says Assistant Manager Dan Phillips. "Her attendances for BODYCOMBAT this week alone are 100 per cent capacity, with a further five people on the waiting list. Hazel's next classes are typically fully booked straight after her class has just finished and in future we will look to build another studio to keep up with demand.
"We currently have over 60 classes here at Holmer Park and BODYCOMBAT is the best performing class annually – which is a real credit to Hazel. She has created a loyal tribe of followers who constantly ask me to put more of Hazel's classes on the timetable – even though we don't have space! Her enthusiasm has inspired so many of our members to enjoy fitness and to feel part of something really special."
Dan adds: "From a club point of view, we had 112 new joiners in September alone, resulting in our highest direct debit of memberships in the club's history. I know this has a huge amount to do with our instructors and classes as evidenced by the feedback we have from our suggestion box at reception.
"The returns on full classes speak from themselves – we have 60 classes a week all full, which means we are clearly doing something right. Each member is precious to us, so if you put that as your highest priority, with each member paying nearly £70 a month, that's a huge revenue driver for us."
When asked why she is still as passionate about teaching BODYCOMBAT as she was 10 years ago, Hazel is unequivocal: "It's because of my members. It's not about me. It's about seeing their confidence grow and how they can make real change in their lives because of the classes. I had this one member who came to me and she was so downtrodden and disheartened – she was really quite depressed. To see her now, you wouldn't think she was the same person, the difference is unbelievable.
"It's seeing the looks on their faces when they finally master a new move," she continues. "There'll be this point in the class where they've got it, and you give them a thumbs-up and see them beaming back at you. That's why I do what I do."
Legions of fans
For Hazel's participants, their devotion to their Instructor is what keeps them coming back to their club week in, week out. Just some of the rave reviews from her fans include:
"As soon as I got to class, Hazel made me feel so welcome. I could see immediately from the rapport she had with the rest of the class that she was someone inspirational and friendly. I spent the whole class with a daft grin on my face. When I left the gym I felt like I was walking on cloud nine."
"Hazel has an amazing way of making you work hard whilst having fun too. No matter how you feel when you go into her class, you come out smiling. Her enthusiasm is infectious."
"She always ensures everyone works to the best of their ability and notices if someone is struggling and suggests options. Her class is fun and even though I don't always feel like going, I'm always glad I did."
"Hazel is amazing! Her classes are inclusive to all and she has a magical way of getting every ounce of energy out of you!"
"She makes every single person in her class feel comfortable. She's a real asset to the gym and I hope to continue to attend her classes for many years to come. Thank you, Hazel."
It's Hazel's commitment to being inclusive that means she still has members in her class that began with her, 10 years ago.
"How you treat that new person can make or break their experience, and determine whether or not they come back," she adds. "I've been in classes before where if you're new or not in the front row, you feel invisible. That's a horrible feeling and I never want anybody to experience that in my class."
Hazel's commitment to welcoming fresh faces dovetails perfectly with her club's onboarding process, which sees the group fitness studio become one of the first ports of call for new members, helping to cement a long and happy stay at the club.
Dan explains: "Through our induction process, we put the emphasis on getting the new members to book on to classes as we know that if we get them to take part in classes regularly the member will stay long term. Our retention of members is way above the national average with over 65 per cent retention rate.
"Hazel has been key to this as she has the ability to welcome new members and make them feel at ease in their surroundings, she has created that tribal feel where they belong. Friendships and a sense of community is a massive thing for us and as this message gets out to more people we have more members join the club."
New lease of life
For Hazel, it's this passion for helping new people to fall in love with fitness which keeps her going: "If you'd told me 12 years ago that I'd be teaching group fitness now, I'd have laughed in your face," she says.
"I was sat on the sofa with a horrible husband, really depressed. But I love teaching. I love seeing that moment in class where you know they've suddenly got it – that's when they start to work harder and that's when I know they're going to keep coming back.
"From the club's perspective, they're counting on my experience, reliability, energy and my genuine enthusiasm for teaching group fitness classes. I think they expect me to retain the members I already have coming to my classes, encourage new people to try them (and also encourage them to try other classes and facilities in the club) and to ensure members go away feeling they've had a positive experience every time. It's a win-win for everyone!"