"I guess they're holograms. They're basically projected images of presenters from around the world. Projected images is probably better than holograms. We're not trying to say in any sense that the presenters were in the same studio."
Les Mills Producer Ross Peebles and Line Producer Georgia Burn are explaining the ingenious solution to the travel barriers that affected overseas presenters during the latest round of Les Mills Masterclasses.
"Obviously, COVID-19 has created massive challenges for producing Masterclass," says Ross. "When travel restrictions were initially introduced, our response was to create the United releases, which featured presenters from around the globe who filmed themselves on iPhones. We subsequently evolved this tactic with Q4."
But as it became increasingly apparent that travel restrictions wouldn't be eased anytime soon, the team sought a new approach to include the global Les Mills team on Masterclass – one that would allow them to actually present tracks, rather than simply shadow. And while filming on iPhones had worked well for the visual presentation, the quality of the audio recording was not sophisticated enough for Masterclass. "We need professional, clear, high-quality audio for a Les Mills production," says Georgia. "Unfortunately, iPhone audio recording won't work for us."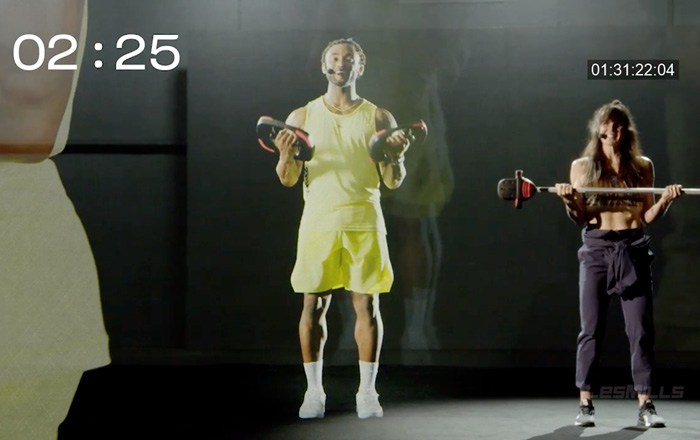 A UNIQUE APPROACH
And then the breakthrough. The team found a solution that would enable both the New Zealand and international presenters to appear on camera together – they would film the global presenters in their own countries in such a way that they could be edited to appear next to them in New Zealand.
"Our biggest challenge was creatively bringing a group of international presenters together while maintaining consistency of the class," explains Georgia. "We could have sent a camera crew out to film someone in China presenting BODYPUMP™, but then it would have looked and sounded – both from a creative perspective, but also a technical perspective – very different to what may have been filmed in Sydney or the UK. So we hit upon a coherent and consistent concept that ensured every shoot would look the same."
PROOF OF CONCEPT
The team ran tests at the end of Q4 filming to ensure the concept could be validated creatively but also by the Program Directors. Form had to follow function, so it was vital the approach stood up as a teaching tool, as well as working from a technical perspective.
"One of the challenges was making sure it worked for all programs," says Ross. "There's obviously differences between RPM™ and BODYATTACK™: one being on a stationary bike, the other using a lot more of the room. Does the creative concept work when someone's doing a ladder run on stage as opposed to sitting on a bike? Does the hologram projection work when they're lying down doing a core track, as opposed to standing squats in BODYPUMP? It's all or nothing: the concept has to work for every track in all of the programs we filmed this way [BODYPUMP, BODYATTACK, RPM, BODYCOMBAT™ and BODYBALANCE™/BODYFLOW®]."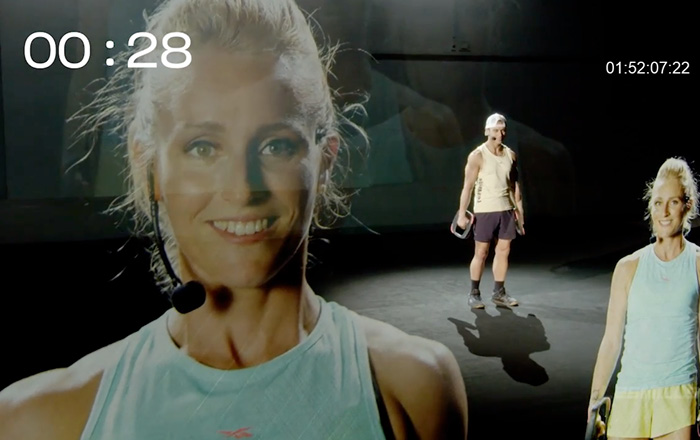 A TRULY INTERNATIONAL FILMING
Shoots were set up in London, Shanghai, Sydney and Paris, with Ross directing the shoots from Les Mills International in Auckland. "We essentially watched the shoots on a more robust version of a Zoom call," explains Ross. "This allowed us to both monitor and direct the cameras, to make sure we're getting exactly what we need. We also had Kylie [Gates, Creative Director] and the Program Directors with us to monitor the performance elements."
"We had very specific and detailed plans for all of the international shoots," says Georgia. "It was vital that all of our technical parameters were met, because once you get to the shoots, all that detail needs to be nailed down well in advance. That frees you up to concentrate on the creative filming process as opposed to the technical details. We had very detailed plans of what to use in terms of cameras and lenses, angles to capture, lighting and stage specifications, etc…"
TIMEZONE CHALLENGES AND COVID-19 RESTRICTIONS
Filming around the globe over consecutive days meant the teams faced added challenges from time zones and language barriers (with China and France).
"We were filming five days in a row, where the presenters are at the opposite ends of the earth, so what time do you film?" asks Ross. "The Paris team didn't finish filming until around 04:15am local time. It was a massive undertaking for the teams to shoot BODYATTACK or BODYCOMBAT tracks at 03:30 in the morning, wearing masks, maintaining social distancing, operating under what would have been clearly challenging and stressful circumstances at the best of times, let alone with those additional pressures as well."
Filming week occurred as Europe and the UK faced the threat of further lockdowns, meaning the teams had to be incredibly flexible and prepare for a range of scenarios.
"Everything was changing constantly – it was very unpredictable," notes Georgia. "Literally days before we filmed in Paris, France introduced an overnight curfew which caused massive issues for us. And just a few days after the shoot came a national lockdown. There were heaps of challenges, some foreseeable, some less so. We just tried to anticipate potential issues as best we could and mitigate those right from the outset."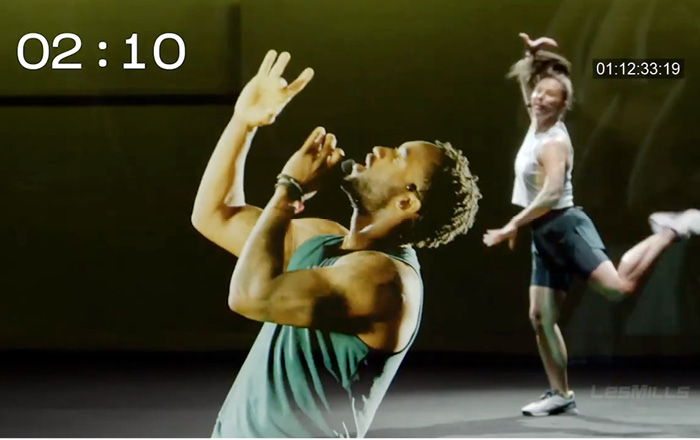 BRINGING THE HOLOGRAMS TO LIFE
Once international filming wrapped, the footage was uploaded to New Zealand for editing before the Auckland shoot – "a massive undertaking in itself," notes Ross. "We downloaded terabytes of footage from all over the world. A few years ago we wouldn't have had the technology to handle that volume of data."
When it came to filming in Auckland, the teams took the edited version of the "holograms" and projected them so the presenters could see and hear them in the studio.
"We had a special screen between the Program Director and the international presenter which we filmed through," explains Georgia. "It's Holo-Gauze which is a theatrical gauze soaked in silver oxide to make it as reflective as possible, so when an image of a presenter hits it, you can actually see them. We created an illusion of the presenters being in the studio by projecting the image onto this metallic gauze. And the New Zealand presenters can also see this image of them while they're filming their tracks."
"We're not trying to say that Washington Chishaya is in the studio with Glen during RPM," notes Ross. "We're not saying he's there, but he's a very realistic representation of himself. Obviously, you can hear him, you can see him and he looks pretty real. But, Glen will be small and Washington might be big – and then vice versa. And the angles change. It's all quite abstract, really."
Read Washington Chishaya's filming diary
A TEAM EFFORT
Both Ross and Georgia point out the filming wouldn't have been possible without incredible support and collaboration from the international teams.
"It was a real team effort," says Georgia. "And this was critical to the success of the shoot. The sense of teamwork and camaraderie was amazing, from the Training Managers in the different countries, to the presenters, to the local filming crews on the ground. Everyone was committed to doing their best. It was a challenging time for everyone, but it was also an incredibly special filming round with everyone really wanting to make it a success."
"These shoots are often complicated for lots of reasons," adds Ross. "But once you add in the international remote filming factor, pre-edited sequences and holograms, a live shoot with projected images, plus trying to ensure that everyone is in time with one another… the challenge was huge."
To foster a sense of connection, some of the teams choreographed moments where they could "interact" with their teams. "In BODYCOMBAT, for example, Dan and Rach had pre-planned where they could do virtual high fives," says Ross. "When Lunar [Lu] filmed in China, she knew where she was going to high five Dan. Once that footage got to New Zealand, Dan could then high five her projection in the filming here, so the end result is that it appears that they're high fiving one another.
"It's nothing really. It's just one little moment. But these are the kind of moments that do bring the global Les Mills team together."
Check out the highlights of the upcoming releases.