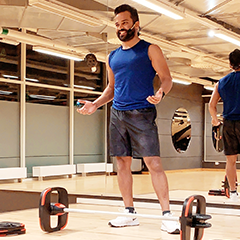 Siddhant Gupta, Sweden
I started my journey with LES MILLS in Spring 2017 as a participant in BODYPUMP to get fit and conditioned to summit the peak of Mont Blanc in July 2017. A successful summit, which I believe, was heavily accredited to me doing BODYPUMP 3-4 times a week. In 2018 and 2019, I was going through a tough phase mentally, but managing to attend the LES MILLS classes 1-2 times a week would always provide me an escape window into a realm of happiness. In 2020, fearing the lockdown will deteriorate my physical and mental health, I decided to take matters into my own hands, and take a big leap of faith in both my professional and personal life. I decided to go for it and registered for Initial Training. Since then, I have been absolutely addicted to LES MILLS.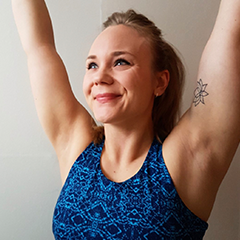 Mathilda Forsby, Sweden
At upper secondary school, I and my classmates were supposed to write a letter to ourselves that we should receive 10 years later. I remember that I wrote that I was seeing myself as an instructor, spreading the love for a healthier planet. Here I am today, still with the same love for group fitness. The movement had always been a part of my life, but after many years of individual sports, I was captured by the energy and dynamism created by moving together at the group fitness classes - without competing against each other. I also wanted to prove to myself that the shy girl who was sweating through the presentations at school had more to give. It is now almost ten years since I got on the bus to Stockholm to attend BODYPUMP initial training and I will in just a few months be sitting with the letter in my hand again. I will read the letter with incredible gratitude, not only for the career choice as a group fitness instructor, which provided me with knowledge about anatomy, physiology, and movement and led me to incredible places around the world but also for all meetings with colleagues and participants who have become friends for life. If I had the chance to write a letter back to my 18-year-old self, I would include these words: Do not be so hard on yourself. There is no predetermined role as a group fitness instructor, only you design the role. In the end, just do what you are passionate about and the rest will be solved along the way.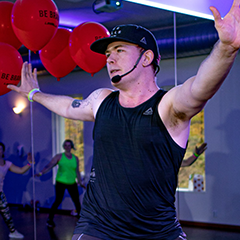 Oskari Meller, Finland
I've always been incredibly scared and terrified of presenting anything in front of people but found my path as an instructor to challenge myself. I had to step outside of my comfort zone and just do it. I started with SH'BAM without a single class of dance experience, went to training, and joined LES MILLS back in 2015. My first BODYJAM class was during my service in the army on a weekend off. I looked around the map to see if any gyms had SH'BAM and locked eyes with one that had BODYJAM instead. The instructor was lovely and release 77 was amazing. I felt happy, I felt COOL, I felt great. The joy of nailing a move, learning the routine, and then just repeating it to banging music was something that I hadn't experienced before. An hour after the class I had booked myself for the instructor training in BODYJAM. The jitters, the absolute jitters of excitement lasted all the way to the training and beyond.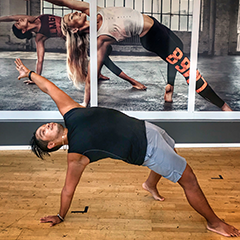 Hector Hernandez, Sweden
I fell in love with this fantastic concept in the summer of 2018, when I was a participant and for the first time tried BODYBALANCE. Something happened within me, it really touched me. It was like a gateway to my feelings went open and all my feelings came up to the surface. The instructor saw me, and she was so encouraging and pushed me to apply for instructor training. I went to initial training and after my second film, I got my license. I never thought that this shy man could stand in front of people doing what I love, showing them the magic of BODYBALANCE.
Being an instructor has helped me grow so much. At the start, it was challenging, learning to hear my own voice. I felt nervous, insecure, and scared. But each time I challenged myself, class after class. Release after release. And as my classes grew more so did my self-esteem. I started to believe in what my first BODYBALANCE instructor saw in me.
Today I feel like I am a fitness leader, doing what I love every day. I feel that I am that instructor that can inspire participants. Learning them to love what they do, to be as they are, and to do what their body allows them to.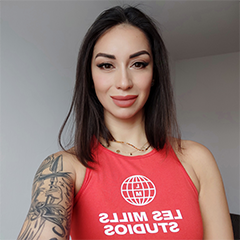 Aleksandra Stawerska, Poland
My love for LES MILLS started 7 years ago. After pregnancy, I went to a gym and during my gym floor workouts, through the window, I saw a group of people doing a BODYPUMP class. I thought to myself 'wow these people are strong, how can they lift so heavy weights?'. After I'd tried it for the first time, I didn't want to attend any other classes. I fall in love with music, energy, choreography, and the group became family to me.

After some time, I understood that I can spread this passion, this energy, and love that we are feeling further myself and become a BODYPUMP instructor. Every day I feel how people enjoy it. Every day my participants are sharing their results and success with me. I'm sure that together we really are changing lives. We improve, not only physical but mental health too. Personally, I want to do this until the end of my life.