A great instructor can bring success to a club in many ways, not only in retention but also in the experience for the members and to keep them over time. We believe that every instructor can be their best. Some examples of great instructors that inspire others is our SUPERSTAR winner's throughout the years, so we asked them a few questions and got some great tips on how to stay motivated.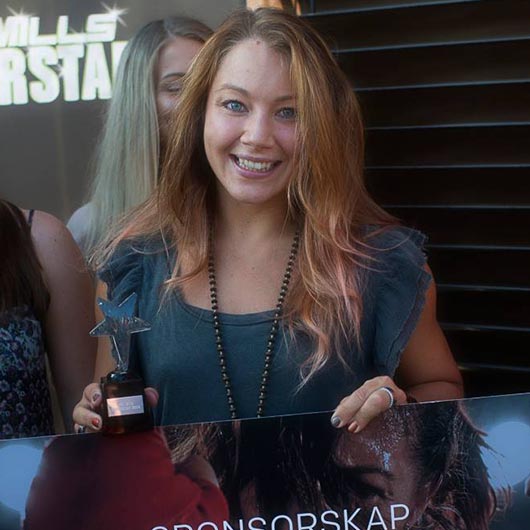 HANNA LUNDH - WINNER 2014
What made you apply to SUPERSTAR?
I saw a great opportunity for development. Since I live in a small town and had worked with group fitness for many years, I saw the benefit of getting new inspiration from others and really going outside my comfort zone and getting feedback. After all, competition is always a competition. I think I thought 'I'll apply, and we'll see what happens.

How did it feel to win?
Of course it felt fantastic! After a while when I got some distance to it, I realized that the way I do and how I do things inspires others.

What has happened after the competition?
After the competition, I got the opportunity to work as an educator and presenter for Les Mills. I am so proud to be a part of Les Mills Nordic and what we create. It has been quite a few years ago and who knows what the future would have planned if I had not participated in the competition.

Have you developed since SUPERSTAR?
Wow, hopefully a lot. I know it has developed me on many levels. I have always enjoyed working with people and I'm driven by spreading joy and knowledge. You learn a lot about yourself all the time. I have a good foundation today and I feel great and humble for the opportunity to be able to work with this.

What is your motivation today and what are you aiming for?
I would probably say that my motivation is just as great today as before, even if it's a little different.
My biggest drive is to influence people and give them something that helps them in their everyday life, no matter if it's at my club back home or if it's a bigger event. But for me, it is important to continue to develop! I use external aspects to get better in my role as an instructor and trainer. When it comes to my role as an educator and as a person, I also find a lot of inspiration from my colleagues. This is something I have really taken advantage of during the time we have been in the pandemic and our work landed in the technical sphere. All of a sudden there was an opportunity to work with colleagues from the other countries within the team, you have been able to listen and get inputs from how others work on a broader level.

Do you have any tips to keep the motivation?
It's easy to sometimes stay in your comfort zone, which is okay. Being "all-time high" every workout, every week can break you down, and make the motivation disappear. I know I thought a few years ago, that every workout would be the absolute best I could perform! To me, that doesn't work. It's important to know that I'm doing a good job even if I don't perform on top every time. To be humble against that feeling keeps my motivation and I know that I'm good enough as a person. I also have days when I'm feeling on top, and I can just follow my plan for my classes and these classes are magical. For me, it is still my "Why" that keeps my motivation. Why I do what I do, every class, every week, for years. That's not about me, I'm there for my participants even if it's a class or an education.

What tips would you give other instructors who want to develop and take "the next step"?
The first thing I think about is: WHAT is the next step for you? I had probably specified what my strengths are as an instructor, and in what areas I could develop, and take it from there. Would a new concept help me broaden? Very likely! If I'm really good at creating a lot of energy in my classes, could I then develop my knowledge of the body and all its functions to broaden the dimensions of my classes? Then an external training within the body would be a great complement to upskill myself. Or, as we always talk about during our educations or Advanced Trainings - Film yourself and evaluate yourself or ask a colleague to evaluate you. What I do know is that nothing will happen just by thinking the thought. Action is needed!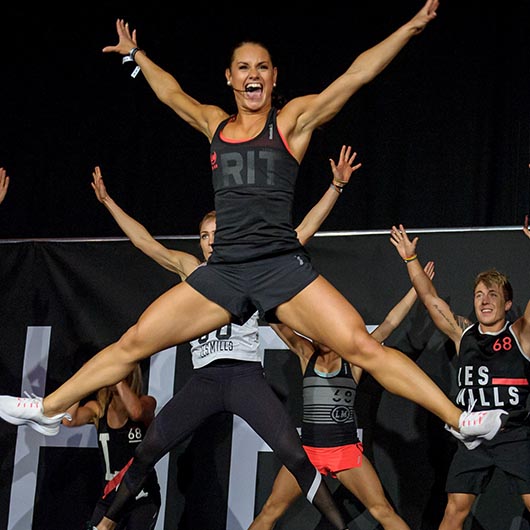 EMELIE OROSZ - WINNER 2015
What made you apply to SUPERSTAR?
I had seen an article about it and got a little curious, thought it might be a fun thing to do. Did not know much about it or what it fully meant but then I was on a quarterly training with Michael Steenhouwer and after that training he sent a message and asked if I had applied and then I felt that "of course I should apply! ".

How did it feel to win?
It actually felt unreal. Had never thought it would go so well and did not go in with the attitude from the start that I would win but I saw it more as a fun thing and a challenge. During the competition, it felt like a dream to win, but a dream that if it ever happened, probably would happen later, since it was my first time in the competition. I was so shocked when they said I won but of course also very very happy.

What has happened after the competition?
It has meant a lot, I would like to say that I am so grateful for everything I have experienced. I've had so much fun! From presenting on big stages, master class filming in the globe, various events, training trips, photoshoots, sponsorships, new friends, colleagues and also being a part of in the Nordic trainer team, so that first place was so much more than just that.

Have you developed since SUPERSTAR?
I would like to say that I have developed enormously since SUPERSTAR. Both in the role of coach and trainer but also on a personal level. SUPERSTAR made me be brave enough to challenge myself and to believe in myself. For me, SUPERSTAR was the start to of step outside my comfort zone.

What is your motivation today and what are you aiming for?
Today I work fully with exercise and health and my motivation is to make others feel good, stay healthy and strong and to be brave and to develop and be challenged and become the best version of themselves. I'm also aiming to become the best version of myself, keep myself and my body healthy and strong, and to continue to develop on different levels and step into new and larger roles career-wise, in training and health.
Do you have any tips to keep the motivation?
Find your why. Why you do what you do and for whom. Make sure you find something that gives you energy, that makes you feel meaningful every day with what you do. But also dare to stop sometimes and see what you do and change path or direction if necessary.
What tips would you give other instructors who want to develop and take "the next step"?
Do not hesitate. Throw yourself out and dare to step outside your comfort zone. You have nothing to lose. Relying on your own abilities and taking help from others that you see can help you develop and dare to take the "next step". Trust the process, enjoy the journey and don't forget to have fun on the way.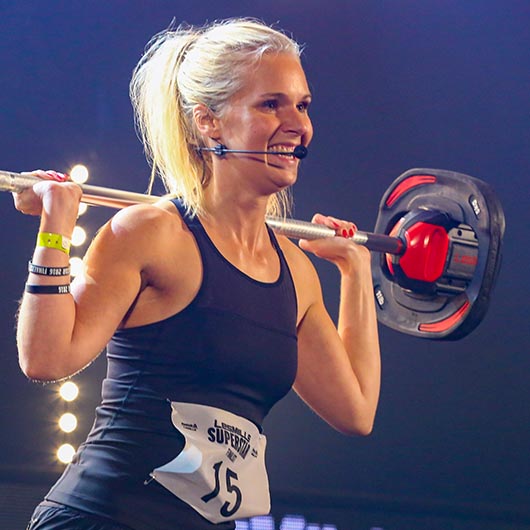 OLIVIA LUNDKVIST - WINNER 2016
What made you apply to SUPERSTAR?
The first time I participated in 2015, it was my boss who secretly nominated me. Until the following year, I felt a curiosity about how far I would go based on the development I made as an instructor during the year. So in 2016 I applied myself while my boss also secretly nominated me.

How did it feel to win?
Fantastic! So fun! Couldn't believe it. Of course, I had thought the idea that I could win but probably don't really want to believe that it was possible, there were so many talented competitors in various programs. So was probably a little shocked when Micke said my name as the winner in the final.

What has happened after the competition?
This has partly created the opportunity to start working as a Trainer for Les Mills Nordic. For me, it also showed me that if you want something and work for it, it's not impossible.

Have you developed since SUPERSTAR?
I have developed in many ways since SUPERSTAR. Above all, I have become more confident in myself. Have previously mostly been able to see the things I want to improve in my teaching and technique, and there has not given room for what I do well. While today I am more confident in my strengths and with a sense of curiosity, I take on what I can develop.

What is your motivation today and what are you aiming for?
My motivation today is the opportunity to inspire to physical activity and create fitness magic and continue to develop.

Do you have any tips to keep the motivation?
Set a clear focus. It can be going to an Advanced Training, deepening the knowledge in a subject or work on the technique for some exercise. I have worked a lot with my squat technique over the past year and it's fantastic to bring those learnings into the group fitness classes to help participants get better in their technique and get even more out of the workout.

What tips would you give other instructors who want to develop and take "the next step"?
Be Brave. Stepping outside the comfort zone is uncomfortable, a little scary and nervous, but if you feel curious about developing, be brave.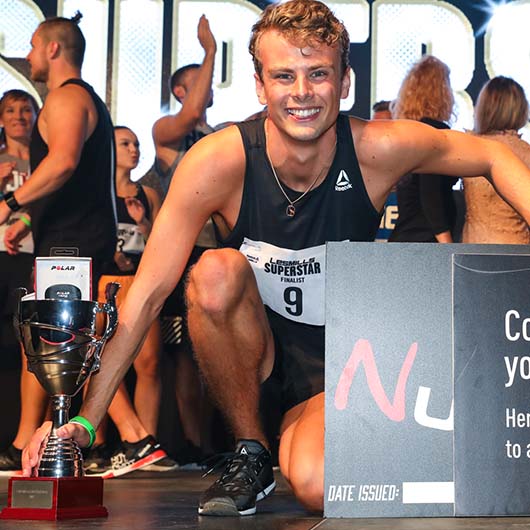 FELIX TRANA - WINNER 2017
What made you apply to SUPERSTAR?
I applied to SUPERSTAR because I wanted to challenge myself as an instructor, I wanted to learn from others, and I wanted to take the next step in my instructor journey. After all, SUPERSTAR is such a fun experience and a cool "circus" to be a part of - so that alone is enough as a reason to apply, I think!

How did it feel to win?
When Michael called out my name as the winner of Les Mills SUPERSTAR 2017, the happiness was overwhelming, I couldn't believe that it was true. I had worked so hard to become a better instructor, not only for SUPERSTAR but because I really wanted to develop - when I won, it felt like every second I put into that was worth it.

What has happened after the competition?
Superstar has given me so much! I think the biggest thing I bring with me from SUPERSTAR is all the new friends and experiences I have gained from being in the competition. I got to be part of the Fitness Festival, the launch of BODYATTACK 100 and was inspired by so many SUPERSTARS and instructor colleagues.

Have you developed since SUPERSTAR?
When I won SUPERSTAR, I had not written a word. I knew my cues for a Side-flick and that there are three layers and as many rounds. I went up and presented Felix Trana, and it obviously went home! It became an insight for me, it's not about being perfect by the book, presenting YOU and YOUR personality as it is - something I work with for every release and every class I run! How can I make this class as personal as possible?

Do you have any tips to keep the motivation?
Remember why you are teaching! And if you forgot it along the way, ask yourself "Why do I want to do this?". It's so easy to forget why you spend so much time getting better, stronger and pushing yourself to deliver classes week after week. If you do it for someone else than your participants, it's much more difficult to keep your motivation.

What tips would you give other instructors who want to develop and take "the next step"?
- Go Advanced training to get professional help and what to do to reach the next step in your instructor journey.
- Visit other classes to see what you do differently, is there something your instructor colleague does that might unlock a new level for you?
- Be brave and ask for help! Ask for feedback on your classes of participants, colleagues and other Les Mills instructors. It's so easy to get stuck in old paths that you not even know you are in.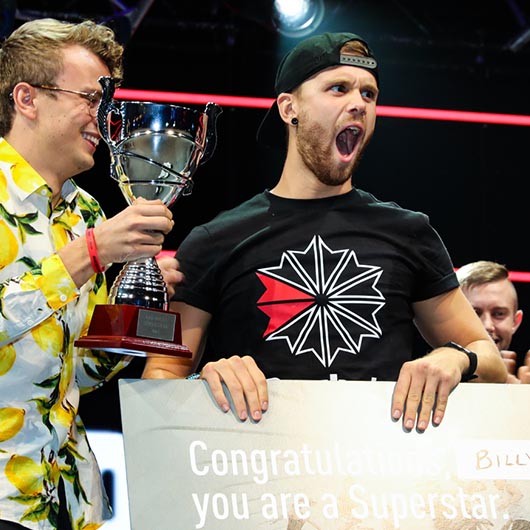 BILLY MAGG - WINNER 2018
What made you apply to SUPERSTAR?
I applied to superstar to show off my skills and get feedback to work with and become even better. It is a very exciting competition, and you meet so many talented instructor colleagues that you can get inspiration from.

How did it feel to win?
It felt completely unbelievable! I was so happy and honored to be in the final in the globe so I never thought I would win the whole competition. It was a big shock but of course it felt amazing. I was awake at the hotel room all night with an adrenaline rush.

What has happened after the competition?
Winning has really meant so much! The first place has really opened so many doors. Everything from being able to inspire other instructors at home to having the chance to become a trainer for Les Mills Nordic and work with education, further developing new and experienced instructors. A dream I had for a long time.

Have you developed since SUPERSTAR?
I have developed in so many different ways. Competing in SUPERSTAR has given me lots of confidence and the spark to continue working with my own teaching skills to become even better. I have become braver as a person thanks to SUPERSTAR.

What is your motivation today and what are you aiming for?
Today, I mainly aim to be the best trainer I can become. Get the chance to have Initial trainings, quarterly workshops, present at events and meet other instructors who share my passion. And a dream for the future is to present at a masterclass filming, that would be cool.

Do you have any tips to keep the motivation?
To keep your motivation, you need to be hungry for more. Want to learn more and spend the time needed, for example go to Quarterly workshops, mix the playlist, film yourself to get feedback. I have learned that the best motivation is the one you give yourself. Then a good workout buddy that you can share the passion for group fitness is always wonderful to have too.

What tips would you give other instructors who want to develop and take "the next step"?
Just go for it! What are you waiting for? There are so many opportunities to take the next step.
Go to an Initial Training in a new program or Advanced Training to develop yourself even more in your role as an instructor. Do what YOU are passionate about, and think is fun. The sky is the limit!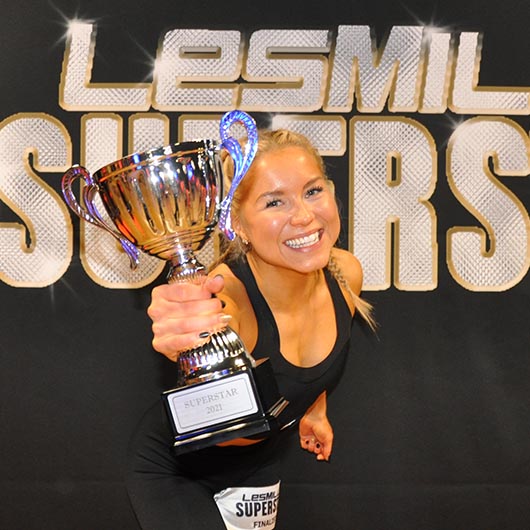 JEMINA LAITINEN - WINNER 2021
What made you apply to SUPERSTAR?
SUPERSTAR has been my dream for many years, but it took me quite a long time to have the courage to apply. During the last two years, I made the decision, that next time it's my time to do it and apply. The story about applying is, that when the information came out about SUPERSTAR on Instagram, I sent the posts to my dear friend, who is also my supervisor, and ask him if I will apply, would he help me. His answer was "I have already nominated you". So, it was totally decided.
I am a goal-oriented person and I want to develop myself all the time, so SUPERSTAR is a great way to go very deep into your own instructing and thinking about your own skills and strengths. It was a challenge I wanted to take, be brave and apply.
How did it feel to win?
When you have had a dream and have been working hard for something, which might feel even unreachable, and succeed, it feels amazing! I feel so grateful to have this opportunity and all the support I got during the process. Grateful, wordless, honored, and amazing, that is how I feel.
What's your motivation and what are you aiming for?
As a group fitness instructor and fitness coach, my goal is to help people to achieve their goals, inspire them to live a healthier life and enjoy it!
I have got so much inspiration and courage during my group fitness journey and grow both as an instructor and as a person. Group fitness has also helped me through difficulties when I have had hard times in my life. My true will is to share the inspiration and motivate others to grow and succeed, even through the hard times.
Do you have any tips to keep the motivation?
Have a goal to go forward to. It is important to have a goal that makes you inspired, excited, and work hard. When you have a goal, which is in line with your values and makes you motivated, your journey is both meaningful and fun! When you have set your goal, make a plan for how to go towards it. You can set a bigger, long-term goal, and then set smaller short-term goals into it. In that way you can take smaller steps towards your goal, and it does not feel that your main goal is too far away. Remember to celebrate always when you achieve your goal!
Another thing to stay motivated is to surround yourself with inspiring, motivating and supportive people. They can be also role models or mentors. We are very small alone, but together we are powerful! There are always times when you might not believe in yourself, so you need those people who believe in you also in those times you don't. Also, those people make your life and journey much funnier!
What tips would you give other instructors who want to develop and take "the next step"?
I believe that anything good and amazing doesn't come easily. If you want to develop yourself, you need to step out from comfort zone. It causes work, but it is worth it. Don't be afraid of that. We are here to learn.
When we are talking about LM SUPERSTAR, I hope that every instructor would experience that event! That supportive, involved and excited atmosphere is inspiring and unique!
There is no right or wrong way to do things, and it is not too soon or too late to take the next step and develop. If you want to take it, just go for it! You won't regret that you take the step forward and develop. Enjoy the journey!