BODYATTACK™ 114: LISA OSBORNE
Presenters: Lisa Osborne, Rawiri Hirini, Mandi Jones, Josh Farmer
What a happy and fun release BODYATTACK 114 is! Designed to lift our spirits and energy, you and your participants will be smiling from start to finish.
There's a great mix of music this round, with old-school classics, dance and latest chart hits.
Sing along to Ice Ice Baby and experience the soaring highs of the Running track, Summer Rain. The trumpet music for the Strength track, Tromba, is a cool sound which provides great musical contrast. You can even get some pirate feels in with the last Power peak – Wellerman!
The Bow Tie Run is BACK in Track 3 Aerobic, and we have a new arm line in Track 5 Athletic Strength to increase the activation of our triceps. There's a big focus on glute recruitment in Tracks 4, 5 and 10 – particularly in the lunges – to increase our fitness for everyday life.
A highlight of this release is the Agility track. The music has a fun 'swing' style feel and accompanying moves to play with. There is a Speed Curl and Knee combo that was inspired by the traditional island dances from here in New Zealand.
Track 8 is the first time we've used an LMA for this track – a Les Mills Artist. That means the song was specifically written for BODYATTACK, pretty cool!
Love you all – thank you for being a part of the BODYATTACK family. Remember: movement is medicine. Energy from me to you.
Lisa
BODYBALANCE™/BODYFLOW® 94: JACKIE MILLS AND DIANA ARCHER MILLS
Presenters: Diana Archer Mills, Joash Fahitua, Fraser Beck
We LOVED making this release! Right now, we are back in lockdown in New Zealand, but when we made this, we were in a wildly flowing creative space – the intergenerational collaboration was epic! Even Luna [Diana's daughter] joined in the choreography sessions for a while.
The class opens with a short Yoga Warmup which can be used as a prelude to Tai Chi. From there we move into Sun Salutations, where we use breath and movement to create warmth and opening. You'll love the 3-Legged Down Dog to Lunge and the Twisted Kneeling Lunge.
We have two Standing Strength tracks this round. The first (3A) uses hip stretches to enhance the standing poses for strength and length. The second (3B) keeps the strength growing with a Warrior 3 Lunge, allowing your participants to explore the progression of the freedom and length around the ribcage and side body.
In Balance we play with duality in the poses, feeling rooted down to the earth while simultaneously lifting and lengthening upwards. Feel the release in Hip Openers, where we use breath and acceptance to sustain the poses – included Wide Legged Forward Fold and Modified Half Lotus.
We build incredible strength for our abdominals with Planks and Shootouts, before activating the back of the body with Iguana Pose Sequence, Bow Pose and Bridge Pose.
We continue to try to balance the class between being modern and emotive, whilst slowing down and creating space for us all to stretch how we need to.
Lots of lockdown love
J&D
BODYCOMBAT™ 89: DAN COHEN AND RACHAEL NEWSHAM
Presenters: Dan Cohen, Rachael Newsham, Antoine Sagne, Erin Maw, Natasha Vincent
The Warm-Up sets the tone for this release with Like Ah Boss! It's the perfect opening to the workout that leaves you feeling empowered and unleashed.
Once we're warm, it's straight into Kickboxing and Karate with a Track 2 that is high energy, low complexity and motivational. There's an option of a Jump Knee for those who really want to get their heart rate up! Then we're into Track 3: a fast-paced Boxing track with only two combinations to train speed and power.
The real drama of the release sits in Track 4, with huge builds in the music to create anticipation and excitement. The feature moves of this track are the Breaking Boards Challenge and the Evasive Side Kick.
Track 5 is an MMA-inspired circuit track designed to build strength and muscular endurance with upper body work, while Modified Sprawls increase our cardiovascular fitness. We follow this up with an incredible Capoeira-inspired Track 6, which introduces a movement pattern new to BODYCOMBAT: a combination of a 45-degree Pivot turn into a Front Kick.
A short track with simple moves allows participants to simply let go and experience the intensity of Muay Thai. Finally, Track 8 is an all-out endurance, massive boxing track to end the workout on a high!
Keep it real and stay with the fight!
Dan & Rach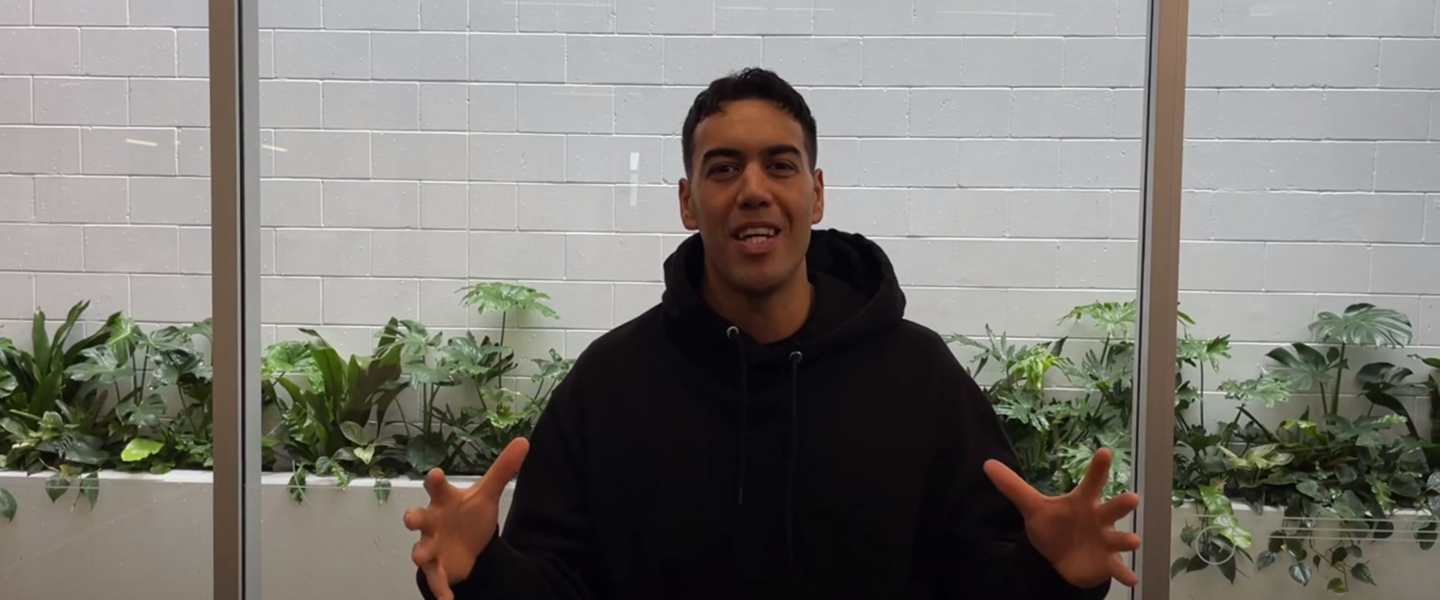 BODYJAM™ 98: GANDALF ARCHER MILLS
Presenters: Gandalf Archer Mills, Meno Thomas, Bianca Ikinofo
BODYJAM 98 is going to have you watching it being like WAIT… REALLY? And then you're going to dance it and you're going to be like WAIT… REALLY?? And then you're going to get on stage somewhere and teach it to your members and they're going to be like WAIT… REALLY??!!??
Well, I am here to tell you – Yes… Really!
Track 1, I'm not kidding, is the Macarena, but you've never felt it in your love parts like this before.
Track 2, you've got to push your butt in all directions – forwards, back, side-to-side. Once again, your love parts will be A-OK with all of this.
Track 3 takes us into Hip Hop Light It Up with stunning vocals, thundery drops, and so many feels. Afro, Hip Hop, Moombah, it's got it all. You are going to love that Whack Together combo – complex but mixed with the right amount of repetition and style.
The recovery track Kilometre is a stunner, chill, smooth and a vibe for your life to vibe to.
Then the second block is like WAIT… REALLY…
OK, OK, OK, if you have never heard this track Fuji Opener (I literally doubled it for you – it's so good) your dance life is about to take a step up into a whole new world 'Princess Jasmine' style. Supernatural is huge and gorgeous… Bassgod is huge and HUUUUUUGE (I don't even know what genre of music this is anymore?) and then there is this thing called Wave.
Wave is the sound of Singularity. Wave is the sound of power and beauty. Wave is where my passion for music found itself. Wave is huge, loud and hypnotic. Wave is here for your ear holes.
Wave is the sound of Singularity.
Singularity is the sound of BODYJAM.
Wait… Really?
G
BODYPUMP™ 119: GLEN OSTERGAARD
Presenters: Glen Ostergaard, Diana Archer Mills, Kylie Gates, Vili Fifita, Khiran Huston, Ben Main
BODYPUMP 119 is here with a fantastic mix of sounds and some new innovations to keep the workout fresh! The glute focus from last round continues in 119 – this time with emphasis on the lunges.
The Warm-Up is a cool song and gives us the opportunity to practice the Front Squat as well as the Push-up with Glute Raise that appears in the Chest Track (that's right – push-ups in the Warm-Up!)
The Front squat is back again in Track 2! We hold it for a longer set than in Release 118. Be sure to offer your participants the option to go lighter at the start of the track, or to take weight off before they perform the Front Squat. This is a fantastic move to dial up the intensity and increase the demands on our core. Be sure to offer your participants the choice of the Front Squat and demonstrate at least a few reps, even if you then go back to the Back Squat. This is a great way to give our participants autonomy over their workout.
The Chest track is heavy and driving. The barbell builds strength, the push-ups build body weight strength and the leg lifts activate the glutes and stabilize the core.
Our Back track is beautiful, with all the basic lifts and a Power Press kicker to increase the heart rate.
The Triceps track is tough! We have a new narrow grip to recruit more of the chest. Combined with push-ups, your arms will be shaking by the end of this one! This is before we have fun (and yes, we can have fun in BODYPUMP!) with an old-school classic in the Biceps track.
Lunges bring in maximum glute activation with the dynamic Pulse Stepping Back Lunge and static lunges. We also get to go heavy on our barbells for short sets of squats.
The Shoulders track is huge. The Arnold Presses strengthen and stabilize the shoulder joints and the Rear Deltoid Flys feel amazing. Magic! The Core track is insane – the hardest one to date. It is a complete workout on its own.
I truly hope you enjoy this workout. It is a "little piece of heaven".
Glen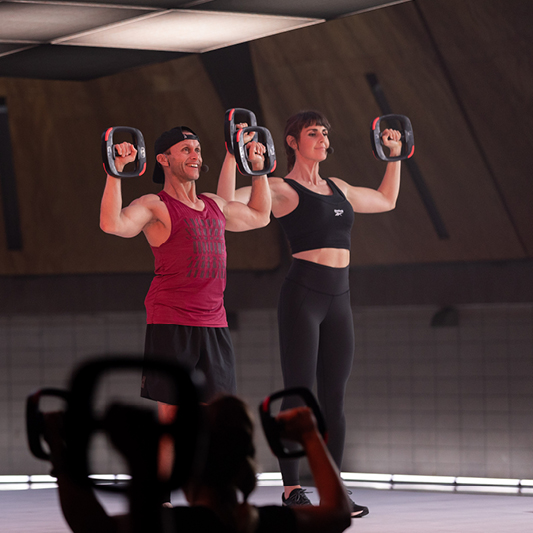 BODYSTEP™ 125: MARK NU'U-STEELE
Presenters: Mark Nu'u-Steele, Lisa Osborne, Kaylah-Blayr Fitzsimons-Nu'u, Martine Matapo-Kolisko
It's fresh and scorching hot! Welcome to BODYSTEP 125.
This feel-great workout kicks off with a welcoming Warm-Up to Get Together, where we can celebrate the re-opening of clubs worldwide, re-connecting with our workout buddies again.
We continue to warm our stepping muscles with rhythm in Track 2, and also create a simple and fun BODYSTEP TikTok dance to Dance Dance (The Mexican).
Next up, get ready to strike a pose and sass it up in Peak 1 to Strut, and then we cross train in the Mixed Strength track with Straddle Jumps, speed work and Bear Crawls.
We hit a big Peak 2 with lateral training and Split Shuffles, and then bring in some weighted strength training in Conditioning 1 to Rotate.
Whether you're a Friday or Saturday night-person, get ready to raise the roof in the Party Step to Friday!
Check out the new Broad Jump Burpee in the Athletic Circuit, before we hit Peak 3 feeling energized, happy and healthy to the banger Good 4 U. Conditioning 2 is next, with a strong focus on triceps, glutes and obliques. Finally, we get to celebrate our efforts as we stretch out to We're Good.
LES MILLS CORE™ 43: CREATIVE TEAM
Presenters: Diana Archer Mills, Corey Baird, Antoine Sagne, Otto Prodan
The power and strength of LES MILLS CORE release 44 has arrived. Whether you're brand new or a seasoned pro, this workout is guaranteed to take your core strength to the next level!
Once we've warmed and primed our muscles with 17, we're straight into a challenging Track 2. Hovers and Split Leg Extensions help train pelvic stability so we can generate more force through the powerful muscles of the quads and glutes.
Track 3 has a cool sound with Turn Down for What and we utilize thoracic rotation through the Woodchop to train us for everyday activities such as golf, tennis and swimming. Your butt will love you for the isolated glute work in Track 4 with Single-Leg Squat Kickbacks. Prepare to feel the burn!
Track 5 has a circuit-style format with three distinct rounds of oblique exercises. The side body will be on Fire! Finally we develop strength and endurance for our backs with Horse Stance, Skydivers and Back Extensions.
In addition to the 45-minute format tracks this round, you also have a Bonus Track 6. What's not to love!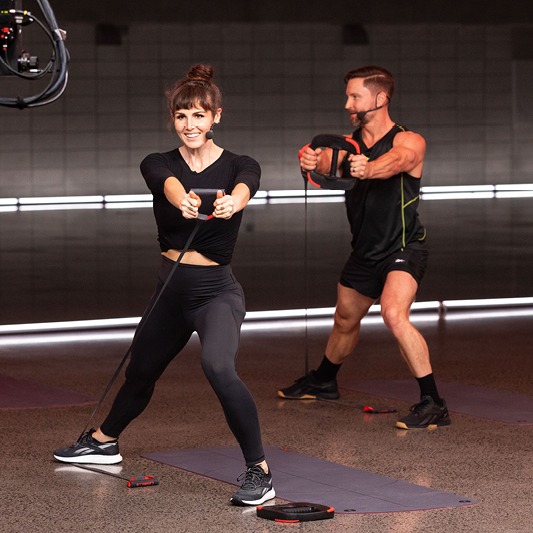 LES MILLS GRIT™ 38: CREATIVE TEAM
Presenters: Erin Maw, Ben Main, Des Helu, Pei Aui, Melissa Siegel
LES MILLS GRIT 38 is 30-minutes jampacked with goodies! It opens strongly with an epic Warm-Up and ladder challenge, before exploding into short, sharp bursts of intensity with rotating Tri-Sets. We then wrap it up with a ladder challenge which will guarantee participants to sweat and be challenged. Trust us, the music this round is pure fire!
GRIT Strength 38 features super-challenging moves such as Plyo Push-ups, Single-Arm Plate Snatches and a 2-minute ladder of Deadlift High Pull, Clean & Press, Burpee. In Cardio you'll see classic moves, such as Power Lunges and Burpee Tucks, mixed in with new moves Plank Skip and Crossover Block Jump. We love the mix of complex moves to challenge alongside simplicity of structure to ensure we're hitting maximum intensity every class.
LES MILLS GRIT Athletic 38 is combined with GRIT Cardio this round and the entire workout is fire from start to finish! Expect multiple 30-second and 1-minute intervals consisting of 10-second bursts of intensity. Blending speed and power keeps the energy up and the sets feeling fresh and fast.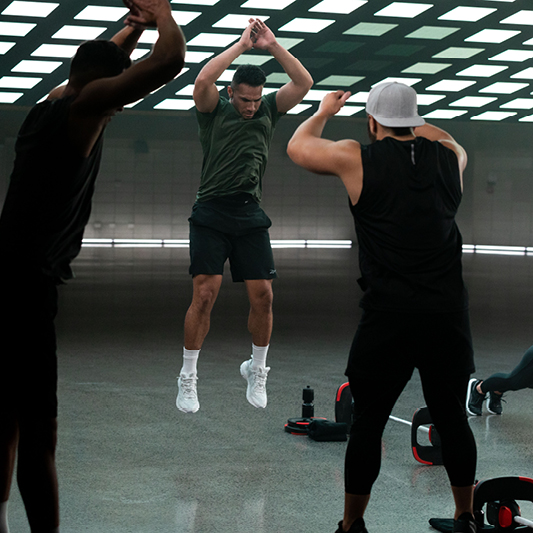 LES MILLS SPRINT™ 25: GLEN OSTERGAARD
Presenters: Glen Ostergaard, Khiran Huston, Tommi Wong
SPRINT 25 is designed to push your anaerobic fitness to the next level!
As always, the music in this release is absolutely banging and the workout is a classic pyramid structure. Once we've completed our Accelerated Warm-Up, we're straight into extended Power Endurance. We then move into a mixed Tabata track, where your class will be challenged through 8x Sprints and Standing Power efforts.
The peak of the pyramid is Strength, where we switch up the training stimulus with a Heavy Load. From there, we work back down the pyramid with Mixed Tabata and Power Endurance. The sting in the tail is a final Time Trial! For just under 5 minutes, you'll challenge your participants to sustain their intensity by staying on the beat. We promise, your legs and lungs will be screaming!
LES MILLS TONE™ 15: CREATIVE TEAM
Presenters: Erin Maw, Khiran Huston, Vili Fifita, Kaylah-Blayr Fitzsimons-Nu'u
We are so excited about this release! Following on from LES MILLS TONE 14, we introduce an improved format that encompasses what TONE is: a class where our participants can build from being exercise beginners all the way through to their version of the ultimate athlete. TONE is all about enhancing optimal athletic power using a combination of Cardio, Strength and Core while still giving our participants the freedom and choice to dial up or dial down the intensity.
So, what can you expect in TONE 15?
First, we warm up to a classic song with a new-school feel, focusing on mobilization through the posterior chain. In Steady State, we prepare for the work ahead by using lateral movement patterns and speed footwork to prime the muscles and lift the heart rate.
Peak 1 Cardio: say hello to our brand-new move, the Typewriter Burpee! Peak 2 Cardio focuses on running movement drills to improve your skills, before Peak 3 Cardio takes our heart rate through the roof via athletic jumps with a TONE twist.
Resisted Cardio keeps the heart rate high using rotational power and explosive Squat Jumps. Our Dynamic Cardio Core is so good we don't even need plates this round as we continue to explore rotational power, using the tempo to create the ultimate resistance.
Resisted Balance is smooth and offers the ultimate workout for our stabilizers. Lower Body Strength showcases another new move to TONE: the Offset Squat. We love unilateral movements for strength and longevity. Next up is Upper Body Strength with a circuit-style feel to maximize our workout. Functional Core Strength is simple moves to banging beats. Finally, we work Glutes and there's nowhere to hide with everyone's favorite: Banded Clam Shells! We finish on an upbeat note with a luscious Stretch.
Diana, Erin and Khiran x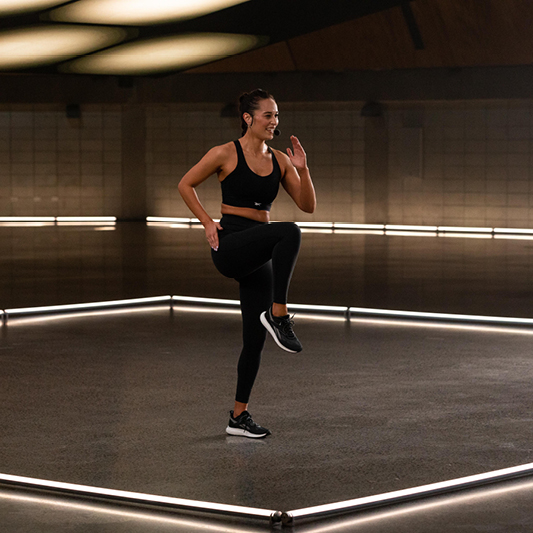 RPM™ 92: GLEN OSTERGAARD
Presenters: Glen Ostergaard, Mandi Jones, Otto Prodan
RPM 92 is another epic release! With a great blend of music genres – pop, rock, dance and electronic – there's plenty of lyrics for you to connect with and create an incredible experience for your participants.
The overall ride is challenging yet fun. Hook into the different emotions generated by the individual tracks and connect your participants to the contrast in feeling. The release is quite an 'easy to coach' workout providing we deliver the basics of PRP effectively to our members. There are several fast transition tracks, so again the importance of providing clear PRP cues will help your class to achieve the right intensity and feel successful.
"Riding the resistance" is the key focus of RPM 92, building on the theme of RPM 91 where we worked largely on riding under pressure. The presenting team emphasized clear coaching explanations of resistance: what it should feel like and what happens to the intensity when using it correctly. Enjoy watching the Masterclass for some great examples to inspire your own classes!
SH'BAM™ 45: CREATIVE TEAM
Presenters: Gandalf Archer Mills, Grace Stevens, Cameron Holland, Maddie Gilbert, Bianca Ikinofo
SH'BAM 45 has arrived and let me tell you, it has most definitely arrived in style! Our journey starts with the iconic Nice For What and includes more epic tunes such as Boom! Shake The Room, Pop, Beggin', Don't Say It and the party ends with Disco Inferno.
The moves are simple, stylish, seriously cool and most importantly – FUN! Grab your friends, hit the dance floor, turn up the music and just dance!
THE TRIP™ 27 – A K O S
Presenter: Chris Richardson
With this release we wanted to suspend reality for the briefest of moments and take more of a nostalgic journey, hence the heavy reference to the 70's – fuzz rock, festivals, and freedom!
The name is derived from the Greek word Zodiakos and the stellar references – in all sense of the word – are scattered throughout our journey.
Starting on the coast, we quickly get a feel for speed before we head inland to a festival and beyond. The desert can do strange things to people and it's here we encounter more magic.
After a ride that leaves much to the imagination, we find ourselves back on the coast, but let's be honest, things will never quite be the same.
To enhance the feel of freedom, we created a workout focus that allows riders to adjust their Resistance and Pace in a way that suits them best. This empowers riders to dial their intensity up or down and it supports the inclusive attitude we promote in THE TRIP.
The workout itself has a great mix of long flowing blocks as well as athletic jumps and surge sections to keep the heart rate lifted and the vibes high. There are plenty of challenges for those wanting to push themselves and can be easily scaled for all fitness levels.
Promote your classes on social with these new filters and posts!