den 20 mars 2017
THE LES MILLS STORY
Every Olympic athlete aims high and wants to be the best in their field. Our founder is a four-time Olympian who always sets big goals. Les Mills Snr started his first gym in Auckland, New Zealand in 1968. Now, nearly four decades on, LES MILLS™ workouts are loved by millions and available in clubs and gyms all across the planet.

Fitness is literally in our blood. Les Mills Snr was not the only family member to represent his country in sport. His wife Colleen, daughter Donna and his son Phillip (now our CEO) all wore the silver fern as national athletes of New Zealand.
Phillip joined the business full-time in 1980 and immediately began to create innovative ways to motivate people. Not afraid to take risks, Phillip and his mates from the entertainment business were the first to create group workouts driven by the beat of modern music. Those early aerobic programs drew queues down the street and Phillip could sense the real power of group fitness.
In 1990 we changed the game by adding barbells to the studio with the original PUMP class. Massively popular in Australia and New Zealand, we knew it was a winning formula. In 1997, it was renamed BODYPUMP™ and our crew of road warriors took it to the world.
Les Mills International was born.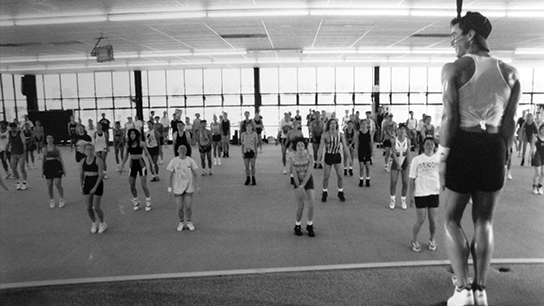 Since then, we've kept designing workouts that inspire people to get results. Our yoga-based BODYBALANCE™ and RPM™ cycle class both took off in popularity. Next up was BODYCOMBAT™, our combined martial arts and fitness workout. We've just grown from there and you can now find our 13 fitness programs in fitness clubs in every corner of the globe.
We refresh the music and moves in all our workouts every three months to keep motivating our tribe and stay ahead of the game. This innovative approach is not confined to group exercise.
To sustain a fitter planet, we need to inspire the next generation with new experiences.

Our On Demand online subscription service now gives people unlimited access to their favourite LES MILLS workouts from anywhere, 24 hours a day.
Our new Les Mills BORN TO MOVE™ classes are designed to set young people up with a lifelong love of physical activity.
The user-friendly LES MILLS SMARTBAR™ and LES MILLS SMARTSTEP™ are improving the way we exercise through better function and design.  
With our good friends at Reebok we're now designing co-branded clothing and footwear.       
If this isn't enough, we're turning everything you knew about group fitness upside down with our revolutionary new concept of IMMERSIVE FITNESS™.
And will we stop there? Hell no.