BE PART OF LES MILLS' FILMING MAGIC
Every quarter, for every program, Les Mills creates the ultimate group fitness experience. The Les Mills quarterly filming classes are not to be missed. Make sure you're in the loop with the upcoming filming schedule by checking out the info below.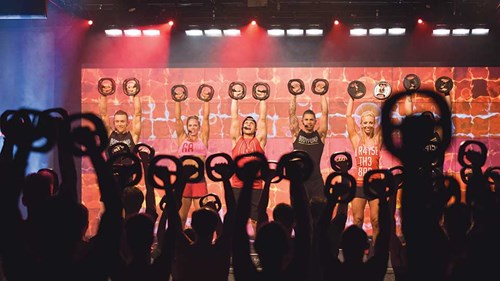 Les Mills quarterly filming brings together the world's best instructors, the freshest music and the latest choreography. With hundreds of participants we create a massive buzz of energy, inspiration and motivation. Then we capture it all on film. It's this footage that's provided to our 130,000 strong instructor tribe to educate and inspire them to take their classes to the next level.
Les Mills filming is an experience like no other. If you want to be part of the action check out the details below. 
FILMINGS IN 2017
There are no more filmings in Auckland in 2017. But if you are visiting the gym before Dec 31st, you can purchase your casual pass here. 
FILMINGS IN 2018
January Filmings will take place in Auckland, NZ. At this time, we are looking at filming between Feb 3rd and 5th, 2018, but those dates are subject to change. We aim to open the ticketing platform on Dec 1st, but we can keep you in the loop: simply click here to sign up for our newsletter
A casual pass will be required to visit the Les Mills Auckland clubs. Passes for January-March 2018 will be available for purchase from December 2017.
Information about other filming periods in 2018 will be posted on this page at a later time
PLEASE NOTE: that you may be recorded or photographed in the course of the filming classes. Les Mills International Ltd owns the copyright in these recordings and images and may use them globally in connection with its business (including in Les Mills exercise products and marketing materials). By participating in this class you acknowledge and consent to this use. If you do not wish to have your images used in this way, please make yourself known to one of our production staff and we will do our best not to film or photograph you.