BE PART OF LES MILLS' FILMING MAGIC
Every quarter, for every program, Les Mills creates the ultimate group fitness experience. The Les Mills quarterly filming classes are not to be missed. Make sure you're in the loop with the upcoming filming schedule by checking out the info below.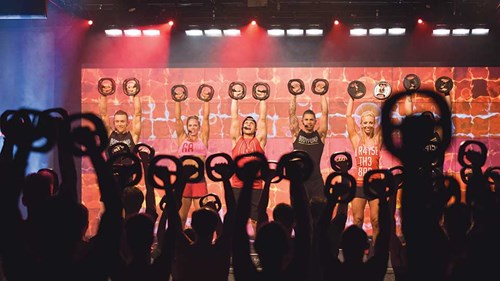 Les Mills quarterly filming brings together the world's best instructors, the freshest music and the latest choreography. With hundreds of participants we create a massive buzz of energy, inspiration and motivation. Then we capture it all on film. It's this footage that's provided to our 130,000 strong instructor tribe to educate and inspire them to take their classes to the next level.
Les Mills filming is an experience like no other. If you want to be part of the action check out the details below. 
FILMINGS IN 2017
There are no more filmings in Auckland in 2017. But if you are visiting the gym before December 31st, you can purchase your casual pass here. 
FILMINGS IN 2018
January Filmings will take place in Auckland, NZ at the Viaduct Events Centre 161 Halsey St. in Auckland

Please note the timetable is always subject to changes
SATURDAY 3rd Feb. 2018
0900 - 1030 BODYSTEP filming
1100 - 1215 BODYPUMP filming
1315 - 1400 LM GRIT STRENGTH filming
1415 - 1530 BODYCOMBAT filming
1545 - 1700 BODYJAM filming
1730 - 1845 BODYATTACK 100 not filmed

SUNDAY 4th of Feb. 2018
0900 - 1000 RPM filming
1030 - 1115 SPRINT filming
1215 - 1330 BODYBALANCE filming
1400 - 1515 BODYATTACK 101 filming
1545 - 1700 LES MILLS TONE filming

MONDAY 5th of Feb. 2018
0900 - 1000 CXWORX filming
1030 - 1115 LM GRIT PLYO filming
1145 - 1230 LM GRIT CARDIO filming
1330 - 1430 SH'BAM filming
1445 - 1545 LES MILLS BARRE filming

Tickets for filming classes will be released on Dec 15th at 10am, Auckland time here.
Tickets for BODYATTACK™100 (not filmed) will be available on Jan 22nd at 8am, Auckland time on the same ticketing platform.
Please read carefully the instructions and FAQ on the ticketing platform.
A casual pass will be required to visit the Les Mills Auckland clubs if you want to attend the rehearsals in the week leading to filming. Passes for January-March 2018 are available here.
Next filming periods:
(dates subject to change without notice):
May 5-9th in Auckland
Jul 31- Aug 3rd in Auckland
More information will be available and the end of March on this page.
PLEASE NOTE: that you may be recorded or photographed in the course of the filming classes. Les Mills International Ltd owns the copyright in these recordings and images and may use them globally in connection with its business (including in Les Mills exercise products and marketing materials). By participating in this class you acknowledge and consent to this use. If you do not wish to have your images used in this way, please make yourself known to one of our production staff and we will do our best not to film or photograph you.