AT-HOME
KIDS WORKOUTS
Access 1500+ of the world's best workouts at home with LES MILLS+.
SHOULD KIDS WORK OUT?
Every child needs a daily dose of physical activity. Experts recommend at least 60 minutes a day of moderate or vigorous intensity activity. Kids exercise sessions help meet the physical activity guidelines and foster positive physical habits. Teaching kids to love movement will help keep them fit for life.
IS ONLINE KIDS EXERCISE SAFE?
The LES MILLS+ workouts for kids and teens are backed by many years of research, development and testing. Classes are carefully crafted to safely meet children's unique developmental needs, use age-appropriate moves, and are led by highly-trained expert instructors.
WHAT TYPE OF KIDS WORKOUTS ARE THERE?
Young children can choose explorative movement and dance, or fun-focused sessions to build fundamental movement skills, balance and coordination. LES MILLS+ also has martial arts, dance, yoga, and sports conditioning for children and teens.
WHAT DO YOU NEED FOR KIDS WORKOUTS?
You don't need any equipment to do the kids classes on LES MILLS+. All children need is a little space and a willingness to have lots of fun.
Help kids stay active with playful movement and music
Discover the Les Mills BORN TO MOVE™ kids classes online
DISCOVER THE BEST AT HOME WORKOUTS FOR TEENAGERS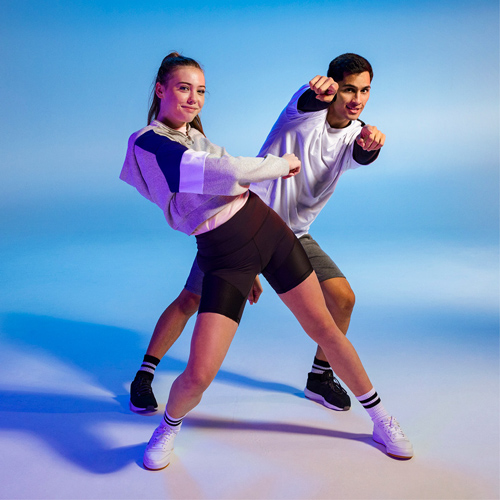 FITNESS FOR 13-16 YEAR OLDS
Teens can work out at home with the freshest moves and the latest music.
With martial arts, sports conditioning, dance and yoga, these at-home fitness classes get young people fit – and hooked on fun physical activity.
Teens feel fitter, more mentally energized and amped to take on the world.
WORKOUTS KIDS CAN DO AT HOME RIGHT NOW!
Try free kids workouts where fun is FUNdamental! Help children's confidence grow as they master new skills and fall in love with regular physical activity.
Free exercises for 4-5 years-old
SOCCER MOVES
Run, cheer, kick the ball and Score! Suitable for 4-5 years old.
POPSTAR DANCE MOVES
Dance, play the guitar and sing like a popstar! Suitable for 4-5 years old.
Free exercises for 6-7 years-old
SUPER HERO ATHLETIC MOVES
Punch and kick like a superhero! Suitable for 6-7 years old.
DANCE MOVES
Do the taco nacho dance! Suitable for 6-7 years.
Free exercises for teenagers (13-16 years-old)
ATHLETIC TRAINING FOR TEENS
Lunges, jumps, and squats for a sweaty workout! Suitable for 13-16 years.
MARTIAL ARTS FOR TEENS
Don't hold your punches! Suitable for 13-16 years.
Move like the Avengers
Marvel and Les Mills bring you an exclusive kids workout that's helping millions of young people fall in love with fitness.
Children can learn to move like a super hero as they follow a fun-packed workout featuring all their favorite Marvel characters.
EXPERIENCE THE VARIETY
100+ at-home workouts for kids
Options for toddlers through to teens
Safe, action-packed and FUN
No equipment needed
CERTIFIED INSTRUCTORS KIDS LOVE
Les Mills' BORN TO MOVE classes are led by highly-trained experts who motivate, inspire and make sure kids have lots of fun!
GET KIDS ACTIVE AT HOME OR ON THE GO
Access kids sessions wherever, whenever
Available on all your favorite devices
Class lengths to suit all ages
Convenient kids activity in the comfort of your own home
24/7 Squad Support
Getting kids involved in BORN TO MOVE is the easiest way to help young people establish the importance of keeping active throughout life. It will help children fall in love with fitness.
I Change My World | Born To Move
MOVE LIKE THE AVENGERS | Marvel x Les Mills 5-minute Kids Workout
WANT TO LEARN MORE?
Find out the latest research and advice on Kids workouts