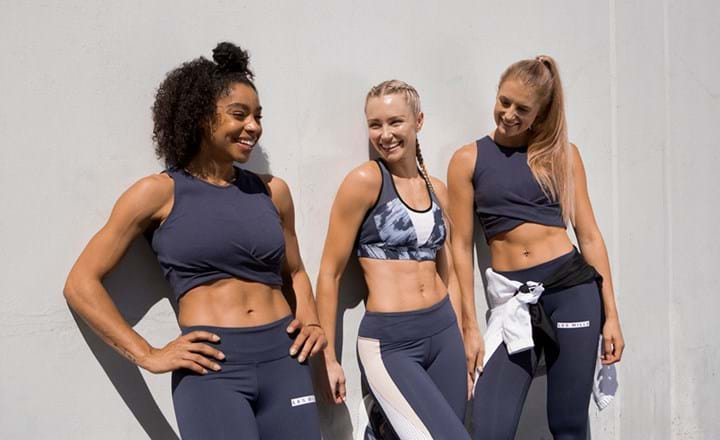 Attracting a steady stream of new joiners outside of the seasonal peaks can often prove challenging for club operators, but with demand for fitness offerings at an all-time high, now is a great time to implement plans for ramping up member recruitment.
The pandemic has spawned a new generation of fitness fans who have taken tentative first steps into fitness and are now deciding what comes next, with 27% of regular exercisers describing themselves as 'absolute beginners'.
Opportunities abound for operators who can appeal to these groups and understand what they want from a fitness experience, as well as the unique barriers to exercise they face.
For ​​legendary club manager and author Herb Lipsman, the biggest opportunity for operators in 2022 is to engage more beginners and reach 'the 80%' – the majority of consumers who don't currently engage with gyms.
"The pandemic has brought our health into sharp focus and people are beginning to realize that it's their own responsibility to stay healthy, so now it's up to us to break out of our small segment and make the quantum leap into mainstream adoption," says Lipsman.
"We've been talking about this for years, so it's going to take a completely fresh and innovative approach to truly make headway. You need to find creative ways to get people through the door that don't necessarily pertain to fitness in the first instance."
Word of mouth is one of the most effective forms of marketing, but it only works best when clubs play to their strengths. One of the reasons kickass timetables are so effective at driving referrals is because members are so passionate about their favorite classes and Instructors. And when members love something, they want to tell their friends about it.
Group fitness attendees recommend their gym to 18% more people than gym-only members, while 10% of group fitness attendees recommend to 10+ non-members (Qualtrics, 2019).
"In the clubs I've managed over the years, group exercise has been the number one driver of membership sales and a fantastic way to forge connections among your current members," adds Herb Lipsman.
"Not only that, but it's a great way to drive member referrals, particularly via social media. Let's face it, people don't go on Facebook or Instagram to talk about their favorite treadmill or resistance machine, they go on there to rave about the killer class they've just done with an awesome Instructor and to share their sweaty victory selfie."
So how do you get your current members to start singing your praises and notifying their network that it's time they join your club? Here are our 8 top plays to accelerate your acquisition efforts through member referrals:
1. Tap into member motivation
After long periods of isolation and lockdown-enforced home workouts, consumers are hungry for social workout experiences. The 2021 Global Fitness Report found two-thirds of gym members (67%) prefer working out in groups, while group exercise classes are now the single most popular gym activity, outstripping both strength and cardio training.
Clubs are ideally placed to meet members' needs around community and human interaction – the areas they've been missing during the pandemic. Across clubs that have made strong recoveries, dialing up the social experience has been key to re-engaging members.
Research shows that forming social connections is a key driver of customer acquisition, with two-thirds of prospects stating that the presence of quality classes would encourage them to join a facility (2021 Global Fitness Report).
It's no surprise then that many leading clubs encourage member referrals by offering free taster spots for their friends, giving them the chance to share a social fitness experience in a fun class environment.
Recommendation: Offer 'One month free for both you and a friend if they sign up and you complete a class challenge (offer further prizes if they reach target) or a free PT session.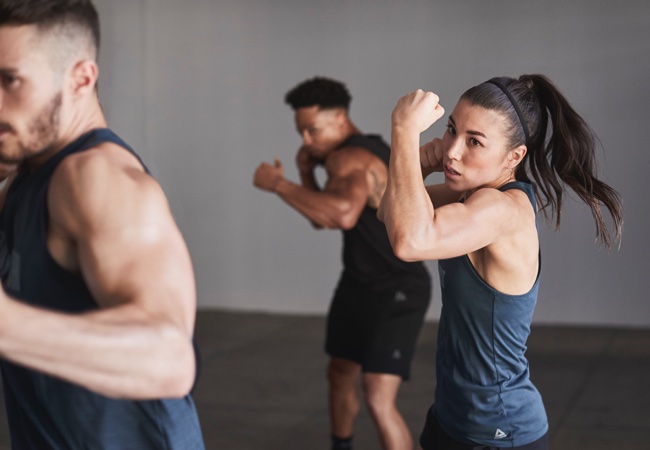 2. Dial-up the friendship factor
The success of a referral campaign comes down to the desire for your members to share. With people now placing greater value on their community and connection to loved ones, you can tap into this notion through the power of social gifting.
Celebrate the friendship factor by encouraging members to 'give the gift of fitness', and highlight the motivation that happens when friends work out together. It's much easier to motivate customers if they don't feel like you're trying to influence them, and social gifting encourages referrals without directly asking.
Recommendation: Check out the latest referral campaign on Marketing Studio that celebrates the humorous and giving nature of a relationship between friends.
3. Leverage the strength of your team
With strong consumer demand for social connection, it's somewhat inevitable that the people working in clubs will have a vital role to play.
Rockstar Instructors are identified as the single most important factor for gymgoers when choosing a live class, favored by 28%, ahead of the quality of music (24%) and type of class (21%). Quality Instructors are key to meeting consumer demand for added motivation and deeper connection in their workouts.
Having great people is particularly important for winning new members. 30% of club prospects say "a good atmosphere" is a key factor in choosing a gym to join, while 59% say staff are also a consideration. Consider the role that your rockstars can play in driving member referrals and how you can keep them front and center of your marketing campaigns.
Recommendation: Incentivize Instructors and PTs to promote your club through their own channels by rewarding them for every new member they attract.
4. Invite prospects to epic events
A reported 55 percent of fitness consumers are passive participants, meaning that fitness is not a priority for them, according to a 2021 McKinsey Report. Winning passive participants is about building relationships, and what better way to do this than through an epic event or fundraiser?
Events are a great way to connect with your customers' values, and they allow them to witness your brand at its best – great Instructors, pulsating workouts, and a strong sense of community. Events help you to capitalize on customer advocacy, as it's easy for customers to share invites with their friends, giving your business the perfect opportunity to engage a captive audience in a discussion around membership.
Recommendation: Combine your Les Mills New Release launch with a referral campaign by offering 'A free month for you and a friend if they sign up at our event'.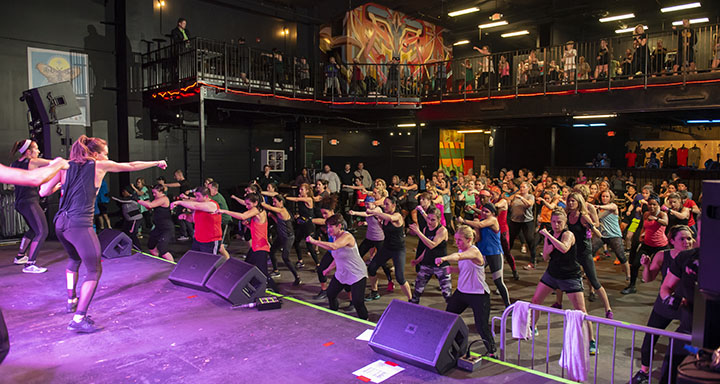 5. Double down on digital
Digital is now undoubtedly a key pillar of club success, with 80% of members planning to continue using digital fitness in the future, according to the 2021 Global Fitness Report.
Although 81% of beginners are interested in group activities, 67% say they currently prefer to exercise alone, suggesting the need to build confidence before they feel fully comfortable in class.
Consider how your digital offerings can help bridge the gap for prospective members, allowing them to build skills and confidence at home, before graduating into the club environment for the ultimate work out experience that will keep them coming back.
Recommendation: Offer 'One month free on our digital offering for you and a friend when they sign up'.
6. Set them up to save
While saving money has always appealed to consumers, the urge to slash spending and limit outgoings is growing quickly as a result of soaring global inflation driving up the cost of living.
Most people found ways to work out for less during the pandemic, and the majority plan to continue this thrifty thinking moving forward. A recent LES MILLS+ survey found offers that include discounts on subscriptions are the most attractive to fitness consumers, so emphasizing the value of your deal is critical.
And while one-time referral campaigns are important, having a consistent loyalty program that motivates members to refer friends all year round is also useful for maintaining momentum.
Reward members by creating a tiered system of benefits depending on the number of people they refer to become full members. This approach can 'gamify' the program and motivate members to reach the next tier, without you having to actively run a promotion.
Recommendation: Offer 'One month free for you and a friend' or 'Buy one annual membership, get another half-price'. Avoid offers that attract low-quality leads, such as 'One month free for every five friends that you invite', as there is little guarantee that these people will convert.
7. Create a cross-selling offer
Provide an opportunity to promote other relevant services and products through your referral campaign. They provide an excellent incentive because they both attract new leads and encourage existing customers to continue using your products.
A recent LES MILLS+ survey found that of all their cross-selling offers, the most appealing offer was getting an exclusive 20% discount off any SMART TECH Equipment purchase. Clubs can either offer an upgraded product or service (such as apparel, equipment, or PT sessions), or partner with another company to provide something your members will get excited about.
Recommendation: Something as simple as offering both parties a water bottle, bag, or towel can do wonders for their loyalty, and you can benefit from the added brand recognition when they use it outside of your club.
8. Introducing Marketing Studio
Marketing Studio is the full-service marketing and creative engine available to all Les Mills partners to help them retain and attract more members.
Built on marketing smarts and insights gleaned from Les Mills' 50+ years in the club industry, Marketing Studio is an all-in-one platform where clubs can build and deliver world-class marketing campaigns using the same tools, templates, assets and insights found in an agency.
Marketing Studio features a full 12-month marketing program, delivering ideas, inspiration and ready-to-use campaigns to promote clubs, grow membership and maximize the impact of group fitness.
It includes responsive and editable templates so clubs can edit, transform, and build new assets by incorporating their logo, selecting imagery and crafting copy.
In addition, Marketing Studio offers fitness marketing expertise and guidance through articles, videos and webinars designed to help clubs stay ahead of the latest trends and insights.
With a vast array of world-class content, images and videos available in Marketing Studio, clubs can save thousands on their marketing spend and dedicate their time to activities that have the biggest impact on member growth.
READY TO GROW MEMBERSHIP?
Get your member referral toolkit from Marketing Studio and start planning a surefire strategy to drive massive member growth.
GET THE TOOLKIT