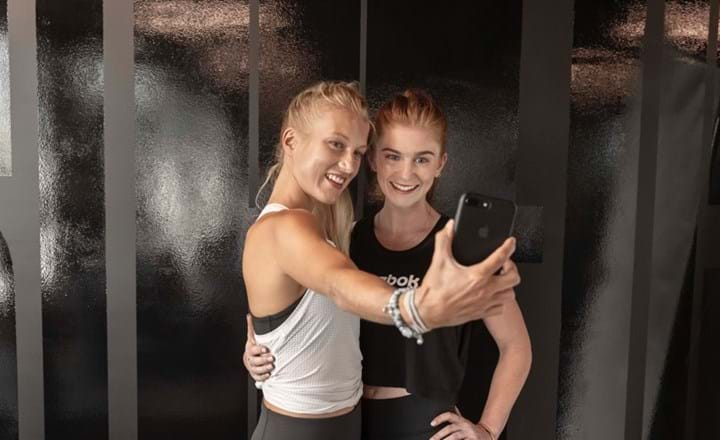 60-second summary
Millennials and Gen Z – dubbed 'Generation Active' – now represent 80% of all gymgoers
85% of all gym members also now do workouts at home, highlighting the need for digital solutions
Generation Active accounts for 89% of total users of online or app-based workouts
Substance over style is their preference for Instructors – with 'intelligent coach' being the most desired trait for Generation Active.
For every generation, there are defining social movements, iconic music and enduring memories which help to define their cultural legacy. As fitness has edged its way into the mainstream, recent generations have even had workouts that have helped to define their era – whether it's been Jazzercise, Jane Fonda or Johnny G Spinning.
So what does the future hold for today's youngsters? Which types of workout will come to define the Millennial generation? Or the Gen Z demographic hot on their heels?
Far from being the next cab off the rank for clubs, Millennials and Gen Z are already the overwhelming majority in the fitness market, representing 80% of all gymgoers.
This is one of the standout findings from the 2019 Les Mills Global Consumer Fitness Survey, which reveals the generational shift in the fitness market is happening far faster than most people realise. The study – the largest ever of its kind – asked more than 12,000 people in 22 countries how and where they like to workout.
With Millennials and Gen Z shown to be today's key battleground for clubs, the report sheds fresh insight on their fitness preferences. It highlights how an industry which grew rapidly in conjunction with Baby Boomers and Gen X with a business model designed to meet their needs must continue to evolve to keep pace with the growing expectations of today's consumer.
Here are 6 of the key research insights on how Millennials and Gen Z are changing the game and how fitness facilities can play to win:
1) Tech it or leave it
It goes without saying that Generation Active expect technology as standard to enhance their workout experience, but which types of technology do they actually value?
The research reveals that Generation Active demand a seamless, connected fitness experience which suits their lifestyle and enables them to workout on their terms.
From a group workout perspective, this means a fully-integrated Live, Virtual, and at-Home solution that can truly take your club's reach beyond the four walls and into every aspect of a member's fitness journey.
The numbers show that Generation Active account for over 65% of Virtual FItness participants, while 85% of all gym members also now do workouts at home, illustrating the importance of being able to cater for all types of fitness experiences if your club is to inspire loyalty among today's generation.
Consider also, how tech-enabled automation can help your team deliver a slicker service, or free them up from mundane tasks and enables that more personal level of service that adds to social experience Generation Active value so highly.
2) Content brings cut-through
However well clubs can harness tech solutions to deliver broader fitness experiences, this matters little unless the quality of content matches up to today's consumers' ever-expanding expectations.
The research found almost a quarter of regular exercisers participate in online or app workouts, with Generation Active making up 89% of this total audience.
With usage of studio and fitness content apps surging 330% between 2014 and 2017, the opportunities here are undoubted, but the quality of content remains wildly inconsistent.
The gyms that win will be those that can form the right partnerships to ensure their extended reach beyond the four walls brings members top quality content that stands out from the crowd.
By offering fitness at members' fingertips, clubs can support members to stay in the fitness groove and maintain motivation whether they're stuck at home, or at work or are travelling – a powerful weapon in the war on retention.
They'll keep current members engaged and will open up a route to reach the 68 per cent of adults who aren't currently members of a gym. Helping these audiences to dip their toe into the world of fitness, supporting them in graduating from home workouts into the club space can serve as a rich source of new members for clubs that can whet appetite through great digital content and follow up with their live in-club offering.
3) They go hard
One of the standout findings from the research was that populations in general are working out far more frequently than the 1.9 times a week in the club that we typically give them credit for. It found that 84% of regular exercisers are working out a minimum of three times per week, with younger generations leading the way.
Gen Z are the most active, with 87% of this demographic exercising three or more times per week, with Millennials trailing just behind them.
This reflects one of the standout characteristics of Millennials and Gen Z – collectively dubbed Generation Active due to their fondness for fitness – that they have a completely different take on exercise to those which have gone before them. They prefer to sweat pints rather than sink them and see exercise as a social experience rather than a punishment.
Clubs that can tap into this holistic view of healthy living and socialising, while providing high-quality experiences that match Generation Active's hunger for thrice-weekly workouts and keep them coming back will be well-placed to capitalise.
4) They love company
As we've seen from the meteoric rise of boutiques – visits to boutique studios have grown by 121% over the past five years in the US alone – today's young people place significant value on the social aspects of exercise.
Generation Active make up 81% of all fitness class participants – and the numbers show that the younger members of the cohort (Gen Z) value social interaction in a workout experience even higher than Millennials.
As well as appealing to the huge number of young people already coming to the gym, group workouts are a strong play for bringing even more of Generation Active through your doors.
The research shows that among Generation Active members who don't currently do group workouts, 60% of the barriers stopping them from doing so are within your control and can be easily rectified through scheduling tweaks and better onboarding of new joiners.
5) Rockstars rule the roost
In an age when everyone seems geared towards technology, innovation and futurism, it's actually the oldest asset in the gym which is becoming ever more important: the people.
Given the heightened value Generation Active place on the social experience when choosing where to train, the calibre of your staff and their ability to inspire and motivate are a major dealbreaker.
The quality of the Instructor is the biggest single influence on how Generation Active choose where to do group workouts with 37% listing this as their top reason for attending a class.
Highly-trained rockstars are like a tractor beam for Generation Active – it's the reason many will happily drop $35 on a class at Barry's without even blinking.
But they don't just want flash. Substance over style is their preference for Instructors – with the most important quality (listed by 40% of respondents) being someone who coaches intelligently.
6) They love to do your marketing for you
Build it, and they will come – and take a selfie in front of it. Generation Active love chic decor and great design, so creating a photogenic club space is a great way to get them plugging your business on social media.
And with social media users making up 98% of all digital consumers, it's vital that you invest in platform-specific content to tell your brand's story and drive sales opportunities. With the average digital consumer boasting no less than 8 social media accounts, mixing up your content and channels offers a great opportunity to reach a broad audience and keep your messaging fresh.
Consider who are the rockstar personalities in your facility that you can shine the spotlight on to create engaging content. From GMs, to your star Instructors, these are the people that can bring authenticity to your content and serve as influencers. Putting the spotlight on your members can also be a great source of content by highlighting the powerful and personal stories that can build trust among Generation Active.
4 tips for marketing to Millennials and Gen Z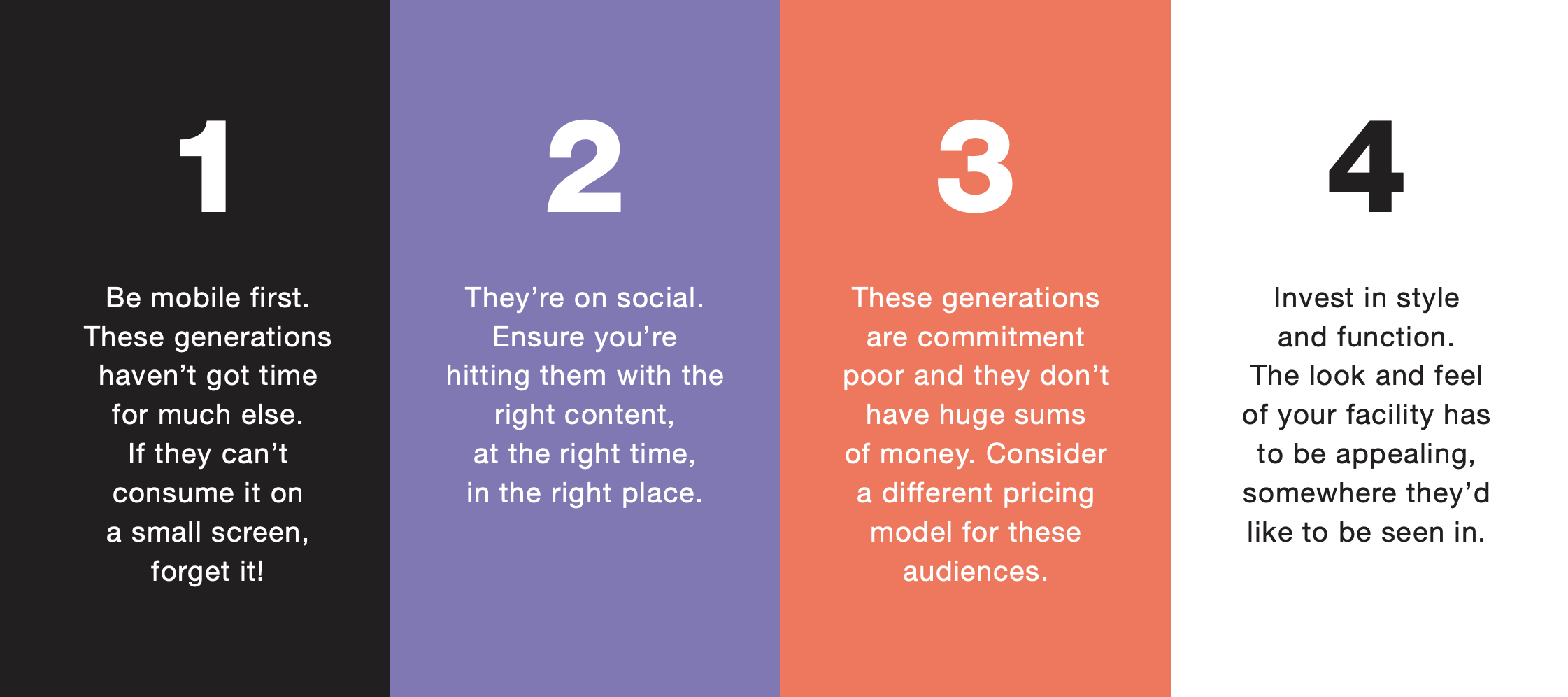 Generation Active are changing the game – and they now make up 80% of gym users
Learn the new rules of fitness and how your club can win with the 2019 GLOBAL CONSUMER FITNESS SURVEY.
Download the findings