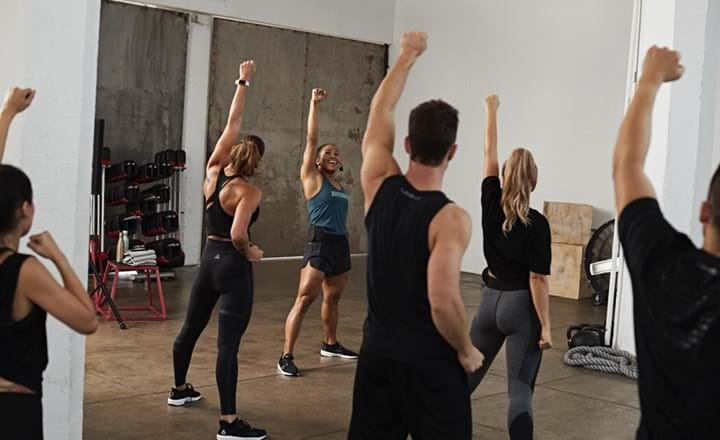 How did you first become involved in fitness?
I was invited to attend my very first group fitness class – which was BODYPUMP™ – by my personal trainer in the Summer of 2007. I was overweight and emotionally-drained, but I decided to find the courage and try out the class. From that point I guess you can say, I was hooked! It was such an amazing experience to be surrounded by a committed group of people who were working towards a common goal of betterment. One class led to a weekly routine which I planned my personal schedule around due to the angst I felt from missing my favorite class.
Group Fitness made everything in my life excel because I physically and mentally felt better. As I became fitter, I became a better Mom, wife and daughter, because I had more energy and strength for the special people in my life. The impact group fitness had on my life was something I knew from day one I wanted to share with as many people as I could reach.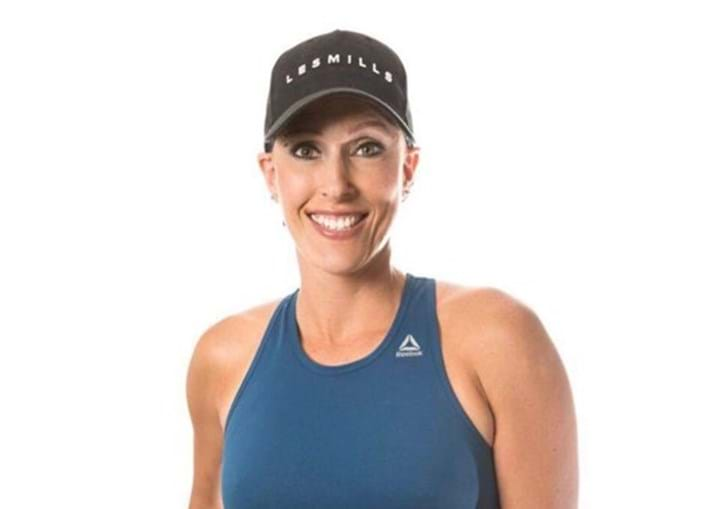 How did your passion then evolve into a career?
I'm currently Assistant Group Fitness Manager at Gold's Gym Fredericksburg, and this would never have been possible without my group fitness journey. After participating in both BODYPUMP and BODYCOMBAT™ regularly for two years, I decided to become a certified Les Mills Instructor. That was a day I will cherish forever, because it took a lot of hard work and dedication. The things I learned in my Initial Module Training still apply to my journey today. After roughly six years of instructing, with five Advanced Trainings under my belt and two additional certifications, I successfully applied to Presenter Auditions.
I strongly believe in the core Les Mills values and I'm honored to be in a position to share these values on a wider level by being a member of the TAP Team. Currently, I'm a National Presenter and Rookie Trainer for BODYCOMBAT and BODYATTACK™. It's truly amazing how everything comes full circle. From the memorable experience of my first Les Mills class, through to the rewarding feelings I get now sharing that passion with others.
What's been the biggest challenge you've faced in fitness?
While my journey has been filled with many rewards; it hasn't been without adversity. During the onboarding process into the TAP Team, I was diagnosed with Alopecia – a rare autoimmune disorder that caused me to lose all my hair. Losing my hair was devastating, as I felt like I was losing my identity to the world. Instead of letting it limit me, I decided to live the Les Mills values and let it empower me. The TAP team has accepted and given me the power to embrace change, while motivating others to do the same. These programs are way more than just your "normal workout routine," they create life-changing fitness experiences every time you run them.
How would you describe your club?
We are a place of growth and development. Everyone who comes to our club excels and we pride ourselves on initiating change through supporting our team and member's goals. Everyone in the team is treated equally, as everyone plays an important role in our ultimate aim of helping members reach their goals. Gold's Gym is typically known for fulfilling the bodybuilding niche in the fitness industry, but at our location we make sure everyone feels welcome and included in our family unit. We have truly embraced the One Tribe motto within our club, to include people from all walks of life. Beginners, all the way through to top athletes are welcome and able to excel with the products and services we offer.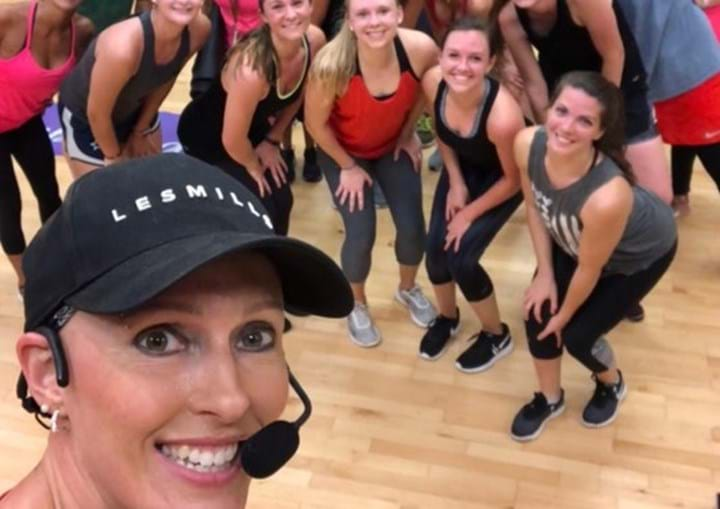 What are the key numbers behind your club?
Our club spans 65,000sq ft and we have over 10,000 members, paying US$37.99 for a single monthly membership, US$69.99 for a couple and US$84.99 for a family.
We run over 100 classes per week across five studios: Main GX Studio, Mind & Body Studio, Cycle Studio, Kid's & Barre Studio, plus an Aquatics Department.
Between 25 and 30% of our membership attends our GX classes, which include BODYCOMBAT, BODYATTACK, BODYJAM™, SH'BAM™, BODYFLOW™, CXWORX™, LES MILLS TONE™ and RPM™. We're also excited to be welcoming LES MILLS SPRINT™ to our Autumn schedule. Les Mills programs make up around 80% of our schedule, but we also offer freestyle formats such as Cycle, Zumba, Yoga, Schwinn and Silver Sneakers.
What's been the impact of Les Mills programs on your key club metrics?
The impact Les Mills programs have on our key club metrics is astronomical! Class attendances, average occupancy, membership retention, and Net Promoter Score (NPS) scores have all increased since the addition of Les Mills formats. We've seen our NPS increase by 17 per cent in this year alone, which is testimony to the work of the entire team here.
We've also noticed a direct correlation between a full group exercise schedule of over 100 classes per week and a decrease in cardio equipment usage of about 30-45%, which is great for spreading footfall and optimizing space in the club – particularly when we have 10,000 members to keep happy!
What's the most popular program on your timetable?
BODYCOMBAT is huge – we've had to add extra classes due to member demand. We now run 8 BODYCOMBAT classes per week (out of 100 in total) and yet it accounts for 28% of our club's weekly group exercise visits. I think it appeals to our members due to the energy and passion which radiates through the way our Instructors lead the program. They're really authentic, which encourages people to come as they are and motivates them to reach for more. Some of our Instructors have a background in Mixed Martial Arts, which really shines throughout their classes and this attracts members who are inspired to learn those skills and find empowerment.
What type of audience does it pull in?
We have a really broad age group of those who attend BODYCOMBAT, ranging from 18-years-old to a lady who is in her mid 70s! Most tend to be overcoming a hurdle or working towards a specific fitness goal such as endurance training, weight management or toning. Since BODYCOMBAT shifted the format towards more MMA-style training, we've noticed a shift towards more younger people and males attending our classes.
Why do you think it has such broad appeal?
It's nice to have a format that doesn't need equipment – we've often taken advantage of this to do outdoor launches – and where everyone can be on the same level, as this appeals to those who may be intimidated on their first experience. They all love the challenges that BODYCOMBAT brings, along with the fact they know they are guaranteed a quality workout experience. This builds mastery and gives people the platform to succeed – most people want to participate in something they can excel at. It's that feeling of progress that keeps them coming back.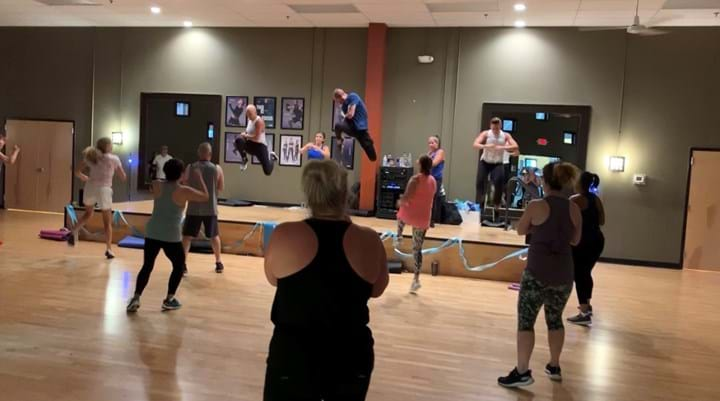 How do you recruit Instructors to teach group fitness at your facility?
Most of our Instructors have either been members initially, or guests who have taken a class here and then sought employment. Moving from member to Instructor is one of the most rewarding feelings, because you get to see someone who you personally inspired pay this forward to others, and that's what it's all about. Once an Instructor shows interest in becoming part of our team, we do a screening and formal interview. If both parties are interested then we conduct a live movement audition. This gives us the opportunity to evaluate how the Instructor connects to our members and staff while observing their performance.
We have a Program Lead (PL) for each program we have on our schedule. This person is hand-selected by the Group Fitness Manager (GFM) and holds a very important role, as well as mentoring the Instructors they lead. They must meet important factors such as, experience, continuing education and seniority within our club to be considered for the position. We always invite the PL to the audition as it's crucial for them to see where the Instructor sits currently within their journey, so they can support and guide them to reach their ultimate fitness goals. Following the audition, the PL and GFM confer and decide whether they should join our team.
How do use events, trainings and quarterly relaunches to promote your GX offering?
We strive to always keep up with the innovation around Les Mills programs and the direction they're heading in. Ahead of a launch event, our PL's are responsible for conducting two mandatory practice sessions for the teams they lead, and Instructors are only eligible to launch the new release if they attend these. This keeps the launch exciting and prestigious, while encouraging all Instructors to make practice a priority. During these practice sessions, it's the PL's responsibility to lead the education sessions provided by Les Mills to support each quarterly release.
What's your philosophy for managing and rewarding Instructors as a GFM?
We value our Instructors through acknowledging praise for them in member surveys, celebrating their birthdays and providing recognition of their strengths and skills. Whenever we bring a brand new program to our facility, we set up a panel and use a ranking system to observe the Instructor's strengths and note areas where growth is needed. This process ensures placement within a timeslot where they can perform well and develop. Coming in 2020, we are also putting a plan together for an Instructor and Employee of the Month scheme to highlight the achievements of our teammates.
PUNCH ABOVE YOUR WEIGHT
Want to learn how BODYCOMBAT's constant reinvention can help your club win the battle for new members?
DISCOVER HERE