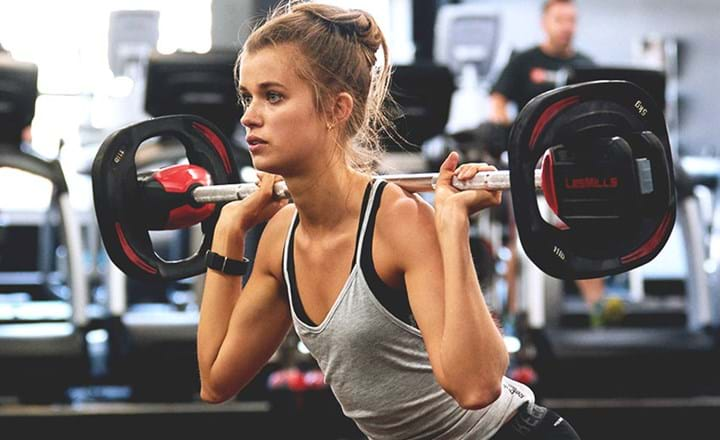 John Blackburn
Head of fitness and customer experience, 1Life, UK
We have LES MILLS SMARTTECH – SMARTBAR™, SMARTSTEP™ and SMARTBAND™ – in approximately 50 per cent of our sites in the UK, with more clubs transitioning each year as they move into their new equipment lifecycle.
We started installing SMARTTECH in 2014 after a demonstration event, where a few key features stood out for us.
With the SMARTBAR, it was the lightweight feel of the bar, the effortless 'slide in, slide out' transition of the weight plates, and the ability to use the same plates as hand weights. We felt these three features combined made it by far the best group exercise option.
In terms of the SMARTSTEP, it was all about being strong, sturdy and versatile – words I use extensively to describe how well SMARTTECH works for us. The round risers provide great stability and confidence, as well as the ability to adjust to an incline variation when needed.
Finally, the SMARTBAND is robust and comfortable to use. It allows for a range of resistive movements and remains functional after much use, unlike some other brands of the resistance band.
All our SMARTTECH is used primarily in our group exercise studios, for classes, although we're increasingly seeing personal trainers use the equipment for its versatility. And our members absolutely love it. The ease of transition on the Smart Bar has been the biggest winner – less time faffing with spin locks – and the fact you no longer need additional hand weights has also been a big positive. The equipment also looks very good, which drives member perceptions of quality.
We did some analysis in the early days of installing the equipment when we had 200 sets of SMARTTECH across eight clubs. Within three months, we saw an average 72 per cent increase in BODYPUMP™ attendance with only minor timetable changes; one club increased attendance levels by 81.1 per cent with no timetable changes at all.
Complaints about equipment have also plummeted in all the clubs that have SMARTTECH. In fact, I'd go so far as to say I've never heard a single negative comment about this equipment, ever.
My advice to other operators: when your equipment renewal cycle comes up, the SMARTTECH range is the best in the business and hard to fault. With its growth in popularity, members are now looking to clubs to provide this as standard. No-one wants to move backward in an industry moving forward at such a fast pace.
Scott Niven
Head of fitness, The Bannatyne Group, UK
We like the fact that LES MILLS doesn't rest on its laurels: it's always developing and trialling new things that deliver clear benefits for the member experience.
SMARTTECH is a great example of this, improving the member experience and delivering better results. For example, 'time under tension' is a term used throughout the BODYPUMP programme, and the innovative design of the SMARTBAR helps deliver this. This is key to members achieving fantastic results.
Group exercise accounts for 33 per cent of all member visits across our Group, so it's something we consistently invest in to keep our members happy and help them achieve their fitness goals. Within that, LES MILLS programs are the highest attended classes, so it stands to reason that we provide members with the best equipment for those programs – and that's clearly SMARTTECH.
Since 2016, we've installed SMARTBAR and SMARTSTEP across our 71 health clubs, and we're now in the process of installing MBX mats. Member feedback has been positive, both online through member forum ratings and offline via feedback to team members at our clubs.
But the clearest indicator of the success of SMARTTECH at our clubs has been class attendance: occupancy in classes using SMARTTECH is 12 per cent higher when compared to most other classes. Meanwhile, growth in demand for BODYPUMP has resulted in a 3 per cent increase, between Q1 and Q3 2017, in the number of these classes we offer; it now accounts for 9 per cent of the strength genre on our timetable. If I could sum up the difference SMARTTECH has made in one word, it would be 'engagement'.
In addition, we've invested in virtual classes, and it's good for our members to be using the same equipment as the world-class master trainers they see on the screen.
It isn't just about the studio though. Our health clubs and spas vary in size, but we aim to create a feeling of openness across all our sites. This often involves the installation of compact equipment – equipment that nevertheless allows members to achieve the same fitness goals, at the same speed, as they would using larger machines. Our use of SMARTBAR and racks on the gym floor is a great example of this.
And it's not just about space-saving; the aesthetics work well too, and SMARTTECH also bridges the gap between members who prefer to use the gym floor and those who participate in more studio-based activities. It helps us keep all our members happy.
Elaine Denton
Group health & fitness support manager, David Lloyd Leisure, UK
We've been installing SMARTSTEP and SMARTBAR since 2016 and this equipment is now available across the majority of our estate, with the remaining clubs to follow: SMARTTECH is specified as part of all club refurbishments.
SMARTTECH is in line with what David Lloyd Clubs' members expect: top quality, easy to use, innovative and slick. The member feedback is always amazing. They love the design, ease of use and the fact you can use the plates as hand weights.
We only use SMART ECH in the studio, as our gym floor spaces are already full of great functional equipment, but it absolutely justifies the investment. The SMARTBAR can be used for a range of classes: BODYPUMP and LES MILLS GRIT, but also non-LES MILLS programmes such as Body Conditioning and Circuits. In addition, the plates can be used independently of the bar in classes like CXWORX™ and other core/functional classes, as well as in more traditional classes. This makes the return on investment and value much higher than other brands.
We believe members feel valued when you invest in a quality product that enhances their experience, and that helps them get the best from their club and their group exercise, which the SMARTTECH equipment truly does.
If you want to retain members, invest in SMARTTECH.
Sharon Campbell
Health & fitness manager, Glasgow Life/Glasgow Sport, UK
We've had SMARTBAR and SMARTSTEP at our clubs for the last few years; as a Les Mills instructor, I understand the importance of having the correct equipment to maintain the essence of the programs, and I also appreciate the benefits our members gain from using this equipment.
In fact, for me, SMARTTECH is now fundamental to running the LES MILLS classes – you can't really do the workouts without it. For this reason, we currently have SMARTTECH in the studio only: we already have a wide range of equipment on the gym floor, and as our classes are very popular, I'm reluctant to lose SMARTTECH equipment to the gym.
Member feedback has been very positive – they love using the equipment and have seen the benefits – to the point that we've had to manage the roll-out carefully: we've had complaints from members when they found out that another club had received the new equipment and theirs hadn't yet!
Now, all sites that offer BODYPUMP classes have SMARTTECH, and we're seeing a positive impact on retention, with members getting better and more varied workouts. Our next objective is to leverage the new equipment to increase class attendance: we currently average 70 per cent and are aiming for 97 per cent.
My advice to other operators considering whether they can justify the expenditure on SMARTTECH is simply this: can you afford not to?
Graeme Atkinson
Assistant general manager, Studio Society, UK
We have the SMARTBAR and SMARTSTEP at Studio Society, which we use for BODYPUMP classes.
Studio Society only opened in August 2017, and we've had SMARTTECH from day one, so it's hard to say how this equipment might have affected our membership levels. However, the equipment has gone down very well with staff and members alike: members are always impressed by the overall look and feel, and it's easy to use too – it only takes a minute to show them how to change weight plates.
Having worked in other clubs, I can confidently say these are the best products I've seen for this class.