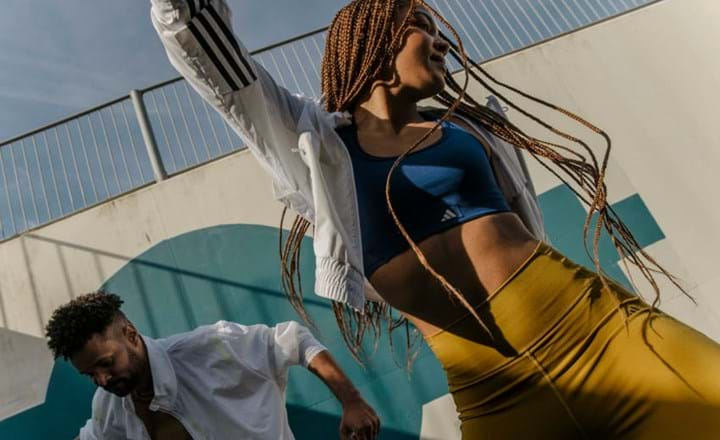 Dance fitness, as many operators will attest, is a tricky category to get right.
Done badly, dance can wither on the timetable and paint your club in a poor light, because an aging dance program stands out like a dad at a disco.
Part of this comes down to dance's inseparability from pop culture. The music, the moves and the cultural trends that influence them mean dance programs require lots of love and attention to stay current and relevant.
But when dance is done well, the results can be spectacular. Clubs can build a buzzing and hugely committed member cohort around their studios, as dance tends to attract the people who bring the noise (both in-club and on social media) and love to bring their friends.
And with societal trends catapulting dance into the spotlight, the category appears to be getting its groove back. Here are 4 areas where dance could be a key driver of club growth in 2024:
1. #FITTOK FUELS DANCE GROWTH
Dance fitness is nothing new. Mainstream aerobic dance workouts first emerged in the 1970s, and ballet-inspired barre training has been around since then too. In the 1980s jazzercize took off, and then Zumba became a pop culture phenomenon. But the explosion of TikTok has breathed new life into the category, with dance becoming the unofficial language of TikTok, creating millions of young fans.
#FitTok, the subsect of TikTok populated with workout hacks and fitness tips, has attracted over 61 billion views as of October 2023. #FitTok has spawned several fitness trends – including the 12-3-30 treadmill-based workout that's racked up 336 million views and counting over the past year – while #DanceFitness is closing in on 1 billion views. As club operators expand their presence on TikTok to convert this huge captive audience, dance fitness offerings are a promising pathway for pulling new fans into the studio.
2. GATEWAY TO GEN Z
The reason dance dominates TikTok is because Gen Z can't get enough of it. As the largest generation ever and the next big global spending power, Gen Z represent a key battleground for clubs, so doing dance well is an obvious way for operators to get the upper hand over rivals.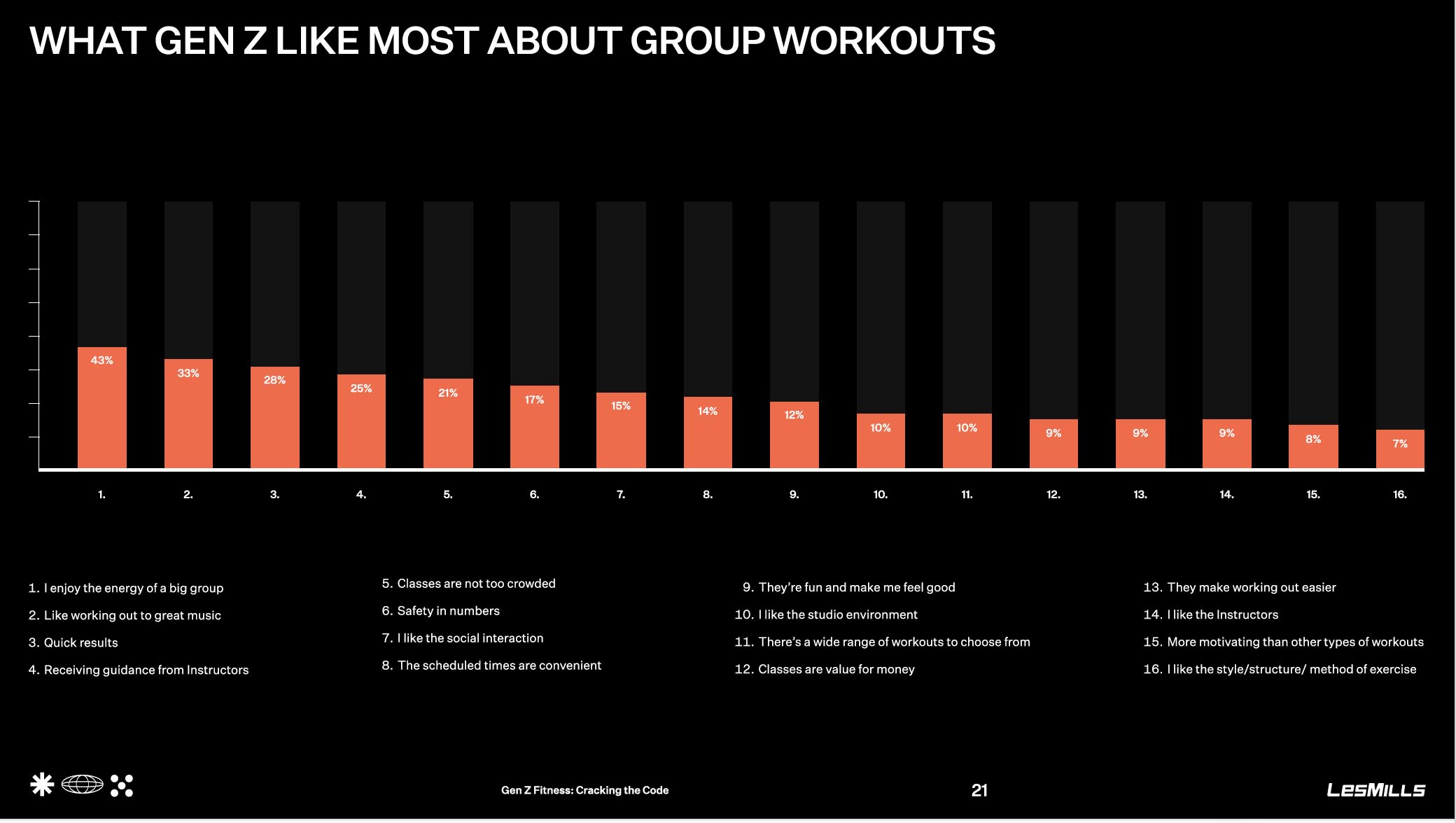 The 2023 Gen Z Fitness: Cracking the code report – the largest ever global study of Gen Z fitness habits – found 81% of Gen Z gym-goers are taking part in group training, citing the energy of the group and working out to great music as their two favorite aspects. Despite this, only 23% of them currently take part in dance fitness classes, suggesting operators have an untapped opportunity to engage more Gen Z if they can improve the quality and quantity of their dance programming.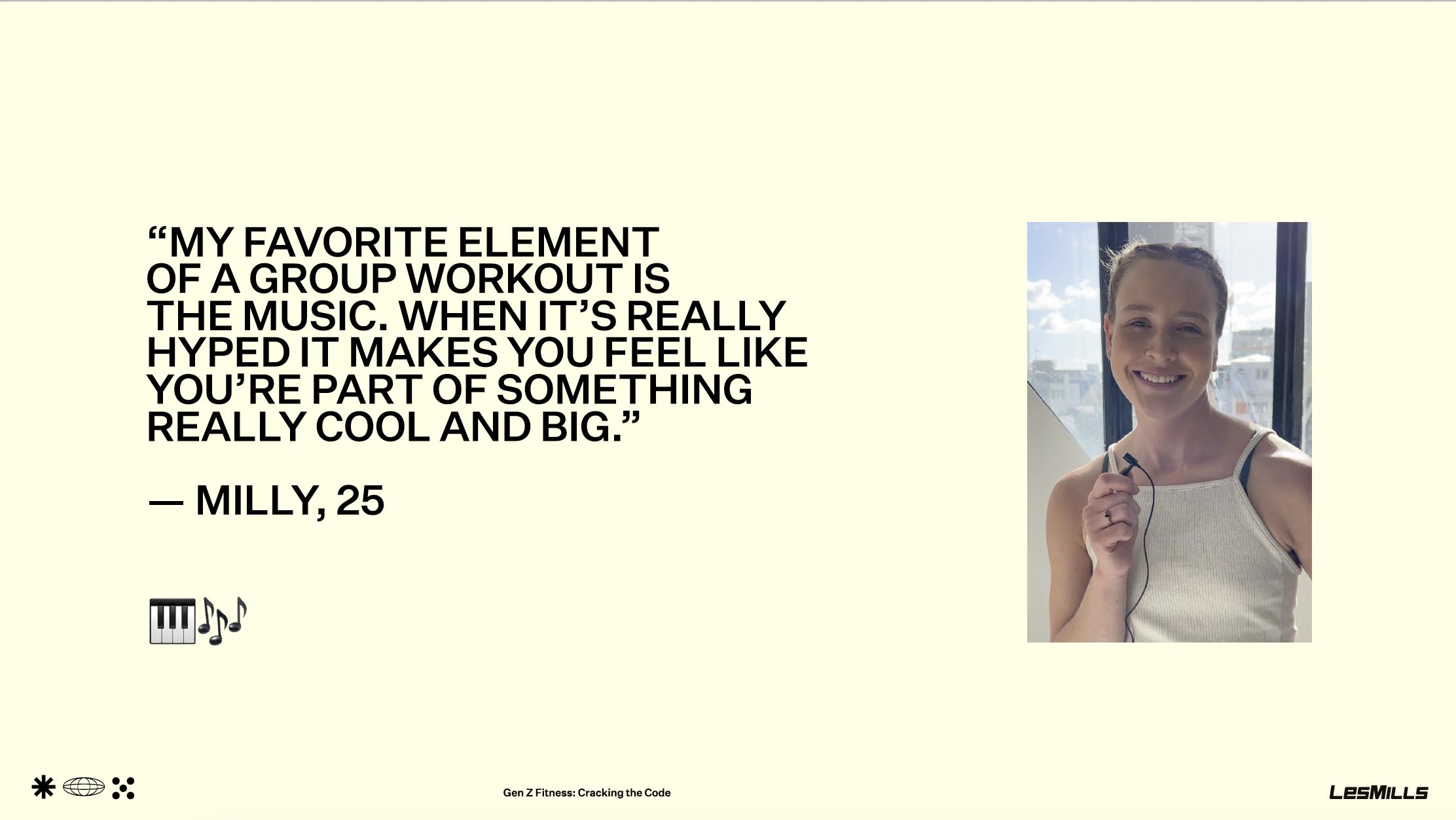 With 48M Gen Z on TikTok in the US alone, researching trending hashtags and creating platform-specific content that reflects their values is a great way to get in front of them and start showcasing your club's offering.
As well as bringing the fun, highlighting the credibility of your club's brand and the science underpinning your programming can help you to cut through the masses of online misinformation and build trust with your target audience.
3. CLUBS CAN BROADEN APPEAL
The standout finding of the 2023 Gen Z Fitness report was that 50% of all Gen Z want to work out regularly, but say they need help getting started.
Nurturing this massive untapped market requires an intimate understanding of the varied challenges they face. But for clubs that lean in and meet the nuanced needs of this cohort, the opportunities are endless.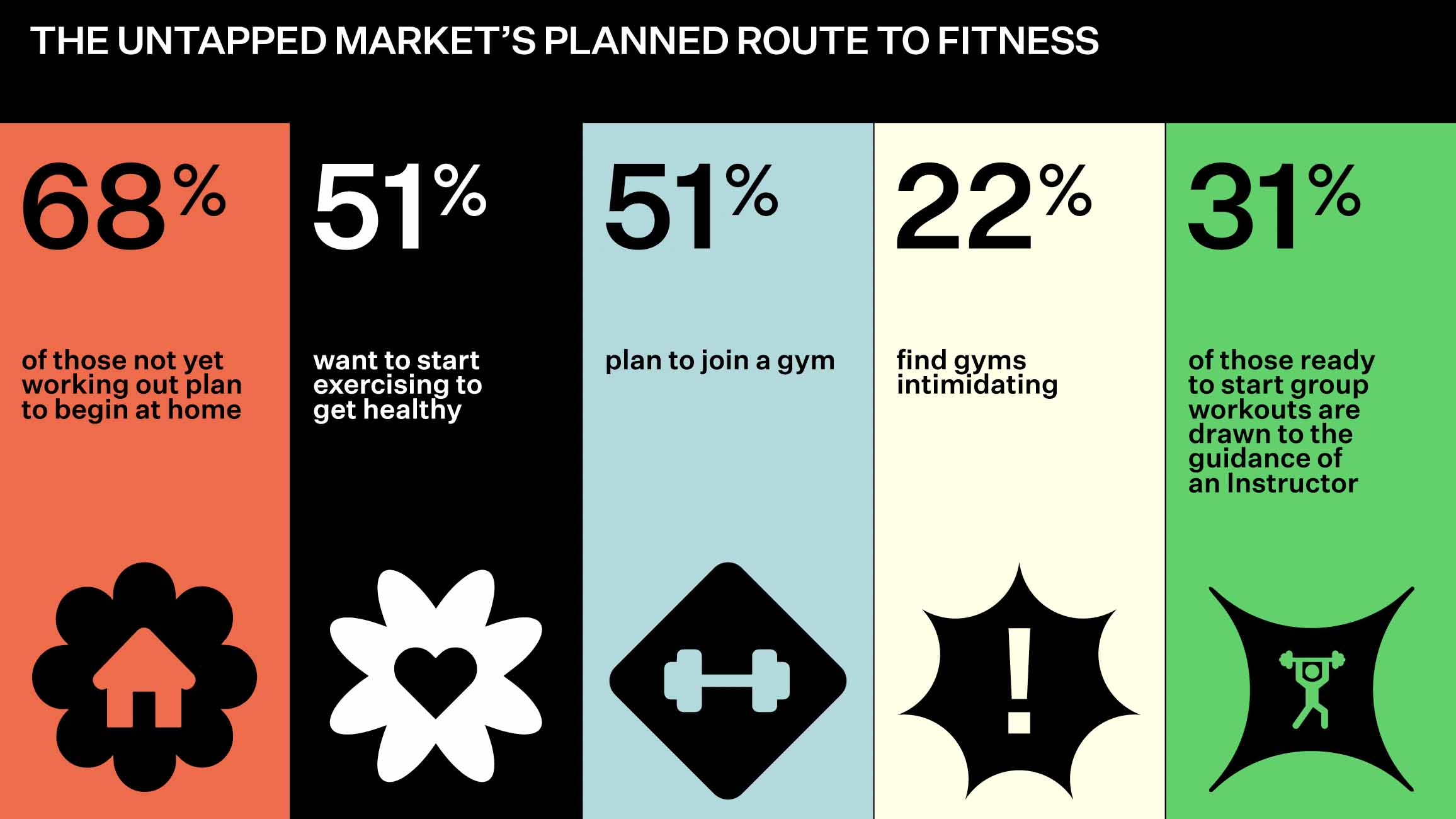 Among non-exercisers, 68% want to start working out at home first, so being able to provide high-quality digital options is essential for clubs seeking to engage them.
'Gymtimidation' is another significant barrier for the untapped market, but dance represents a golden opportunity for clubs to oversome these obstacles and attract more members. Among Gen Z not currently exercising, 41% say they love working out to great music, 38% enjoy the energy of a big group, while 31% like receiving guidance from Instructors, suggesting dance fitness could be ideal engagement play to unlock this audience.
4. SERVICE MORE MEMBERS
Gen Z currently represent the biggest growth opportunity for clubs, but there's still plenty of uplift available across other demographics as well.
Studies show we're born to dance. According to experts, babies are born with a predisposition to move rhythmically in response to music. In fact, babies engage more with the rhythm and tempo of music than they do with speech.
Well-calibrated dance classes can appeal to all types of members, providing a high-energy, low impact route to a great workout. They're a tried and tested pillar of the timetable, while the lack of equipment needed for a dance class offers added flexibility around where you deliver them. Outdoor workouts are a smart way to widen your shop window and showcase your club to more passers-by, while bringing workouts onto the gym floor can help crank up engagement and inject more energy into the heart of your club.
INTRODUCING LES MILLS DANCE
Launching in January 2024, LES MILLS DANCE is a brand new 45-minute high-energy workout that will challenge and move your members. It incorporates innovative dance movements that work cohesively with music inspired by global dance genres.
With a focus on movement and technique, LES MILLS DANCE is simple to master and a great option for those who want to improve their dance skills while getting fit or for anyone who loves to dance. The coaching style is clear, musical and will help members to master each movement with ease.
"Dance is a massive category globally," says Gandalf Archer Mills, co-creator of LES MILLS DANCE. "And there's so much opportunity to drive growth in this space. We want to inspire more people into classes and more Instructors into teaching dance programs.
"The market's changed and we need to ensure that our dance programs are catering to the needs of the modern audience. Les Mills has a responsibility to future-proof clubs and Instructors and we're confident that this new workout will help clubs fill their classes and keep dance driving forward for the long term."
READY TO WIN NEW FANS?
Our new dance program is designed to attract Gen Z and keep your club bang on trend.
DISCOVER LES MILLS DANCE