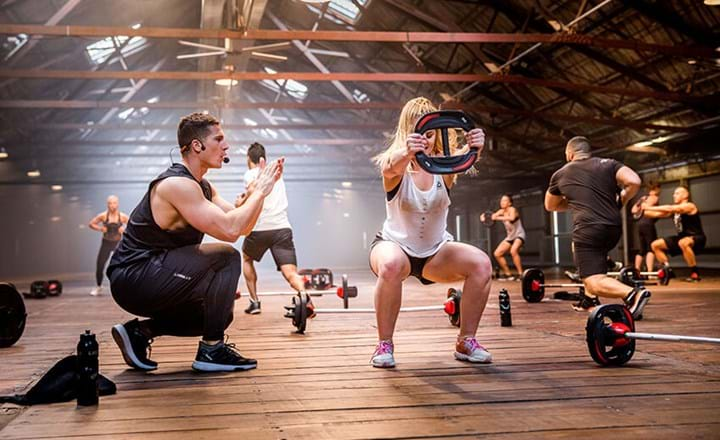 If you want to create a great group fitness experience, you need a team of great group fitness instructors. Let's say you're already in the enviable position where you've achieved this: you've built a team of fantastic instructors who fill the club with a buzz of excitement and who have a loyal fan base among your members.
So now what? You certainly can't rest on your laurels. You now need to make sure these instructors are so happy at your club that they want to stay. After all, these are the best of the best: there will be plenty of other operators out there trying to steal them away from you.
In part one of this series, we looked at how to recruit rockstar instructors. In this, the second part of the series, we turn our attention to retention, asking operators for their best practice advice for keeping hold of your rockstars.
Tip #1: Create a strong team
"We make sure freelance instructors feel part of our team: they get training kit with our brand and their name on it, and when we have parties, they're invited with their husband or wife. We want them to feel we're a family, and that they're an important part of it."
Annica Stråka, Manager of Finland's Gymkampen – a group-exercise focused gym which offers a broad range of classes centred around Les Mills programmes for either €9 per class or membership for €52 a month.
"It's hard to create a sense of team when the majority of your instructors are freelancers, but it's so important. I give them as much freedom as I can to create an atmosphere of 'the tribe' in the club, including working together to plan great events for our customers."
"Our group exercise program isn't a place where you teach your class and leave. On any given day, you'll find teammates team teaching together, practising together, or maybe just having lunch. We have a lot of planned team bonding throughout the year too, from holiday parties to baby showers; even our team meetings are celebrated and sought after, while our monthly instructor newsletters resemble a holiday letter you'd get from your family, sharing highlights from teammates' lives as well as member compliments about the team.
"In return, I want our teammates to believe in something bigger than themselves, and I expect them to have each others' backs. For example, while members might have their favorite instructors and are entitled to their opinions if a member talks negatively about a teammate, we simply disengage with the conversation after pointing out at least three positive attributes the teammate in question has."
Dana Monson, Group Exercise Director of US-based VillaSport, a group of six country clubs with membership starting from $90 per month.
Tip #2: Make them feel valued…
"At our club in Milton Keynes, we pay at £30 per hour, where the average in the area is £22. This helps us retain great instructors who are likely to be well sought after."
John Blackburn, Head of Fitness Operations at 1Life, which operates 40 leisure sites across the UK and recently launched the country's first Group Exercise Centre of Excellence in Milton Keynes. The site features three state-of-the-art studios and draws 10,000 visitors per month.
"Our launch events are always a big deal, so to make sure we live up to members' expectations, we get our instructors together to run through their choreography pre-launch – and we pay them to do this. This makes them feel valued, creates a great sense of team, and makes them feel more confident before the launch – which in turn ensures they teach amazing classes. It's a win-win."
Tine Bogsted, Studio Co-ordinator for Ireland's West Wood Clubs, which 10 years ago set the goal of being the country's leading destination for group fitness. Since then, the company has doubled group fitness attendances across its core clubs – 40 per cent of members attend at least one class a week – and trebled its net promoter score.
"Starting in 2018, all our instructors have to be AIM qualified, and we'll be encouraging them to be AIM 2. We're willing to reward that: their hourly rate will rise in line with their level of qualification."
Tracy Sollitt, National Health & Fitness Manager at Village Hotels, which operates 29 clubs in hotel resorts across the UK, with membership starting at around €40 per month. High-quality group exercise is a major focus for the chain, which offers 17 LES MILLS programs.
The longer a teammate is with our company, the more privileges and incentives they receive. Two-thirds of my team has been with me for three or more years; some have been with me for the full 10 years the club has been open.
Tip #3: … but remember it isn't all about money
"About two years into my career with VillaSport, I found instructors were giving up classes at other facilities to be more committed to our program. Our pay rates are competitive within our community, so what was driving this was something else: respect, appreciation, teamwork, communication.
"I'm a huge communicator. It takes a second to send a text to a new teammate who's about to teach their first class to say: 'I'm thinking about you. Hope you have an amazing class!' I'm known for my random acts of kindness too: when I see something amazing, I reward it. For example, when a teammate drags her kids back to the club to teach a class we needed last-minute cover for, I'll send them out to dinner as a family as a small token of my appreciation."
Tip #4: Make them feel supported
"It's so important you treat your instructors well. They're the face of the gym and the reason people come back again and again. You have to tell them how good they are. You have to make them feel happy and safe in their role. You have to give feedback in a positive, constructive way.
And you have to listen to them. Twice a year, I go on a coffee date with my instructors. We just chat, we discuss how it's been for them, we look at what we can do to improve. My instructors know they can discuss any problems with me. They know I won't get angry if they're sick and can't do their class. And they know I'll listen to their opinions when I create the class schedule.
Tip #5: Give them a chance to shine
"We have 178 instructed classes each week and we try to complete this using as few instructors as possible, to build a strong relationship between instructors and members; a strong instructor following can be a godsend to a club in a competitive environment, but it also makes the instructor feel valued."
"We also use our social media to build the presence not only of our programs but also of our instructors. We create dual-branded imagery, videos and so on that our instructors can use to build their profile."
Tip #6: Continually develop them
"We support the growth of each instructor with every program they teach for us. After two years of operation, 78 per cent of our instructors have completed AIM 1, 38 per cent are on AIM 2, and one instructor has made it through to LES MILLS bootcamp.
"We also run our own in-house assessments to monitor the total member experience – not only the delivery of a program but also the member interaction before and after class. Through this scheme, we've selected instructors to act as mentors to their colleagues. They've seized this chance to lead and inspire with both hands."
"I give my instructors additional responsibilities to keep them involved and motivated, such as asking them to team teach and share their experiences with the team. I also encourage my instructors to give feedback to each other them so they continually improve their skills."
"I've assembled a group of about eight AIM 2-qualified teammates who do 'drop-in assessments' before our big launches, sitting in on teammates' classes and offering feedback. I was nervous about doing this, but people actually look forward to these evaluations from their peers because there's trust among our team: everyone knows we have their best interests at heart.
"I also encourage teammates to train in additional LES MILLS programs. We contribute to the cost, but I don't believe in paying 100 per cent; it's important that instructors are held accountable and respect the quality of the education rather than have it handed to them. In return, I respect their effort, time and money, and make sure there's a way to rotate or share a class if I don't have a permanent opportunity available at the time.
Finally, every teammate has an annual evaluation: 30 minutes of uninterrupted time to review strengths and challenges for the year and to discuss personal and team goals. Investing in their professional development elevates their sense of value to the company and gives them the sense of recognition they deserve.
So in summary…
Create a strong sense of community that will bond instructors together – and bond them to the club.
Make rockstars feel valued: pay the premium rates they deserve and incentivise loyalty.
Focus on positive communication: a 'thank you' for going the extra mile goes a long way to making someone feel valued.
Make it a two-way dialogue: listen to what your instructors have to say, and act on it.
Help your instructors build their profile: they feel valued, and the club benefits from a strong instructor following.
Continually invest in your rockstars' professional development. It elevates their sense of value to the company and boosts their loyalty to you.