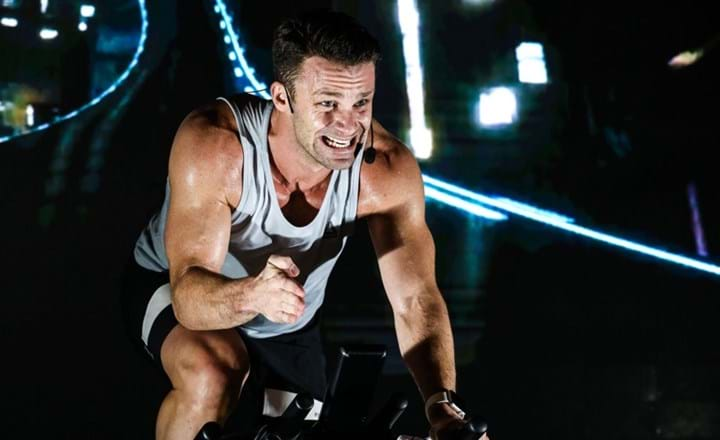 'Our clients are our living'. Emblazoned on the wall, this is the first thing that employees of Mälarö Träninsgverk see as they enter their gym's staff room on the outskirts of Stockholm, Sweden. For club owner and group fitness Instructor Michael Steenhouwer, it's crucial to the success of their business.
"It sets the tone for the whole member experience: if you have any time off, go out and mingle in the gym, and always be open to the members. It doesn't matter if you're in the supermarket, because in a small town like ours you do meet everyone you know at the supermarket!"
Michael began his career in fitness at the tender age of 15, encouraged by his mother who had opened a facility which purely catered to group fitness. He says: "Back then, I was playing ice hockey seven days a week and my mom said, 'You like to show off and be in the spotlight, you should try teaching classes!'
"I started teaching BODYPUMP™ and quickly realised that it was more fun than playing ice hockey. Now I've been teaching for more than half of my life." Success as a Les Mills Trainer and Presenter followed, and Michael now regularly trains new Instructors in BODYPUMP, LES MILLS GRIT™, CXWORX™ and BODYCOMBAT™.
A standout Instructor
The reputation of the family for being the best in group fitness led to them being approached by a local entrepreneur. Michael explains: "He said to us, 'I want to build a gym here and I want you guys to run it, because I've heard lots of great things about how social you are and how good you are with your customers.' It was a dream come true."
Today, the family have two clubs that Michael runs together with his mother and two older sisters. They now include a gym floor, but it has been their focus on group fitness that has ensured the success of their business – which now hosts over 1,000 members and clocks up 1,200 weekly attendances to classes. Michael adds: "Even when we were a small club, we prioritised group fitness because we saw how much it meant to our customers."
The family's commitment to group fitness has translated into a strong team of talented Instructors on the clubs' roster. "At our gyms, our top priority has always been to deliver high-quality group fitness and to be the absolute first choice in our area," Michael says.
"Having great Instructors at our clubs has inspired many members to themselves become Instructors, which in turn helps the growth of our business. I really believe in the philosophy of 'surround yourself with good people" and 'study the greats and become greater'.
"My sister and I mentor the next generation of Instructors ourselves, and the high value we place on group fitness – plus how seriously we take our responsibilities as Instructors – informs their attitude and development."
Life lessons
Michael's discipline and drive to be the best is partly a result of his nine months of military service, which is mandatory in Sweden. "When I applied, they asked me, 'what do you want to do?' and I said, 'I want to do something heavy'. I regretted that by the end of the first week!
"It was the worst time of my life. I was a ranger, which meant being in the woods for 12 days, then back home for two… on a constant two-week cycle. There were lots of survival tests and mental tests and having to spend a lot of time by myself, which was really hard. I was a social guy, I was looking forward to lying in the tent with a bunch of guys and talking about ice hockey and sports! It was totally the opposite. I smuggled my Nokia phone into the woods a couple of times so I could call my girlfriend – I was so lonely.
"The good side of being in the army was increasing my self-discipline. And it taught me not to complain about the small things. Because the minor annoyances we have in everyday life are nothing compared to being completely exhausted and having to carry on anyway. In that respect, I wish everyone had to serve in the military."
Passion for excellence
When asked about his motivation when delivering a class, Michael is unequivocal: "I want them to finish the class longing for the next one. I always give 100% when I'm on stage and I often spend a long time after class chatting to and stretching with the members. It feels like we're friends and family – even though we have over 1,000 members! I love how people talk about us like we make a real difference to their lives. Many people have even met their partners at the gym."
Members initially sign up for a 12-month period and the average retention period is currently sitting at 48 months, at a monthly fee of €60. Adding LES MILLS Virtual™ to their repertoire has had a significant effect on class attendance, with 68% of all club visits now going to group fitness, compared to 57% in 2017 before the club offered Virtual. They schedule 205 Virtual classes a week – run on a timetable – as well as 65 live classes.
"Virtual is a great complement to the live classes," says Michael. "Why wouldn't you use those empty hours in the studio for classes? On a Saturday morning, there's a group of 16 people who come in and do LES MILLS GRIT Virtual at 7.15am. I could never get an Instructor to come and teach at that time."
Building a balance
When asked about the greatest challenge in his career, Michael explains: "Combining my personal life with the work that I do, I would say that is the hardest. You come to a certain level where you have to become more professional than personal. Otherwise, you will dig yourself into a hole where you can't be there for everyone all the time. You have to have time for your family, for your kids, for your fiancée, especially with the "always on" feeling from social media.
"I just decided to have that private time where I don't answer everything or comment on everything. It's really hard in this industry, you love it so much and you love all the Instructors and colleagues, but you've got to separate the private and professional life. When I come home I try to not lift the phone too much and put it aside. I'm not saying I'm 100% there yet, but I'm working hard on it.
He adds: "Early on, someone said to me that group fitness can't be a job, it can only be a hobby. Well, I proved them wrong! You do it because it's fun and you benefit other people's health and needs, but when you invest that much time, it is a job – it's my job to get people into a good mood and shape and improve their lifestyle. Do you know that 46% of working people in Sweden can't sustain 10 minutes of intense walking? 46%! Obesity is getting worse and worse so we have an enormous job to do. It's an important job. I think being a group fitness Instructor is one of the most important jobs in the world."