Jules Armishaw knows a thing or two about fitness fashion. As Les Mills' chief stylist she's spent the last 10 years dressing fitness professionals from all over the world – so she knows all the secrets to making exercise attire look amazing on everybody … and every body. We recently caught up with her to learn the insider tricks that will have you looking – and feeling – great while you work out.
#1 Choose tights wisely
A good pair of exercise tights can be life-changing. High-waisted tights are great for helping you feel comfortable with everything in place – and they can help you focus on your core and keep your abs engaged while you work out.
Choose fabric that feels high quality. Watch out for see-through fabric, always check behind in a mirror before you leave the house! I love the latest Les Mills Lux High-Rise Tight, they're so thick and luxurious, they feel amazing.
Remember that light colors stand out, so if you're wearing tights with panels of lighter color, think about where the light parts sit on your body – it can be a good idea to avoid light panels that go across your knees or up your inner thighs. It's the same for mesh panels. The mesh on the latest Les Mills Bonded Mesh Tight is super fine, so you can't actually see skin and they are very flattering.
Patterns can be great. I find the most flattering are the smaller patterns that don't stretch too much. The last thing you want is a little daisy becoming a large sunflower when you squat! The Les Mills Capri All-Over Print are great fun tights with black that's been strategically placed in all the right places.
Short legs? Always pull tights up a little, showing your ankle will give the illusion of space.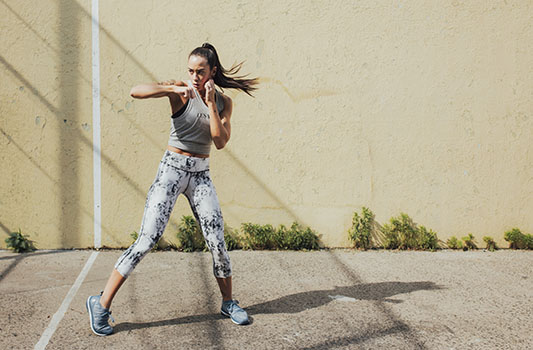 Les Mills Capri All-Over Print
#2 Play to your strengths
If you love your legs show them off with some patterned tights and a simple black top. If you've got great arms emphasize them by wearing a strappy singlet and plain black tights. Bringing attention to the areas you love is a great way to detract from other places.
While tops with high necks are usually not ideal for girls with bigger boobs, the Les Mills Fitted Long Bra is great, as the hint of skin is flattering yet you don't have to worry about your top being too low cut. Whatever your shape, tops with V necks are always a flattering option.
Short shorts can be great for showing off muscly thighs. Choose a pair with small splits up the side for a particularly flattering look.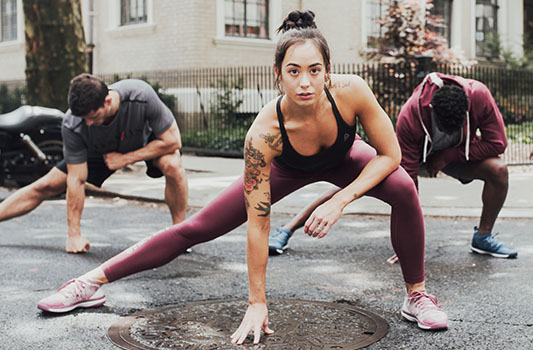 Les Mills Lux High-Rise Tight
#3 Comfort is key
Whatever you do, make sure you feel comfortable – don't buy something for the gym that you wouldn't wear in real life. Layering can be a great way to feel comfortable in skin-hugging lycra. Wearing a shirt or jacket around your waist can help you feel at ease when you're heading to or from your workout.
#4 Pay attention to accessories
Keep your plain gym gear current with great shoes. As shoes are the one piece of gym attire that you actually have to update frequently it makes sense to choose the most fashionable options.
Have fun and bring out your personality with bright bras, it's another simple way to embrace fashion and make a statement.
Socks make more of a difference than you think. Crew socks are great if you're tall as they help make your legs look lean and elegant. Ankle socks are the perfect option for people with short legs, as showing off your ankle is the secret to making legs look longer.
#5 Color
Choose colors and patterns that make you feel happy. But don't shy away from plain colors either. Remember, wearing all one color creates a sense of length – all black is a great way to look long, lean and slim. Plus, black is the best color for concealing sweat!
For more fashion inspiration check out the latest collection from Reebok + Les Mills
If you want more tried, tested and true news from the leading edge of health and fitness sign up to get Fit Planet insights and advice straight to your inbox.