HIIT is a sure-fire way to drive dramatic changes in fitness and body composition, but such transformation relies on pushing yourself to your absolute max. When you're in that intense heart-pounding training zone, the only thing you should be focusing on is powering through the exercises, gasping for air and basically ensuring you don't collapse. The last thing you need to be worrying about is your shoes.
But it seems that for many exercisers footwear is an issue.
Insights collected by the team at Reebok and Les Mills found the majority of HIIT athletes are training in running shoes – and all too often this footwear is holding them back.
Some of the feedback:
"My running shoes don't give me the grip I need for all the lateral movements which affects my performance in class."
"I never feel that secure in my running shoes when I'm doing the various plyometric movements. I have to slow down to make sure I don't twist my ankle."
With insights like this front of mind, Reebok set out to build a complete functional training shoe for the number one fitness trend in the world – HIIT.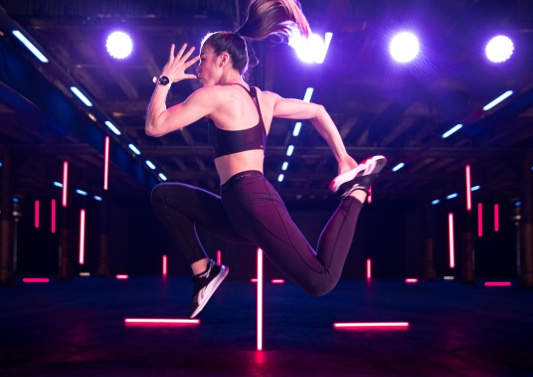 According to Tal Short, Reebok Senior Product Manager, it was one of the toughest tasks they've ever tackled. We spoke to him about what was involved.
"The first step was working with the Reebok Consumer Insight team, sitting back, listening and learning directly from the consumers," says Short. "During one of the early interviews a HIIT instructor told us that she doesn't go as hard as she wants in some of her workouts because she is afraid that her running shoe won't hold up. We were inspired by this and put the quote up in our workroom as a reminder."
"From here the developers identified three areas that were lacking in current shoes worn for HIIT classes: Grip, Durability, and Stability. Grip was a focus because HIIT workouts create sweaty athletes, who create slippery floors, therefore, we made sure to have rubber where you need it on the outsole. Durability was identified as an opportunity after examining numerous running shoes and seeing the wear and tear that a HIIT workout puts on a shoe. For this reason we wrapped the rubber outsole up over the toe to protect against burpees and planks. Stability was also a focus because of the amount of lateral movements in HIIT workouts. If an athlete doesn't feel like they are planted on the platform of their shoe they will slow down, therefore, we built in a midfoot support cage to lock in the foot."
"We did more testing on this shoe than ever before."
Short says that due to the various demands of a HIIT shoe it was definitely one of the hardest shoes they have ever built. "There were a lot of trials. A lot of learnings. A lot of testing. Les Mills was along for the entire ride. They provided useful feedback throughout the process. We were lucky to have such experts involved."
Les Mills Trainer Erin Maw explains how sample shoes were tested by some of Les Mills' key international trainers. "Trainers trialed them across different workouts in different settings, on carpet, on wooden floors, outside… all of the feedback was collected and collated for the final stages of refinement."
This testing was complemented by work in the Reebok lab that analyzed a variety of movements such as treadmill running, stair jumps, kettle bell squats and plyo exercises. Reebok also tested the shoe's running performance. "We tested up to a 10km run and it performed well. We then improved the ride by adding a moulded sock liner that helps with arch support," says Short.
According to Short, Reebok did more testing on this shoe than any other training shoe they have ever built. "We opened extra extended sample size molds so we could have more people test the shoe than ever before. We were committed to getting as much info as possible to make the best decisions for the final product."
"It's been an 18-month process – a constant cycle of test, learn, and refine until we were satisfied that we built the best shoe possible."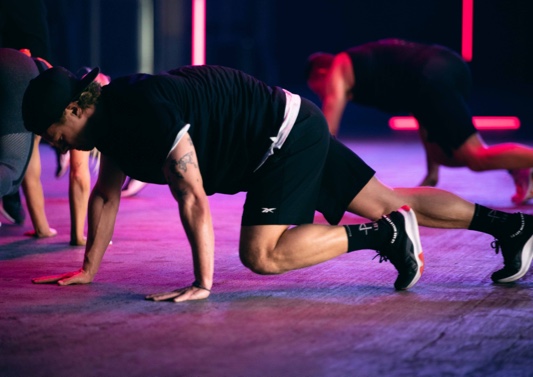 They're not just for HIIT! This shoe is superior for all types of training
Erin Maw teaches a variety of workouts and says this shoe is beneficial for a variety of cardio options. "I have tested these shoes out in everything from LES MILLS GRIT to BODYATTACK and BODYCOMBAT, and they are a game-changer across the board. Basically, if you're doing any lateral movements or plyometric jumping movements you can do them so much more confidently with these on your feet. And when you move confidently you can move with more intensity – and that's when the real results kick in!"
Kylie Gates, Les Mills Creative Director, trialed the shoes in LES MILLS GRIT and BODYATTACK and loved them. "They are super comfortable, super springy on landing and they support really well in the arch." She also has also started wearing them during CXWORX, as she finds them fabulous for training with resistance bands under foot.
Rachael Newsham, Co-Program Director for BODYCOMBAT, says "Shoes are really important when it comes to BODYCOMBAT because they can make or break your workout. The HIIT shoe allows me to push myself and get the most out of my workout, instead of holding me back."
US-based Instructor, James Thomas uses the shoes to practice LES MILLS GRIT Athletic on a wooden floor, and he loves them. "I don't have to hesitate or slow down to avoid slipping in transitions!"
Erin and the LES MILLS GRIT team have developed a bespoke LES MILLS GRIT workout that best highlights all the key features of this new HIIT shoe. Watch this space – this free workout will be landing in early 2020.