As anyone who has experienced it will agree, THE TRIP™ is indeed a trip. An immersive cycling journey through virtual worlds, it matches sensory stimulation with physical exertion in entirely new ways for fitness. Roads rise up to meet you, your mind and stomach react naturally to the dips and curves, the landscapes and scenery flow past you at an entirely realistic velocity. It leaves you breathless in more ways than one.
"The Trip is not like any other group fitness class I've ever done," one early convert puts it. "The whole experience is seriously cool. Working out in a different world is pretty incredible." Adds another, "You forget about time and the fact that you're exercising."
It's perhaps not surprising, then, that the revolutionary immersive fitness program has its deep origins in a parallel but related universe. Co-creators and old friends Les Mills Jnr and Adam Lazarus had grown up going to music festivals, where entertainment, group dynamics and physical movement are also central to the experience.
"Adam sent me video clip of the inside of a festival tent," Les recalls. "They were projecting beat-orientated lines onto the roof. We thought, that's a cool concept, I wonder if we could do something with that for fitness?"
From that initial spark in 2012 the concept grew into the fully-fledged IMMERSIVE FITNESS™ program that became THE TRIP, and which is now receiving the kind of international attention its developers could have only dreamed of at the start.
Play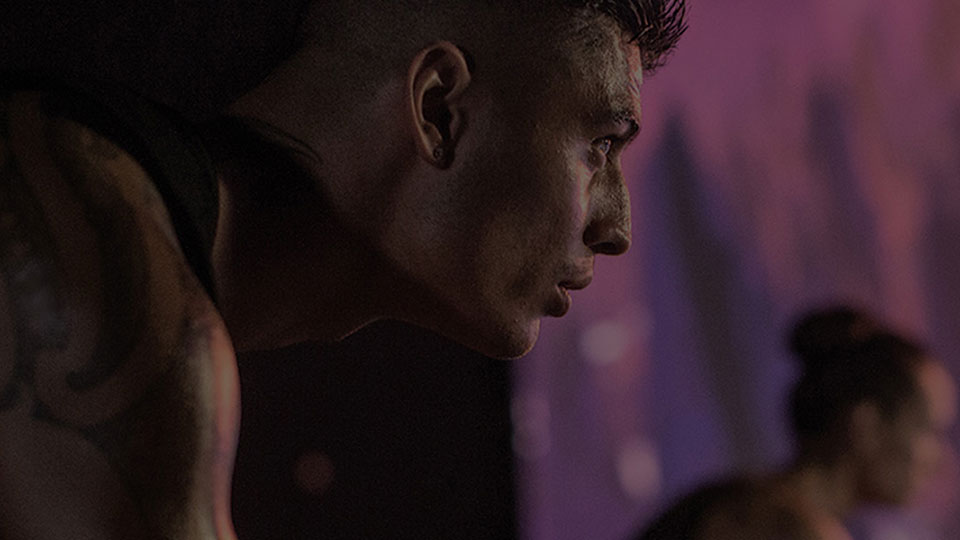 Time Out New York's Jillian Anthony was an immediate fan: "Imagine an entire room of people throwing their bodies into a right turn, when no one's actually moving anywhere. It may look silly to onlookers, but it felt amazing. We even tried to catch air when we went over jumps."
In the LA Times R. Daniel Foster summed up one of the program's key attractions: "The ability to actually see a hill — and moreover the anticipation that visual created — made me push all the harder to ascend it."
The word-of-mouth and media is rewarding, too, because getting THE TRIP to this stage has been a long and demanding process for all involved. For Les and Adam it meant diving into the world of light and video projection to see what was – and might be – possible. From there they took the concept to leading New Zealand live event production company Inside Out, and put together a selection of samples around several LES MILLS™ classes, including a two-minute cycling segment set in an imaginary CGI cityscape.
"Out of the entire project, those two minutes were the one section we were most interested in straight away," says Les.
At this stage, however, it was not yet clear that an entirely new cycling class would become the flagship immersive program. LES MILLS GRIT™ and RPM™ were also selected for early development at a specially established trial space/concept store inside the Les Mills Auckland City gym. Of the three experimental 30-minute concepts that emerged, again, one idea stood out.
"We created a Grit class which had some interesting content," Les explains. "It was visually quite beautiful, but it lacked interactivity … The concept was there but it needed more. RPM had already been choreographed, so it was harder to create a new concept. But we realized THE TRIP worked. If you tell a story in a cycling environment, where you're riding through an imagined world, you could really capture an audience."
Having been shown the potential, the Les Mills board approved a European roadshow. Dubbed "The Project" and mounted in partnership with Reebok, a portable boutique gym was designed that could be trucked to various locations to showcase the immersive "future of fitness".
Time poor and still feeling their way, Les and Adam added another visual animation company to augment the team. Short immersive samples of "gamified" LES MILLS GRIT and BODYCOMBAT™ were created, as well as a BODYBALANCE™ sequence featuring a time-lapse sunrise over the Southern Alps of New Zealand.
"It was exciting," says Les, "sleepless nights and all that. It was so much fun, but we were still testing the concept and at that stage we still didn't know what would work and what wouldn't."
Les is quick to pay tribute to Adam Lazarus, who took on the early technological challenges of bringing the creative ideas to life. Nothing similar had been attempted for fitness, and much of the hardware and software needed to be scoped and tested from scratch. Similarly, what early market research that existed was largely anecdotal – but it was strongly positive enough for the developers to know they were onto something.
"We had been in the fitness industry, we'd seen what the company was doing, and we really wanted to create something that represented drastic innovation," Les says. "We saw where the industry was going and where the innovation was, and we wanted to create something that was so far out – something that could make a Steve Jobs or Elon Musk, if they were in the room, sit up and notice. It was arrogance in a sense, but we just wanted to make something that was cool."
With THE TRIP 6 now in studios, and THE TRIP 7 in development, maybe the most rewarding thing is that the program is still true to its own inspiration, and to the core appeal of LES MILLS classes in general.
"It's a funny thing," says Les, "that experience at a music festival is a similar feeling that you get in our classes, where you're moving to the beat – you know, moving to the music and the beat builds at the right time and your physical movement is starting to shift, and then the beat drops and you get this moment of euphoria, right as you also shift your movement. Those are the moments in fitness that make it for people. It's like a therapy session."
Keen to learn about the technical and commercial challenges of taking THE TRIP from prototype to market?