We've all experienced the struggle of trying to find the ideal tunes for exercise. Whether you're after background beats for your gym floor lifting or motivation-packed music for your cardio, no one size fits all. You can hit shuffle on any 'club bangers' playlist, but chances are you'll quickly start overthinking it. Questioning your mediocre music mix will leave you feeling frustrated and unsatisfied – and certainly not focused on getting a good workout. So what can we do about it?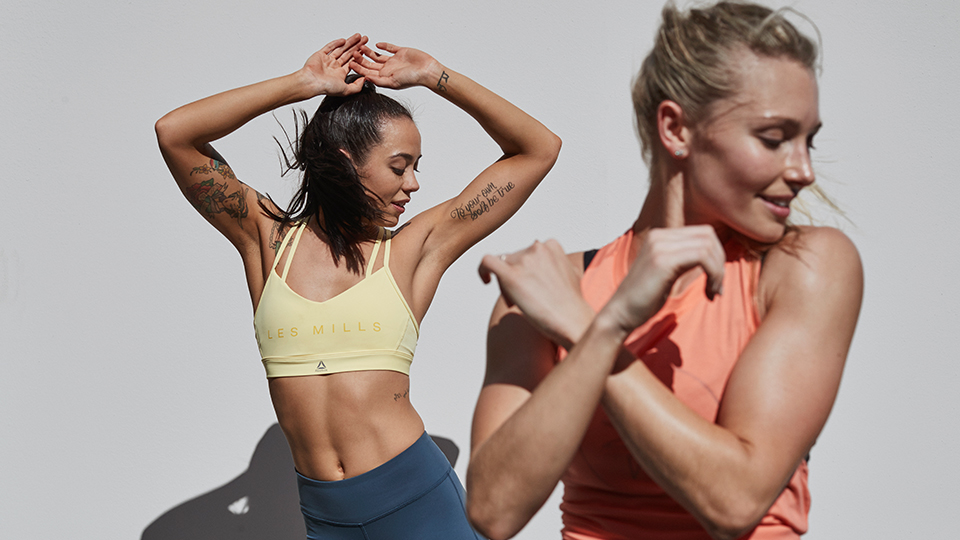 CAN GOOD MUSIC REALLY BOOST RESULTS?
Music is, quite literally, instrumental when it comes to creating the ultimate workout. And for good reason. A carefully-curated playlist can have a marvelous effect on our mind and how our muscles respond to exercise. The right playlist can make us work faster and harder, but also make exercise seem easier.
The right playlist can make us work faster and harder, but also make exercise seem easier.
It's a type of "legal performance-enhancing drug," says Costas I. Karageorghis, a leading expert in the interplay between exercise and music, and consultant for Run to the Beat London half marathon, British Athletics, England Rugby, Nike, Red Bull, Spotify, IMG, Sony, and Universal Music. Karageorghis has studied the psychological and physiological effects of music and exercise extensively, finding that synchronous music – that which matches the tempo of the exercise – is key to lifting your enjoyment of exercise, as well as driving motivation and boosting results. This type of music is shown to:
Reduce the perception of exertion by 12 percent
Improve the effects of exercise by 15 percent
Boost endurance by 15 percent
Lift movement efficiency by seven percent.
"The synchronous application of music results in much higher endurance, while the motivational qualities of music impacted significantly on the interpretation of fatigue symptoms right up to the point of voluntary exhaustion," explains Karageorghis.
Some researchers have suggested that extraverts (who typically seek out external sources of stimulation) are more responsive to music than introverts. And it seems that those new to a particular exercise might be more responsive to music than experienced trainers.
Those new to a particular exercise might be more responsive to music than experienced trainers.
WHAT MAKES GOOD WORKOUT MUSIC?
Finding the right workout music is both a science and an art. Science tells us there are optimal beats per minute (BPM) and for certain types of training it's best to match the rhythm and tempo to the activity. In his paper, Psychophysical Effects of Music in Sport and Exercise, Professor Peter Terry provides a good example: "If the goal during warm-up is to elevate the heart rate to 110 BPM, then limit choices to music with a tempo in the range 100-120 BPM or, better still, selections that increase gradually in tempo from resting heart rate (around 70 BPM) up to 120 BPM."
The 'art' part comes in when you start finding motivational music and creatively fusing it with science-backed exercises, something that Les Mills has been perfecting for more than 50 years.
"It always starts with the music," says Diana Mills, Les Mills Creative Director. "We have to find music that makes you want to move." Diana works with a devoted music team that collaborates closely with Program Directors, choreographers, composers, and artists, listening to thousands of songs every month to pick the 10 or 12 tracks for each new workout release.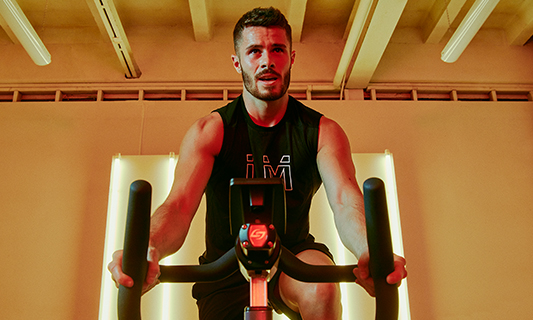 The team curates 80 unique playlists every year (one per quarter for all 20 LES MILLS programs), each tailored to the specific demands of the workout. Once each suitable song is identified, the team works with record labels to license the track for group fitness classes around the world.
To ensure the music is pitch-perfect for every movement in every class, sometimes the team will work directly with composers and commission a Les Mills original or cover. These musicians are part of the Les Mills Artists stable – musicians who frequently work directly with the Les Mills creative team to create music.
"Sometimes there just isn't enough contrast or enough highs and lows in the track to make it work for an exercise class," explains Ezra Fantl, who leads the Les Mills Artists initiative. "By working directly with artists we can create music that feels perfect for the workout. It also allows us more freedom to use music for different uses, such as livestreaming and marketing."
THE BEST MUSIC FOR DIFFERENT TYPES OF TRAINING
Research shows the role of music is particularly important during stationary cycling. In a 2018 report by ukactive and Stages Cycling, music was identified as a critical factor when selecting a group cycling class by 86 percent of respondents.
Rachael Newsham, Les Mills Program Director, explains that while people respond well to high-energy fast BPMs, music with a slower BPM is equally important when training focus is on conditioning.
Sourcing knockout music for new BODYCOMBAT™ tracks each quarter, she says the feelings a song evokes are also extremely important. "We always ask how does this song make you feel? Does it speak to you on an energy level and evoke an emotion that will fit with the journey of the workout."
"We always ask how does this song make you feel? Does it speak to you on an energy level and evoke an emotion that will fit with the journey of the workout."
While banging beats form the backbone of many great workout experiences, pulsating speakers don't always strike the right chord.
Dr. Marcelo Bigliassi from the University of São Paulo, Brazil, has spent years exploring the neural networks that activate in response to exercise and music. He explains that the use of music during exercise is reliant upon several factors, such as the participant's attentional style, exercise intensity, complexity, mode, etc. What might motivate during an RPM™ class, for instance, won't work for something involving a high level of concentration, or any subdued activity where a strong mind/body connection is key – such as yoga or stretching.
Enter Gabrielle Peake, a classically-trained composer who grew up on a rural New Zealand farm and is most at home behind the keys of a piano. Peake has created specific tracks for the yoga-based workout BODYBALANCE™/BODYFLOW® and recently developed the full soundtrack for the new LES MILLS STRETCH™ workout coming soon to LES MILLS™ On Demand. The creation of these bespoke tracks was sparked from a connection Peake formed with one of her piano students, Dr. Jackie Mills, Les Mills Creative Director.
After being introduced to Kelly Macdonald the LES MILLS STRETCH choreographer and being guided through the new stretching session, Peake was inspired, finding the music simply dropped into her hands and out onto the keyboard. "My aim was to create music to breathe to, to be calm to, to remain connected to … and it really did just spill out."
You can get a taste of Peake's neo-classical sounds here.
FIND THE PERFECT PLAYLISTS TO SOUNDTRACK YOUR WORKOUT
Follow Les Mills Music on Spotify
You'll find curated playlists perfect for all sorts of training – everything from running to bodyweight conditioning, stretching, and more. This is also where you can stay up to date with the tunes the fitness creatives are currently listening to.
Check out Les Mills Music Artist page
This is where you'll find the latest releases by Les Mills Artists.
As the world's largest provider of exercise to music classes, Les Mills has mastered the science and art of using music to dial up your motivation. Find a class or work-out On Demand and experience the performance-enhancing effects of music today.