Sarah Shortt: Hi Carrie and Amy! I'd love to know a little about your history with fitness and Les Mills?
Carrie Kepple-Styles: We grew up in our careers with Les Mills. Amy started in Les Mills Christchurch right out of university, doing personal training and teaching group fitness. That was over 20 years ago. She moved to Auckland and eventually became GFM [Group Fitness Manager] for Les Mills New Lynn, later progressing to National Training Manager for Les Mills New Zealand.
I started teaching Les Mills classes straight out of college as a side hustle and was eventually recruited to join the team that launched Les Mills Midwest in Chicago. After 2 years I joined Gold's Gym International in Dallas, where I eventually became the National Director of Group Exercise. In 2009, I moved to New Zealand to work for Les Mills International in Global Sales and Training, before quickly shifting over to Les Mills New Zealand where I worked as a Club Manager. Amy and I have been international trainers and presenters for Les Mills throughout this journey, and we still train Instructors across multiple programs for LMUS.
How did you and Amy meet?
Carrie: I moved to Auckland from the US back in 2009, and although Amy and I knew of one another – Auckland is a pretty small place – it was probably 10 months or so before we actually got to chatting. We got on like a house on fire, the attraction was instant, and we started dating.
In 2012, we got a civil union at the Auckland Courthouse. In 2013, New Zealand was one of the first countries in the world to legalize gay marriage and at that point we got our paperwork switched from the union to marriage. Although we already considered ourselves married, it made a difference to be documented from an immigration standpoint. When the US finally legalized gay marriage in 2015, it was an emotional moment for us because it gave us the right to choose where we lived.
We had our son, River, in 2016, and then things got interesting! Shortly after he was born, all three of us went to the US Embassy to get River's US citizenship. However, because I wasn't his biological mother, they said I couldn't transfer my nationality to him. So, at that point, Amy and I were allowed to move to the US, but our baby couldn't come with us. Isn't that crazy? In the end we got him a green card so we could relocate to Illinois. Let me tell you, moving here was a wild ride!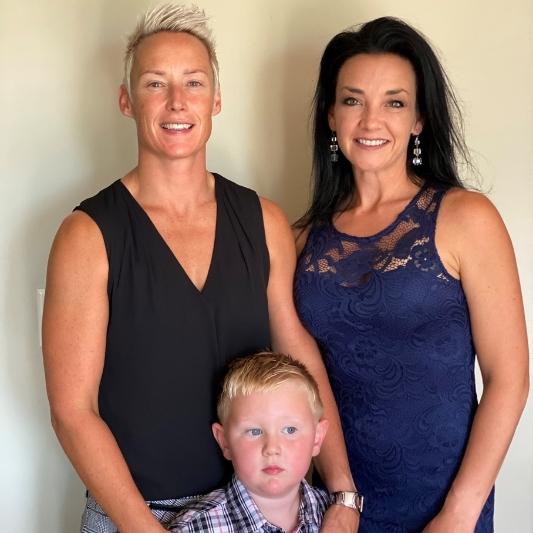 What was your journey to opening your own studio?
Carrie: We began mapping our concept and business plan in mid-2017. We moved back to the US in early 2018 and spent two years setting up the entity, finding financing, negotiating a property, building it out, setting up systems, hiring and we finally opened Styles Studios Fitness in January of 2020.
Our model is four boutique fitness studios as store fronts, surrounding a gym floor. Each of our studios has a very different ambience to match the feel of the modalities we deliver inside. The studios are king of the club and the gym floor is secondary, which is the reverse of most clubs in our industry.
We offer luxury locker rooms, a smoothie bar, and a high-tech experience with RFID bracelets and an exclusive member app. We also have a massage and recovery area that can be added to the membership. We also offer personal training, group training, nutrition and a real sense of belonging to a community.
People were flooding in; we were giving away free workouts to get in the doors, and we were signing people up like mad. We got 500 members in eight weeks. Our trajectory to meet our KPIs for our financial projections was looking really good… And then Covid came along. 
Can you share how you attracted members to join the club initially?
Amy Styles: We started out with a pre-sale beforehand, making a big noise online and in the local market about our arrival. We held auditions to find staff and the original one-night audition turned into two nights because we had so many people wanting to try out! One of the reasons we chose Peoria for our location is that there are so many Les Mills Instructors here. We knew that if we could get some Les Mills Instructors into the team, they would teach great classes and, because of the caliber of the Les Mills training, they could easily learn how to teach some of our own programs too.
We started with these people who were really jazzed to be on the team and they were the ones who built the hype in the community. There was kind of an organic momentum that built through a grassroots referral. Before we even opened, we were doing tours, selling memberships, and getting ready for our grand opening in January 2020.
People were flooding in; we were giving away free workouts to get in the doors, and we were signing people up like mad. We got 500 members in eight weeks, which is just ridiculous for the size of the population here. Our trajectory to meet our KPIs [Key Performance Indicators] for our financial projections was looking really good… And then Covid came along.
We opened on January 18th, shut down on March 17th, and then were closed for two and a half months. We'd been open eight weeks.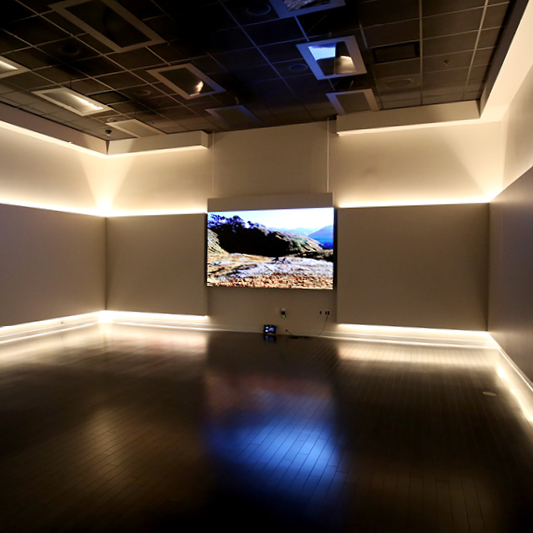 Wow that must have been so challenging. How did you handle that curveball?
Carrie: You know, I always joke to people that my experience with Les Mills New Zealand gave me my MBA without my having to go back to school!
It was kind of serendipitous, but while in New Zealand I kind of became their "opener" for clubs over there. I opened the Les Mills Britomart club from concept through to staffing, systematizing it, and running it operationally through to profitability. When the Christchurch earthquakes hit in 2011, I continued to run Britomart for the whole 14 months while Christchurch was shut down. It was at the tail end of that 14 months that I was asked to take on the role of club manager down there.
That two-and-a-half-year span in Christchurch was one of the biggest life lessons, not only in business and leadership, but in humanity. It was so much bigger than just trying to take a broken business and make it profitable again. It was about getting in and listening to a community, hearing their stories, wiping their tears, hugging them, understanding, learning all that they've been through and just sitting in empathy with them. Gaining their trust. And not because I wanted something out of it, but to help rebuild the community. The club had lost two thirds of the members as well as the staff, so it was a huge challenge.
The staff that were left were broken. It was like, where are we at? What do we do? They had just gone through hell, and so it was a really big life lesson in how human you need to be to run a successful business. When we had to shut down on March 17th, because of the experience we'd had in Christchurch, Amy and I just accepted the inevitable and said: "Here we go". Of course, we were scared, but we were determined not to waste time or fret about it.
Within 24 hours, we got our members onto an online platform and started teaching livestream classes. We didn't waste a day. Our strategy for that whole period was to insulate and love those 500 members and help them out with their physical and mental health, as well as their nutrition. And even though it wasn't the point, our reputation in the city on the back end of that was awesome. People were like: "We really got taken care of. These people are legit. They actually really care about you. You need to go check out Styles." The referral-based business exploded because we cared about people during the hard times.
People were like: "We really got taken care of. These people are legit. They actually really care about you. You need to go check out Styles." The referral-based business exploded because we cared about people during the hard times. 
What other challenges have you faced?
Carrie: When you're first starting out, the challenge is getting people in banking and real estate to believe in your unproven concept. That's the toughest part. Many people will want to tell you all the reasons why it won't work. You have to believe hard in your concept and yourself at the start. There are no handouts or cheerleaders behind you until you start making money and proving your concept.
What have been the wins?
Carrie: Getting open was a win. Surviving Covid has and continues to be a win, every day. Unlike mature businesses who had the luxury of having some or all of their commercial debt paid off with an established customer base and profit line when Covid hit, brand new businesses like ours had a brand new note to start paying off. We're still in the process of establishing our member base, which means our runway of recovery is a lot longer than mature businesses.
Also, much of the government relief was tailored for the mature businesses. It's been hard to win in those conditions. Building a loyal community of people who love Styles and their experience here has been a huge win. Watching people gain confidence both mentally and physically here is a win every day! We're in the early stages of establishing Styles as a franchise, and we're hoping to start selling that this year.
Have you worked with local businesses?
Carrie: Yes, during the pandemic we got really passionate about what we call 'Mental Fitness'. We partnered with a local neurotherapy and counseling business to deliver Mental Fitness videos online all through the pandemic – and these are ongoing today. We also partner with multiple other local businesses on our Styles Sweat 2 Save program. Those businesses offer our members a discount for shopping with them when they show their Styles RFID bracelet. We say: "Let your sweat pay you back when you shop local". It's a great way to incentivize people to shop local.
We recently became the first fitness facility in the world to pilot a disinfecting robot we lovingly call Rosie! The local company is called Pringle Robotics and they're an emerging tech giant. They have robots that can do multiple things and are in various industries such as schools, hospital, casinos, hotels and more. We're exploring the use of their disinfecting bot in the fitness vertical for them. This bot comes out at night and uses dry mist disinfectant and UV light to kill 99.9% of pathogens in the air and on surfaces. It's pretty awesome!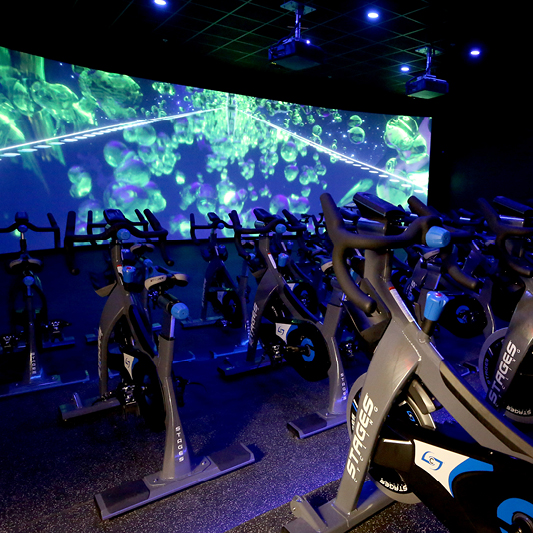 You offer a mix of classes. How have you incorporated Les Mills programs into your timetable?
Amy: Les Mills programming is a huge part of our boutique experience. We use THE TRIP™, RPM™ and LES MILLS SPRINT™ in our Chain studio. We use BODYBALANCE™ alongside our other programming in our FreeSol yoga studio. We offer BODYPUMP™, BODYATTACK™, BODYCOMBAT™, LES MILLS GRIT™, LES MILLS CORE™, and BODYJAM™ in our Urban Ritual studio. Our HUSTLE studio is our own exclusive programming.
What advice would you give to other instructors who would like to imitate your success?
Carrie: I would say understand your why before you embark. If money or the idea of making it big is the main driver, then it's probably not something for you. But if you are an entrepreneur who has the guts, grit and resilience to push through these first few years in survival mode, then you should explore it. Know that it is absolutely necessary to either have a business background or degree yourself or partner with someone who does. Knowing fitness, or how to teach or train people is not enough to build a successful business.
What are the rewards of having your own studio?
Amy: It's not for the faint of heart and it's certainly only for people who feel they are entrepreneurs. It's also only for people who are good at leading people over process. You have to do both, but loving to work with people – both staff and members – is a must. If you are aligned with that sort of person, the rewards far outweigh the stress and challenges. Helping people improve their lives and the lives of those around them is the ultimate reward. Personally, having the autonomy to build a vision is also very special.
Carrie Kepple-Styles
Carrie is a senior-level business leader with 17 years of national and international strategic and operational experience in the fitness industry. She is a highly experienced club operator through her former roles in club management for Les Mills New Zealand, as well as national director of group exercise for Gold's Gym International in the U.S. She serves on the IHRSA (International Health, Racquet & Sportsclub Association) Board of Directors and holds a BA in Business Management, Marketing and Communication Studies.
Amy Styles
Amy's background includes 20 years of experience in Personal Training and Small Group Personal Training. She is a two-time Ironman competitor along with multiple half ironmans along the way. Amy has been an international trainer and presenter for over a decade and was the Head Training Manager for Les Mills New Zealand from 2013 to 2018. As well as holding a BA in Exercise Science, she recently obtained her US National Strength and Conditioning Coach certification (CSCS) and is also a USA Level One Weightlifting Coach.