"I never intended to be certified in five programs but I enjoyed Online Training so much I ended up enrolling in SH'BAM™ and LES MILLS GRIT™ after I first completed BODYBALANCE™/BODYFLOW®!" says UK Instructor Nikki Snape, who also teaches BODYCOMBAT™ and BODYPUMP™. "I've done both Live and Online Initial Training now, and I liked the fact that we didn't have to do live presentations in the online course, as those situations make me very anxious. The rest of the content is identical, and I have to say I actually preferred learning online."
Nikki now has two permanent classes in LES MILLS GRIT at the Nuffield Health club in Preston, Lancashire. "When I undertake training in any new programs I ensure I make the gyms I work at aware of my new certifications. I was offered these classes straight after my training, and I was particularly happy as LES MILLS GRIT is my favorite program."
With many clubs having been closed during lockdown, how have Instructors managed to land classes fresh out of Online Training? We caught up with some recently certified Instructors to learn their secrets for success.
BE PROACTIVE
It's always a good idea to contact your Group Fitness Manager to tell them that you're going to certify in a new program, and your availability for classes.
"I was really proactive with my Group Fitness Manager and on returning from Texas I contacted her and shared my interest in BODYPUMP," says US Instructor Sarah Ward. "She empowered me to go for it and believed in my potential to serve our members in this new program. Once I committed, she created space for me to team teach on Mondays and Wednesdays with two incredible Instructors at my club! I grew into teaming, filming and then was given the Monday class the week I passed my assessment. Now, I teach every Monday at 4:15pm."
UK-based Instructor Sarah Rainsford took the initiative to ask if a Virtual class could become Live. "My club had been running Virtual LES MILLS GRIT but member feedback suggested that live Instructors motivated them more and they felt they got more from the workout," she says. I am lucky that my home club (in Northfield, England) is so supportive and when I emailed my certificate they asked if I would be happy to trial a class once lockdown was over. Sometimes you have to put yourself out there!"
SCOPE OUT THE OPPORTUNITIES
The pandemic is forcing all of us to do things differently, which means there might be more opportunities opening up in your local club.
"I took advantage of the situation presented by the pandemic," says UK-based Instructor Amy Dyble. "Pre-lockdown, our group fitness timetable had an indoor cycle class which was taught by the gym fitness team. However, post-lockdown their roles have changed. When I discussed the new timetable with the studio manager, I put it out there that I had certified in RPM™, and got the class!"
US Instructor Jennie Kruger explains, "With all of the changes brought on by the pandemic, I was able to fill a vacant BODYBALANCE/BODYFLOW slot at a gym where I already teach BODYPUMP. While some Instructors are understandably not ready to teach yet, I felt comfortable and ready to go back given the precautions and new processes the gym had implemented to keep everyone safe. I'm grateful to have this opportunity to teach so soon after completing my certification."
For US Instructor Amy Russo, the opportunity lay in volunteering. "I reached out to my old gyms once outdoor classes were permitted and volunteered to teach for free," she explains. "This was early on, when gyms weren't making money – but I was miserable without my classes. My passion for teaching and the formats overrode everything else."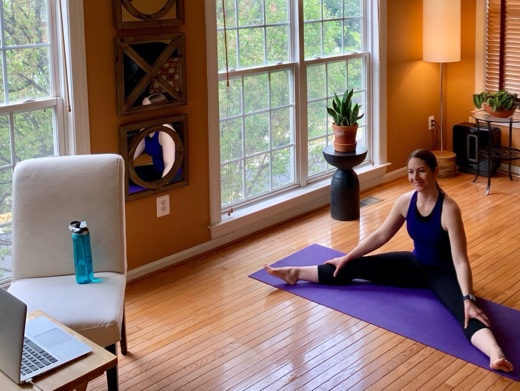 GET YOUR HUSTLE ON
Group Fitness is all about passion right? So show how much you love your program by putting the work in. As UK-based Instructor Elise Vosoughi explains: "I have one BODYATTACK™ class a week, and I HUSTLED to get it! BODYATTACK is my true love, so there was no way I wasn't landing a class in it as soon as I was qualified!"
"My friend and I recently attended LES MILLS GRIT Online Initial Training, and we showed our Group Fitness Manager that we cared and were willing to put in the work," says US Instructor Carlos Flores Garay. "We came into the gym almost every day to practise the release or our technique. Right now, you will succeed if you can be adaptable. We are scheduled to have a permanent class after we officially launch the program during the World United kick-off event."
REMIND ME WHY ONLINE INTIAL TRAINING IS SO GREAT?
Why do we love learning from our living room? Let's ask our recently certified Instructors why they would recommend it…
IT CAN ACCOMMODATE YOUR LIFESTYLE
"I've always had my eye on BODYBALANCE/BODYFLOW but because I am an observant Jew I can't do trainings on Saturdays, so it's been very difficult to get Friday or Sunday trainings," says US Instructor Shelly Cohen. "With online trainings, it seemed much easier to schedule weekday trainings, which is what I did for BODYBALANCE/BODYFLOW (and will do for BODYATTACK). I also felt that this was a nice, safe option given the circumstances."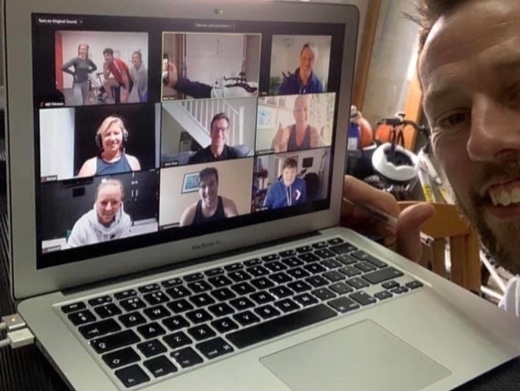 FEWER ASSOCIATED COSTS
"The cost of travel and accommodation is erased, which makes the course price the full price," says Sarah Rainsford. "I would definitely recommend online training to anyone thinking about it."
US Instructor Tiffany Warf notes: "It was much cheaper without the expense of travel (gas, food, room) and much more comfortable. You can relax at home on your couch in your own space, with food, drink and all the comforts of home right there."
NO LIVE PRESENTATIONS = A MORE RELAXED EXPERIENCE
Shelly Cohen adds: "I found that without the pressure to present, my mind was more relaxed and open to learning." Nikki Snape agrees: "There was much less pressure without the live presentation, so I felt much more relaxed."
GREAT OPPORTUNITIES FOR CONNECTION
"The online format did not prevent me from connecting with and learning from my Trainer or other trainees... in some ways, there was possibly more time for small group discussion, connection, and one to one conversations and feedback!" says US Instructor Shira Kirshenbaum. "We played some fun games during our LES MILLS GRIT training... we sweated and were challenged... and we had some great laughs as well!"
MORE TIME TO REFLECT AND IMPROVE
"Online training allowed more time for self-assessment and reflection because I could watch my presentation multiple times," says Jennie Kruger. "I think it helped me quickly identify technique and coaching areas that I needed to work on. I would definitely recommend online training, and while it is different to live, I found it just as valuable."