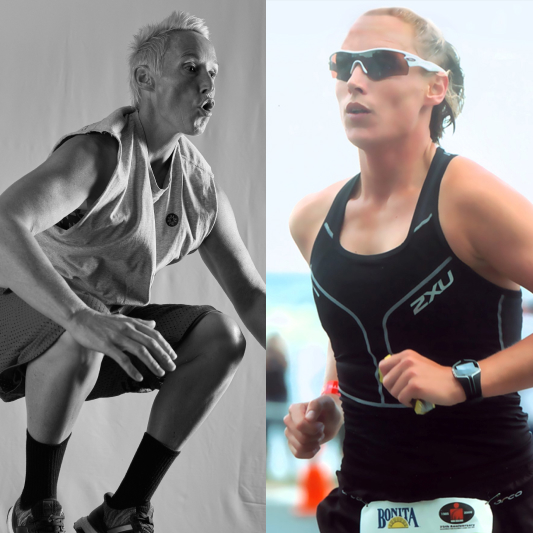 Amy Styles (US)
I was inspired to do an Ironman for two reasons. The first was my Nana passing away from cancer. I spent a lot of my childhood growing up with my Nana close to Taupō (NZ), which was where the event was held, and I wanted to do it in honor of her. The second was to test my own limits, discipline, and motivation. I wanted to dig deep, not only to get across the finish line, but to experience the years of training required to get to that level.
At one stage I was teaching 15 classes a week, alongside trying to train for a triathlon. I was teaching 4-5 BODYPUMP™, at least 3x BODYATTACK™, as well as RPM™, LES MILLS CORE™ and LES MILLS GRIT™. To balance the two, I tried to maintain an am/pm schedule. So if I taught in the morning, I could do my triathlon training either straight after the class or have some recovery and then go out in the afternoon. If I taught RPM, I might use this as my cycle training and then run straight off the bike. I'd have longer days at the weekend where I'd do swim-bike-run sessions. You can maintain the volume of classes and balance the two, but when it gets to about 12 weeks out from the event, that's when your training volume will generally increase. At that stage, it's more about incorporating recovery, rather than adapting your schedule. When I was 14 days out from the event, I would taper back my classes and get them covered so I could go into it fresh.
There are lots of benefits to doing group fitness classes alongside an event, not least because the training will keep you physically challenged outside of the studio. BODYATTACK™ was great for my running because of all the lateral movements. Obviously, when you're running for a long time you're just repeatedly moving through the frontal plane, so the lateral movements were great to train my stabilizers and help me stay injury-free. Also, the plyometric training we do helped my running fitness. LES MILLS CORE™ transferred into all of the swimming, running and biking, and BODYPUMP™ improved my muscular endurance. It will also enhance your coaching in classes. I was able to motivate from a more authentic place because I understood what it feels like to be in the red zone, pushing myself to the max. Cycling was great for helping me to sit in the essence of RPM and bring the imagery to life.
What are the cons? Well, if you're really tired and you've pushed the limits in your own training, you still have to show up and teach those classes. And of course, when we teach, we absolutely go for it, so I found it really hard to get up and teach a class and have to pull back physically. I ran the red line a lot. I guess the biggest downside of doing both at once is that you're always dancing with the red line of intensity, which can hinder the recovery process.
What advice would I give others who train while teaching? Firstly, look at the type of event, and then try to match the intensities, or offset the intensities with your classes. If you teach LES MILL SPRINT™, for example, and you've also scheduled a HIIT training session for running or cycling on the same day, you might want to separate them out and have a lower-intensity session or strength session instead. And make sure you have some recovery and good nutrition in between. If you're teaching BODYPUMP in the morning, then you might want to run in the later part of the day so you give your body time to recover.
I'd say just listen to your body and make sure you've got weeks where the training load is lower, so you have time to recover. You don't want to be going for 16, 20 weeks on end without having an easier week. If you've got a good coach who programs for that progression that's good. The biggest thing is that you really need to prioritize good nutrition, sleep and recovery at all times. And if you miss one or two sessions because you're really pushing the red line, that's not going to make or break the bank. You need to be adaptable sometimes to look after yourself and know the signs where you're starting to regress: the body isn't producing the same effort; the heart rate creeps up faster; the sleep isn't as good; and the muscles feel heavier. Sometimes it's better to have a much-needed recovery session rather than trying to hit that high-intensity state when the body's not going to get there anyway because it can't.
If you're really committed to the goal, you'll kind of just make your way there. Stay focused on the end result and eventually you'll get there. Not every day is a great day, but that's the way it is with classes as well. Not every workout feels great, but it definitely teaches you the importance of mindset, resilience, commitment and discipline.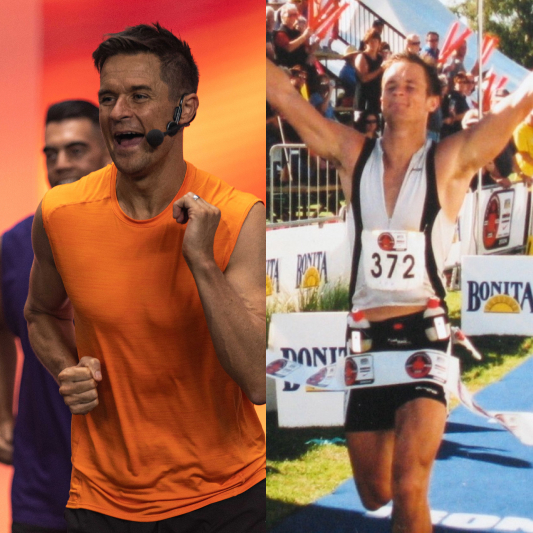 Bevan James Eyles (NZ)
I was a triathlete for about seven years while also teaching classes. And the reason I did it was that when you work in fitness, a lot of your time and energy is spent helping other people. After a couple of years of teaching, I just felt I needed something for my own fitness. Even though I loved that aspect of my life, I needed something for myself.
I did a marathon, but I actually didn't find it that challenging. A physiotherapist said to me: "If you want a challenge, you need to do an Ironman." And so I did it, and it was the hardest thing I'd ever experienced. It kind of sparked a desire in me to see if I could compete at that next level. Over the years, I've trained for a lot of events – many marathons, cycle races, and lots of endurance-type events. My main focus has been on endurance racing.
The whole time I would have been teaching anywhere from 8-14 classes a week, and they would have been 60-minute classes – BODYPUMP, BODYATTACK, RPM. I didn't really adapt my teaching schedule much to be honest, I basically did what most traditional athletes would do on top of my classes. Because teaching was my only source of income at the time, I didn't taper back my classes as much as I should have. I probably should have stopped teaching completely three weeks out from the event, but I never did. I've always struggled to take it easy. When I'm teaching, I feel a responsibility to push myself. And so, on race day, I was probably always a little bit fatigued because I would have been teaching the day before. If I were to have my time again, I probably wouldn't have taught as much as I did.
What were the pros of training while teaching? My credibility as an Instructor went through the roof! It gave me a lot of buy-in from my participants because they didn't just see me as this Instructor; they saw me as an athlete. And I think that perception actually helped them get more out of the workout. The other thing is that endurance sports can be quite lonely, so teaching helped me fill my social cup each week. If I hadn't hit the gym, I'd have been spending a lot of time by myself.
What advice would I give to others? This may be controversial, but I'd say to really think if it's the right course of action for you. Will it fit with you being a whole, healthy person? Let me assure you that while my life at the time was physically extreme, that picture of health came at a compromise. I'd urge that you choose a challenge that allows areas for all aspects of your life. Make sure you spend a bit of time thinking about the real cost of taking on a challenge. I'd recommend speaking to some people in the sport to get a sense of how much time you're going to need to invest. Ask yourself honestly: "Could I fit into my week?" For example, marathons are a really good challenge, but do you want to do a marathon? You're probably going to be doing anywhere from 8-15 hours of running a week. Now, if you're already teaching, plus you've got a family and your career, it's going to be a hard thing to fit in. It's going to be a compromise.
One of the downfalls at that time of my life was that I became a bit one-dimensional. At the end of it, my life was actually a bit lonely because all I was doing was exercising to the detriment of things like friendships and relationships and so on. In the end, I kind of woke up and felt a bit lost. My desire to chase goals had resulted in me neglecting other areas of my life.
I think one of the biggest problems with fitness people is that when we try to develop ourselves, we often just do more fitness. Sometimes it's better to find other things that will grow us. Since giving up triathlons, I have developed myself as a musician, which has made me a much more rounded person. It can be easy to just look at life through a fitness lens, but there are lots of other things you can do that will give you growth. I don't regret that time of my life and I wouldn't change anything, but I would think long and hard about what you might be sacrificing if you do take on a challenge.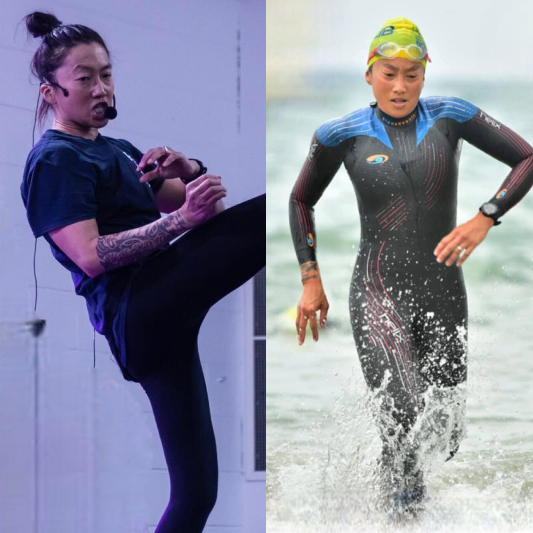 Frida Sumardjo (NZ)
I teach many programs! BODYPUMP, BODYCOMBAT™, BODYATTACK, LES MILLS CORE, LES MILLS GRIT, RPM, LES MILLS SPRINT and THE TRIP™. Throughout my career, I've participated in many triathlon and multisport endurance events. I do these events to find my best and test my limits to see how far I can push myself physically and mentally.
I don't have a desk job like most of my tri friends, so I try to be smart about teaching and training when it gets closer to a big event. For example, I won't take on too many covers leading up to my events, I reduce my squat weight in BODYPUMP, and I avoid teaching too many HIIT classes. As much as it's for the benefit of my body, I also have a rule that my members come first. If I can't do the program justice, if I can't deliver my best, then I shouldn't be teaching the class.
The pro of being a triathlete while teaching is that I have many stories to share with my members! I hope by sharing these stories I can inspire them to get out there and not be afraid to set themselves goals that might be hard or scary. Group fitness is also my secret weapon! My body can endure more load in different ways because of the strength I've developed over the years. RPM and SPRINT help me with my cycling training and LES MILLS CORE is definitely a top favorite: I can always integrate it into my routine no matter my training volume. It doesn't tax the body too much and is so helpful to my sport.
The only downside is that, because teaching is my priority, I can't dedicate everything to my training. Being both an Instructor and an athlete means that most times I never know what my true capability is of just being a triathlete. When I race now, I just choose to do my best: settle for enjoyment whilst still challenging my mind and body. I divide my energy between the two, and that is OK.
My advice would be that it's ABSOLUTELY DOABLE AND POSSIBLE to train for an event. Use your current strength and fitness as a Group Fitness Instructor to your advantage. And the support from the Group Fitness community and the members are incredible. They become your cheerleaders!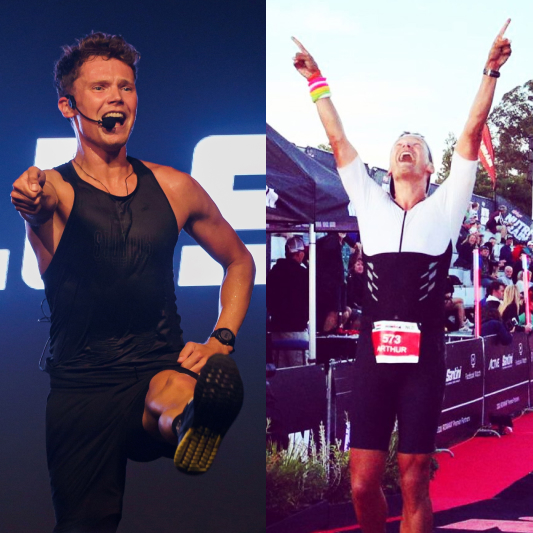 Arthur Gerards (The Netherlands)
I've completed four full-distance IRONMAN triathlons and many smaller races too. I did them to challenge myself alongside teaching classes (BODYATTACK, BODYPUMP and BODYBALANCE™). Of course, teaching gets us fit and strong, but the downside of leading the workout is that we can't mentally focus on ourselves during class. Doing a different sport has enabled me to grow both physically and mentally, which has had a positive effect on my teaching skills.
Since training for an Ironman requires high-volume training weeks – 15-20 hours at the max – it can be physically challenging to add that on top of your classes. If you don't take care of yourself, you definitely run the risk of overtraining. I have a 3-month period of specific training, which means my life only consists of teaching, working, training, eating and sleeping.
My advice? Go do it! The bigger the challenge, the bigger the rewards and learnings you take from it. Find a goal that makes you nervous and excited and go for it! It has definitely enriched me as a human. Make sure you plan your weeks in advance and if you get a coach – make sure they really understand the output required for your classes. Know that anything is possible, as long as you put your mind to it!