First of all, I'd like to say THANK YOU to all of you who have stuck with LES MILLS TONE as we try new things out with this program. This workout that is still evolving, and I absolutely love hearing all of your feedback on what is rocking your classes, as well as what you could live without for a round or two ;)
One big thing that has come to my attention is feedback that some moves are too high impact for your members, and that you are confused around which option you should be teaching.
I want to state clearly that you can absolutely teach LES MILLS TONE with all low impact options. If this is what works for your class – and this may be especially appropriate if they were people who previously attended BODYVIVE™ – please know you have the freedom to do this.
In fact, the low impact options should make up the basis of your class, even if you have a range of fitness levels. TONE is not a 'High/Low' class, and you are not expected to teach it 50/50. Start with the low options and as you see the fitness of your members start to increase, add in a couple of the higher impact options – maybe five per cent.
The most important thing is to teach to the people in front of you today. We have included both high and low options so that you can deliver a workout that will make the people in YOUR class feel successful.
The reason that we include the high impact options is that they are necessary to ensure the growth of the program by appealing to a broader market. For example, in Khiran [Huston] and Erin's [Maw] class in the Les Mills Auckland City club, their participants are mainly 20 year old girls, so they include more of the higher options because that's what this generation are looking for. At the other end of the spectrum, the classes at Les Mills New Lynn are packed with people who prefer lower impact, and so the teachers there will teach more of these options.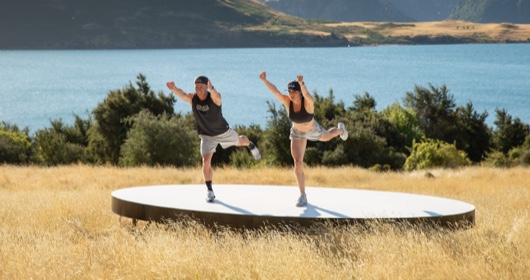 In the next release (TONE 6) we have simplified the class even further so that there are only ever two options shown, and we have been very clear on how you would teach both options when you are teaching by yourself.

To teach with authenticity, look at your class and see what they are doing well. How are they keeping up? What are they engaged in, and what are the dropping out of?
This approach applies to all of our programs. For example, if you're teaching a Lunge track in BODYPUMP™ and there is an option to add a pulse but it's clearly better for your class not to pulse… don't add them in!
Similarly with BODYCOMBAT™, if your class don't want to do the Sprawl, then please teach the standing option. And you don't have to teach Mermaid Arms in BODYBALANCE™/BODYFLOW® if this makes no sense for the people in your class.
Spend time authentically teaching to who is in front of you and don't just deliver on autopilot. If you can't do the higher impact option or your class doesn't benefit from it, then please teach the other option. It has been provided to you for a reason.
And finally, let's talk about working on and off the beat…
If you are very uncomfortable teaching the class off the beat, and none of your class want to do it, then feel free to teach on the beat. You will notice that songs have been selected to match the movement on the half speed or close to the beat. Please teach this in a way that will make YOUR class will feel successful.
As always, feel free to send your feedback to instructor@lesmills.com. Thanks again for all your energy and love for this program!