SARAH SHORTT:
Hi Ross! You look after filming for Masterclass – could you tell us about your role?
ROSS PEEBLES:
Sure – my primary role is to produce Masterclass – which are the key Instructor videos that we produce on a quarterly basis for all the programs. Essentially, I'm in charge of organising the practical and logistical elements of the shoot, and a lot of the creative elements as well. So that's everything from venue choice, camera crew, filming style, lighting, audio… all of those things you see in the videos.
I work in the Group Fitness team at Les Mills International and my team is comprised of a Line Producer, Production Manager and Production Assistant.
You deliver Masterclass every three months, so are you working in three month cycles?
Yes, but those cycles massively overlap so we're never just working on one quarter at a time.
Obviously there are the 13 weeks we're actually working on a release, so right now we are just finishing the release that will deliver to Instructors in November, but then we will be filming the next release (that will drop in January) in three and a half weeks' time.
We've been working on the next shoot for a lot longer than just the next 3 weeks and some shoots overlap a lot. For example, we're looking ahead to filming the releases that will drop in January 2021 which sounds like a long way away but that's the shoot in October next year. We've already done quite a lot of planning on that already – so that's forward planning a year away – but we're also talking about the January 2022 release which is scary, but that's only 2 years away. If that's an international event then you need to be working on those sorts of time frames so you can stay ahead of the game.
So what does the 13-week cycle look like?
Like any television production schedule, you've got pre-production, production, then post production. Those are the three main aspects. Pre-production is obviously the organization of the shoot, production is the actual shoot itself, then post production is editing and sound mixing and delivery of the product. Those are the three main components of a production cycle.
What's your role on the actual day of filming?
A lot of my work is done before the actual shoot days: making sure we've got all of the resources, all of the technical crew, all the production details sorted so on the day it's just making sure that it all happens, right down to the minutiae like checking people have actually showed up!
During filming I'm making sure we're getting the shots we need, that the music is correct, the performances are correct… I'm typically sitting next to Jackie [Mills] or Kylie [Gates] so as we record the classes we check that we're getting everything that we need both from a creative and content perspective but also from a technical perspective as well – so making sure that the lighting is correct, the sound is correct, the music is right and obviously the technique and choreography is correct as well.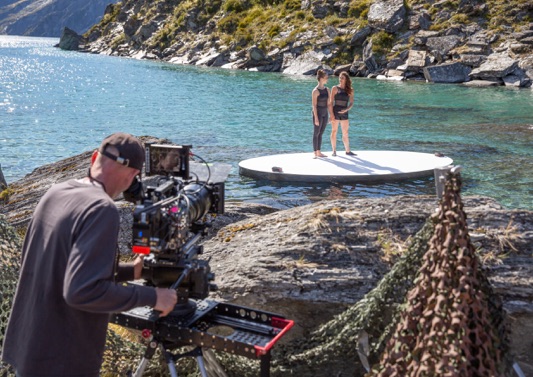 When you finish filming and then you're into post production, what are you doing in post?
I fully oversee the edit so I'm basically in the edit suite for the whole time – which a Producer wouldn't always do, a Director would normally do that – but that's just the way we're structured here. I'm putting all the edits together, going through the sign off process with the various stakeholders (Creative Directors, Program Directors, Technical Consultants) and subsequently compiling the programs and sound mixing once the content has been signed off.
Before you worked at Les Mills, what was your background?
I was a freelance television and video Producer and Director, working for production companies making television series. I've been with Les Mills for three years.
The actual skills you bring to [filming Les Mills Masterclass] are no different to what you bring to a multi-camera entertainment, gameshow or quiz show – it's just that the content is different. So we're not doing a quiz, we're doing a barbell workout, but fundamentally the skillset is the same.
Phillip Mills often talks about the concept of "exertainment". How do you bring this to life, coming from an entertainment background?
I'm always trying to bring the production values that you might see on television to Les Mills fitness programs. I'm always trying to improve the visual, technical and creative quality of Masterclass, trying to step it up and move it forward to evolve the product.
So this stepping it up and constant evolution – is something you do every quarter? Do you sit down and ask, what are we going to do differently next round, or does this happen organically?
It's a mixture of those things. It's partly organic and there are a lot of things I do within my own workflow – like, I won't do that again or I'll change that or I didn't like that so I'll do that differently.
We certainly have creative sessions with Jackie, Kylie and Les [Mills Junior] on an ongoing basis. We talk about what we're doing with Masterclass in three weeks' time but also what are we doing in Masterclass in three, six, nine, twelve months' time? We're always talking about it in a big picture sense. It's quite hard to put a schedule or a timeline on the creative process because it is what it is – it's a creative process and it has to be organic at some stages as well.
I'm always trying to bring the production values that you might see on television to Les Mills fitness programs [...] I'm always trying to improve the visual, technical and creative quality of Masterclass, trying to step it up and move it forward to evolve the product.
How many takes do you have to film masterclass? Do you ever re-shoot?
A lot of things about Masterclass are inherent, so there are lots of things that I can't change. Generally speaking it's a live class, so there's no stopping and you get one go at it. Sometimes we stop for a technical reason or a choreography mistake but essentially it's a live fitness class; not a television shoot where you can do multiple takes and multiple angles. You just get one crack at it. We don't reshoot in Masterclass so we're effectively covering a live event from which we create an as perfect as possible instructional video.
With international filming or bigger event filming with large audiences, this is even more the case because although in theory the audience might like a little bit of behind the scenes, really they're there for a live fitness class. If you stop for extended periods of time you'll run behind schedule but you'll also lose the room – the energy goes and there has to be some event and performance element to it as well. It's like going to a rock concert: P!nk doesn't stop 10 minutes through and say, I'll be back in seven minutes once I've fixed that light up there… the show goes on! We're sort of the same to some extent. That's one of the fundamentals of Masterclass which I can't change.
What's been the most challenging Masterclass you've filmed and why?
Obviously there's lots of challenges with doing the shoots overseas, and a lot of the people you're working with you don't know and they don't know Les Mills. There's a lot of acquired knowledge with filming Masterclass: we have a core crew in New Zealand who we use again and again and that's not an accident; that's because they know the gig, they know what's required, they've done it before and they know the expectations and requirements. Therefore when you go overseas you've got that challenge of working with people you don't know, who don't know the product, the class, the music, the presenters plus obviously in places like Shanghai – you've got the language barrier and all those sorts of challenges as well.
What about in terms of programs – are there any that are easier or harder to film? I know for the purposes of filming we frequently split them into "iconic", "mind body" and "athletic" shoots.
All of the programs have their individual idiosyncrasies, they each have their own little challenges and I feel like I know those challenges really well now so I know how to mitigate the problems or issues that always come up with each program.
There used to be a one size fits all approach to Masterclass, but if you think about it RPM is quite different to BODYATTACK, even though they're both "iconic" programs. I mean, it's stating the obvious, of course it's different, but the requirements for shots and coverage are quite different between the two programs. We film them in the same room so you've got to make sure that whatever set up you've got, camera wise and lighting wise, can do both jobs well without necessarily compromising each. So with that it's knowing the individual requirements of each class well enough and anticipating what's coming up, rather than just pointing some cameras at the presenters and hoping for the best!
In terms of seeing the release before it's filmed, do you or the Director see it before filming?
By the time we film a class I'm very familiar with all the music and I have and do sit through rehearsals at times and rehearsal classes, but what I've found is that if you go to a rehearsal class at the gym on Wednesday night and then film it on Saturday, it will have changed quite a lot. So I do watch some of the rehearsal videos just to know if there's any curve balls coming my way, but actually the classes are changing right up until the day – who's presenting which tracks will change, who's on stage for which tracks… right up to the last minute so there's no dress rehearsal really.
Why don't we film in Studio 1 at the gym anymore?
The main reason is that there has been a lot of construction going on at the gym. There is a new carpark being built, and over the last 12 months there was a lot of renovation going on in the gym itself with new studios being built. Trying to create a television studio within what is essentially a building site is just a health and safety nightmare.
The other reason is that it was a massive interruption for members at the gym, who just want to use their club and we're coming in every three months and taking over their facility. Studio 1 also wasn't an ideal filming location. There's no air conditioning so it was either boiling or freezing during the seasons, and the ceiling is actually quite low – which presents problems for camera angles. There's also no elevator so all the equipment had to be transported up several flights of stairs – carrying 40 bikes, all the lighting or a massive video screen up all those stairs every three months wasn't fun for anyone!
So how do you decide on filming locations like Wanaka and Sydney?
The big picture decision of where we film overseas depends on our international teams. So maybe they want to have a filming event or maybe they're already having a live event that we can join.
With the decision to film in Australia, a large part of that decision is that Jackie wanted to bring the experience to Australian Instructors – to showcase their local teams and give Australian Instructors the opportunity to attend Masterclass in their own country. It's about celebrating and thanking the Instructors in that market.
The actual decision of where to film in Australia came out of an organic conversation with Les Mills Asia Pacific where we discussed where they have the biggest Instructor base, where they will get the biggest attendance, where the best venue might be, what's going to be most cost effective for Instructors… and of course we also look at what the capacity of the venue is. So whether we need capacity for 5000 or 1000 people will also have a big impact on our decision. We actually looked at both Sydney and Melbourne but in the end Sydney made the most sense for what we were trying to achieve.
With the Wanaka filming, this came off the back end of celebrating 50 years of Les Mills, and also the fact that we haven't really told the New Zealand story about Les Mills, so why not do it somewhere that screams New Zealand, this incredible fitness company at the bottom of the Southern Hemisphere? We wanted to show some of where Les Mills came from. Because you can film inside a venue and they can start looking the same, but if you put Marlon Woods on top of a mountain in New Zealand it's automatically different.
I've been with Les Mills for three years and my mandate has always been to keep developing and evolving the product. If you want to keep evolving a product every three months – and three months sounds quite luxurious but each round comes around really quickly – one way to evolve the program is to do something different every time. So if you do an international filming, by definition that will look different to something you film in Auckland. If you film in Shanghai it looks different to Auckland so that's part of the driving force behind making international Masterclass shoots a more regular thing.
We sometimes hear feedback that Instructors can't see all of the reps of a move – how do you ensure that Masterclass remains an effective learning tool?
It's surprisingly difficult to film perfect shots all the time, let me give you an example of what happens at a big filming event:
The audience will affect the head to toe shot because if you put the presenters on a stage that's too high then there's no connection between the audience and presenters, and if you put them on a stage that's too low then a tall person who's in the front row will be blocking the shot with their head.
Then you get into really boring stuff like in New Zealand you can't really have a stage that's higher than a meter high off the ground without a handrail. It's a health and safety consideration. So all of our stages are always a meter high because that's how high you can legally and safely have them. When we filmed at Studio 1 in the gym, Ben Main could almost touch the ceiling on a stage that's a meter high, and when Mark Nu'u-Steele is on top of a step with his arms up he's that far off [demonstrates] touching a roof.
It's not a hard and fast rule but generally we always try to show a minimum of two to four full reps of any move the first time they do it in a full head to toe shot. The only reason we wouldn't do that is if the move itself is being repeated lots of times, so it might be a repeat of the move from earlier in the track or in BODYJAM™ or SH'BAM™ where they bring all the moves together which you've already learned 10 minutes ago. Or sometimes a presenter or someone behind the presenter has made an error so we might be trying to cover a mistake by cutting to a different shot.
We also sometimes hear feedback from Instructors that the reason you film Masterclass in places like Wanaka is for the Virtual and Les Mills On Demand audience – and not for them. What are your thoughts on that?
Ideally I bring the production quality of broadcast television to fitness and give Instructors something to look forward to every three months, "What have they done this round? What's gonna happen?" The hardest thing here is probably trying to be all things to all people, so many different people, who all want different things. We are primarily producing a learning tool for Instructors, but of course Les Mills on Demand and Virtual have certain asks, and then there's the audience at the event who have paid for their filming ticket who want a certain experience, and so to juggle all those wants without then just making a vanilla thing that suits everything – the jack of all trades or one size fits all – is really hard. But my primary objective is to film an instructional learning tool for Instructors.
The reality is you could shoot BODYJAM in one of our studios at the Les Mills office – you could frame up a head to toe shot and Gandalf could do the whole class in here – but is that what Instructors want? Is it the quality or the standard that people want? My goal is to bring television broadcast quality to the product and create something that Instructors will enjoy and be able to learn from.