BODYATTACK™ 105
This release is all about fun, energy, and laughter! The Warmup kicks us off with some fun lyrics and party arms. From there, we go right into Mixed Impact with the song You Only Talk In #Hashtag. Your members will simply love the Cupid Shuffle theme in Aerobic Training – it's a pure karaoke moment for the whole class! The Running track has a fun Knee, Lunge, Squat Combo designed to get the blood flowing in the legs and members ready to train in the second half. In the Agility track, we will train speed with Sprints, power with Single-Leg Leaps, and coordination with a 360-degree Squat Turn! Our last two cardio tracks bring different musical vibes to this release. Interval has awesome contrast between the recovery and working phases. In Power, prepare your members for a never-ending assault to their fitness. The song is nostalgic for some participants and will probably make them laugh, so channel that as you become the one-eyed, one-horned, flyin' Purple People Eater!

BODYBALANCE™/BODYFLOW® 85
Filmed in the South Island of New Zealand with Lake Lochnagar in the background, this scenic backdrop brings a special feel into the Masterclass. The simplicity of this release allows us to get into the flow of movement with plenty of time to explore, feel and connect with our bodies and breath. The music is simply divine with plenty of contrast. There are even more options to continue to thrill the yogis who want a challenge – and of course, there are always options for those participants looking for a gentle stretch as well. We have what is possibly the best Balance track ever – it's so emotional that Jackie cried when she and Diana were choreographing it! In the Core Abdominals and Back track we spend extra time coaching for pregnancy with the relevant options/adaptations.

BODYCOMBAT™ 80
We are celebrating 20 years of BODYCOMBAT! To herald this we have a major focus on this program coming up later this year, so watch this space for further updates… There are some new innovations in this release, including the Freeze Jump Kick and mixing up the tempo to challenge your participants' fitness. Watch out for Track 5, where all of our movements are dictated by the lyrics of the song – this is Dan's personal favorite! Once you've completed the strength and conditioning challenge on the floor, you'll then stand up and go hard with MMA skill conditioning.

BODYJAM™ 89
BODYJAM 89 will keep you Up All Night! From the highest Synth-Pop highs to the grindiest twerk'd-out Hip Hop, this release has it all. Track 1 is literally Up All Night and it's such a simple hype way to start the class. Then the huge drops of Shellz takes your Isolations track and turns it up to 11. Track 3 is an Oldschool banger of epic proportions. Get your NY styles on and literally everybody in your class will know the words to Push It, before Block 1 is Full Hip Hop, starting with the dance track of 2018, Uproar, Moombah sweetness and a little more touch of Oldschool, before the brand-new retro-sounding twerk- banger Twerk (say twerk one more time) takes the whole routine home with twerk sass. The recovery is a gorgeous trip through some Caribbean beach, then the second half is banger after banger, huge sounds with simple stylish choreography taking the dance and the cardio to all new highs.

BODYPUMP™ 110
BODYPUMP 110 will go down as a favorite – epic music and a full functional workout providing the REP EFFECT as promised. Plus we filmed this release in the most magnificent surroundings in New Zealand, we hope you love it! Look out for the massive Squat track Wild Wild Son which provides a challenge for even the hardcore participants through great tension training. Heads Up is our Chest – and also our Workout For Water track – such a great song with a unique sound as we mix Chest Press barbell work and functional walking pushups! The back track re-visits the High Pull for strength gains, plate work for heart rate kicks and fast transitions. This is all set to the euphoric sound of First Time… We work the arms (front and back) with great tunes of Woman Like Me and Machine – contrasting genres to appeal to all your participants. Buscando provides the feel good song even though you are doing Lunges – it almost takes your mind out of the work! Finally the shoulder track, Losing It, provides 3 dimensional shoulder training and gains.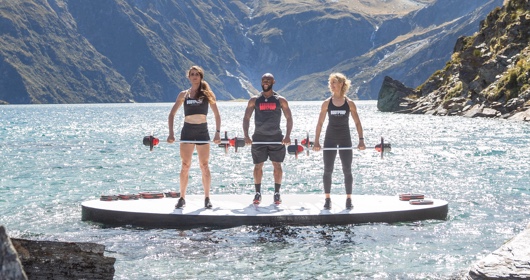 BODYSTEP™ 116
We get our engines started and warm up to Push Push, where the feature Push arm-lines match the song title perfectly. Then we seamlessly transition to Track 2, and continue to warm our stepping muscles to Body. Onward to Peak 1, our first cardio peak, where the magic number is 'six' and the song is Sweet But Psycho – Mark's favorite song of the release. We have a fun 'Goku / Dragonball-Z' theme in the Mixed Strength track. Move like a superhero, and imagine you're shooting fireballs out from the palms of your hands! We boost the fun factor: strike poses, and strut with empowering attitude to Fierce. There are extra points for original poses in this track. The Athletic Circuit gets us cross-training with a variety of training styles, including Speed Stepping!

CXWORX™ 35
CXWORX 35 has been designed to test both strength and stability. In each track you'll feel a real sense of achievement as you perform each exercise. We have incredibly effective moves in the form of Crunch combos, Spider Planks, Alternating Punching Rows, Hopping Pendulums, Jumping Climbers, and Resisted Pointers... just to name a few!

The band and/or plates are featured in 80 per cent of the workout, challenging your core stability. The music is exciting, uplifting and fun. This release has three Bonus Tracks: Bonus track 1 and 2, and the new and exciting Workout for Water track as a Bonus 6, featuring L-Row combos, Cobras and Aeroplanes.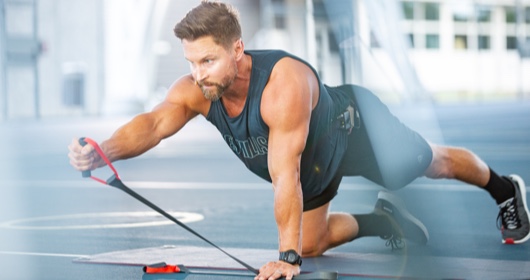 RPM™ 83
From Track 1, you'll immediately feel uplifted with an upbeat Warmup song which really sets the tone. Track 2, Give Me Your Love, ushers in awesome energy to lift the pace. Home creates an energy shift in Track 3 – easy climbs that build into punchy 60-second efforts! This is followed by a beautiful, soulful Track 4 where we chase A Million Dreams and the beat. Track 5, Body Talks, lights the room up! Fun and wild – hold onto your seat in this one, so cool! Track 6 Underwater, fills the room with both a musical and energy shift to allow us to find different levels of speed that brings us to the base of the mountain.

SH'BAM™ 36
The big difference in this release is that we perform a lot of choreography on the spot to help our participants build confidence. This has been designed to help people feel successful straight away and keep them coming back! Music wise, SH'BAM™ 36 has a few really good throwbacks for you to sink your hips into and get your groove on, mixed in with the usual suspects from the charts. There is some serious sass in this release! Just mind the speed bump in the Bashment track, where we work in a deep squat to set your legs (and butt) on fire… we are trying a new approach with SH'BAM to bring a more authentic dance feel, we hope you love it!

LES MILLS BARRE™ 7
We are back to basics on LES MILLS BARRE 7! We have focused on simplicity so that everyone in the room, no matter what their level, will experience the beautiful burn! There are no new moves in this release but the choreography has been designed to give you a stronger and more powerful workout… did someone say weighted Arabesque?!

LES MILLS GRIT™ 29
So, what can you expect from LES MILLS GRIT 29? Well, it's a super easy, chill workout, which will leave you feeling refreshed and vitalized... Said no one ever!

Like the prior releases, in each round the team look to create an innovative and uniquely challenging workout. Release 29 develops further from Release 28 with more creativity and craziness! We fresh new structure with every minute of every move designed to push your fitness threshold to the next level. You won't be disappointed… or breathing! There are some fun new elements, including the AMRAP and 'Push Pause' track.
Like Release 28, the Bonus Athletic Block will be inserted into this GRIT Cardio (not Strength) workout after track 2 to create GRIT Athletic. We hope you love it!

LES MILLS SPRINT™ 16
SPRINT 16 is tough so be ready! In the Accelerated Warmup we get in the training zone with intervals of Power and Power Sprints. It's energising and uplifting. Power Endurance has 100 seconds Work and 20 seconds Rest with a 5:1 ratio. These efforts increase our fitness base and cardiovascular capacity, get us into our high end anaerobic zone and close to our maximum threshold. The Speed & Power Tabata has 16 Intervals of 25 seconds Work and 12 seconds Rest; your heart rate increases just thinking about it! We do 4x Sprint Intervals and 4x Power Intervals and REPEAT. It feels great to mix speed work with anaerobic power, and the change of stimulus allows us to effectively fight fatigue and stay in the HIIT zone. There is nowhere to hide as the intervals just keep coming!

LES MILLS TONE™ 6
We have listened to your feedback! In this release we only show one high and one low impact option – making it very simple for one Instructor to show both on stage. The new moves are incredibly simple and they're in both the Cardio block section and repeated with weights in the Strength section. The music has an incredibly broad selection of genres, including Diana's favorite, Body!