THE MASTERCLASS
"What's new and exciting about the Q4 releases? Well, we did film Barre with shirtless men for the first time, that was a little bit different!" says Producer Ross Peebles. "Actually, from a production point of view, this was the biggest Les Mills shoot ever. We had 5 days of rigging and de-rigging, 7 days of filming, a 32-page callsheet, we filmed 35 classes that totaled 700 hours of footage, filmed with 7 cameras.
"Glen Ostergaard definitely takes the individual record for most classes filmed! Because we're not filming the cycle programs in London, he had to double up and film both LES MILLS SPRINT 29 and 30 as well as RPM 96 and 97. Plus, of course, BODYPUMP 123.
"We also filmed 2 releases of SH'BAM, LES MILLS TONE and LES MILLS BARRE since these also aren't being filmed in the UK. I think the record for most total minutes of content filmed goes to either Khiran Huston or Kaylah-Blayr Fitzsimons-Nu'u!"
THE MUSIC
"We licensed 87 songs from 53 different record labels for 18 different Les Mills releases – it was massive!" says Music Licensing Manager Kendall Farmer. "24 of these 53 labels were brand new to us this round.
"Big wins for us in Q4 were Butter by BTS being licensed for CORE 48 – 977million Spotify streams / 810 million YouTube views. And Let Her Go by Passenger was licensed for BARRE 20 – 1.6 billion Spotify streams / 3.2 billion YouTube views.
"We always love to feature New Zealand artists, so this round we were thrilled to license work from Valkyrie and Capital Theatre. SPRINT has taken a slightly different musical direction and we were stoked to use an awesome Bulgarian DJ called Kink with a tune called Justafeelin by TWOGOOD. It was specially re-recorded by the artists for Les Mills so we didn't have to clear a vocal sample from the original mix!"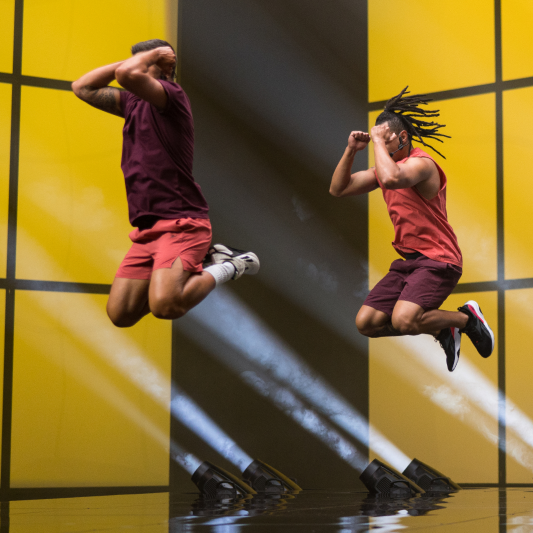 BODYATTACK™ 118: LISA OSBORNE
Presenters: Lisa Osborne, Sivi Rabukatoka, Nick Parashchak, Mandi Hirini, Jackson Fuafiva Osborne
"This release is a BODYATTACK hype dance party!" says Nick Parashchak. "There's so many good tunes, including Just Dance by Lady Gaga and a remix of Supa Dupa Fly for Track 4."
Mandi Hirini agrees: "We see the return of some old school bangers, spiced up with a 2022 vibe – Fading Like A Flower anyone? Music that moves you (as always), and lyrics that you can't help but connect with! One of my favorite things about this release is how the workout offers different ways to express yourself – whether that's how you challenge yourself physically in the peak tracks, or free yourself to the dance vibes in the aerobic tracks!"
"Track 8, Loud, invites you to be loud and proud!" adds Nick. "I taught this track and it had a special resonance for me. Don't ever let anyone silence you. It's an opportunity for you and your members to celebrate having a voice!"
"My favorite tracks are 5 and 7," continues Mandi. "Athletic Strength brings an isolated focus to the glutes with stabilizer challenges, and the upper body gets serviced with that overload feeling we love! It keeps our body guessing and adjusting to improve our strength and performance. Then there's a fun and competitive nature to 7. Choose your way to move, have a bit of competition with your neighbor, but there's never any doubt you're both on the 'A team'!
"This release brings the energy to life. No matter what kind of day you're having, you'll definitely feel better after this one! Instructors, enjoy the 2022 vibe of the music and bring out the competitive challenge if it suits your members!"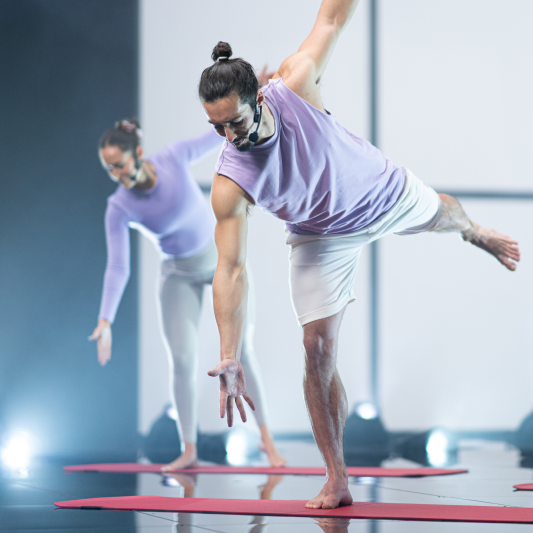 BODYBALANCE™ 98: JACKIE MILLS AND DIANA ARCHER MILLS
Presenters: Kylie Gates, Fraser Beck, Joash Fahitua, Khiran Huston, Yayoi Matches, Summer Bradley
Hi beautiful humans,
Thank you so very much for helping us spread the joy, accessibility, health and strengthening benefits of this wonderful program. We really loved making this one. With Jackie in Portugal a lot of the time now, we have become expert at FaceTime choreography sessions!
This round felt very smooth, brought in some joyous Pop but, again, tried to keep the music 'chill' and breath-focused.
There's plenty of challenge, but options galore.
Jackie loved the Core track and Diana adored the Sun Salutations track in this release.
We always want to know what you think, so let us know!
Loads of love,
J&D xo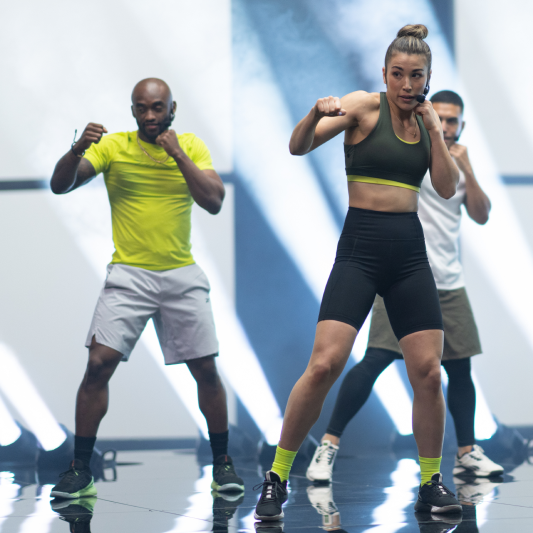 BODYCOMBAT™ 93: DAN COHEN AND RACHAEL NEWSHAM
Presenters: Dan Cohen, Rachael Newsham, Vili Fifita, Natasha Vincent, Benjamin Siolo, Marlon Woods, Meno Thomas
"We had a massive presenting team this round!" says Rachael Newsham. "It was great to have Benjamin Siolo and Marlon back, plus we had Meno Thomas presenting BODYCOMBAT for the first time ever.
"Track 2 is taught by Benjamin and Vili and this track is extra special to us because it's a New Zealand artist. The original version would have been too slow for us to use, but luckily we found a remix that would work. When you watch the Masterclass you'll see our excitement is next level!
"Tash and Meno taught Track 3. What was super cute on filming day was that Meno's mum – Mid Thomas, who some Instructors will know from BODYATTACK and BODYPUMP – and his dad had come to watch filming. I didn't realize that until I spotted them during this track watching him teach, looking so proud.
"Dan absolutely brought the house down in Track 4. There's a lot to teach in that track, and he did a fantastic job of balancing that with letting the music speak.
"Track 5 is taught by Marlon, and it's a great upper body workout. Marlon worked hard to make his cues slick, but not delivered frantically, which you'll see on the video. There's also some great plyometric work in there, which is perfect because he's got the hops!
"Tash and Vili taught Track 6. Tash was also filming TONE this round and her legs were getting completely smashed. When she was about to teach this track she turned to me and said: 'I finally know what you mean about "keep it real and stay with the fight" – how on earth am I going to get through this set?' It's next level struggle when you're teaching to camera and doing the best you can to deliver while also being challenged.
"Benjamin Siolo taught his first Muay Thai ever on a BODYCOMBAT release! It was great to have the three of us – myself, Ben and Dan – back shoulder to shoulder. It felt like we'd travelled back in time to when Benjamin first filmed with us. The track is short, only 4 minutes, but, as Benjamin says on the video, it's 'all gas no brakes'!
"I taught Track 8, which is appropriately called Catharsis. The stage was VERY crowded when we filmed that track, and Dan is incredibly particular about having everyone stand on their exact spot. However, when you're teaching to the camera you can't really look down at your feet, so I decided that I'd find the space that worked for me and everyone else could sort themselves out, haha! I don't know if you'll be able to tell from the video, but there really wasn't much space. There was lots of stepping on toes and punches flying past the sides of people's faces."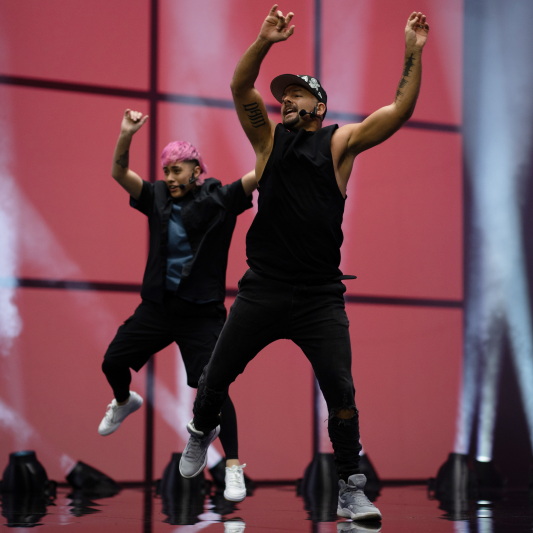 BODYJAM™ 102 GANDALF ARCHER MILLS
Presenters: Gandalf Archer Mills, Meno Thomas, Dannielle Lally
BODYJAM 102 – MAXIMUM DEREK!
The fire on this latest release is out of control. Honestly, I really went ham on this one.
Track 1 is this Latin pop perfection number to get your 'chesticles' working.
Track 2 HYPE is the HYPIEST with three totally different sounds in one stunner of a naughty rabbit style.
To The Max Dam Time goes hard! Go Mode, then Que Le De sets up simple combos with sultry feels. How We Ride is full of happy, bouncy vibes that will have you humming this track over and over as you make your morning coffee. Venture goes a lot harder but not as hard as To The Max. Honestly, this track goes soooooo hard! You get to bump your butt and put it all together and OMG I love this track!
Then I made an electro bouncy remix of About Damn Time for you... do with it what you will.
Recovery is to calm your face down and to find some beautiful grooves. Before Dah Duh Duhn... we get back into it with Maximum Derek! Start it off right with what I like to call "the Carnival section". Some super quirky new moves for you to test out – super slow winds of the hips and then a massive Soca drop on Carnival (everybody's hands go up)!
I've got an incredible Toxic remix in this class, and I thought 'Gandalf, how could we possibly make this better?' Oh yeah, by putting ALL OF THE TOXIC IN THERE TOO! Twist your palms, touch your face, the best pop track of this era?
Oh yeah, then the rap anthem to end all rap anthems. Huge horns, sick verses. I love Forever.
Then finish this MAXIMUM DEREK release off in true BODYJAM style. Heavy, euphoric and epic – open more, jump higher, there is nothing like it.
Last name Derek, first name Maximum.
Much love,
G.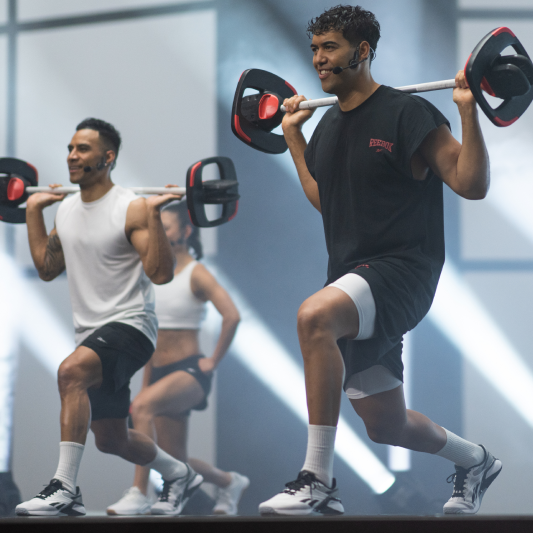 BODYPUMP™ 123: GLEN OSTERGAARD
Presenters: Glen Ostergaard, Kylie Gates, Ben Main, Vili Fifita, Des Helu, Khiran Huston, Kaylah-Blayr Fitzsimons-Nu'u, Marlon Woods, Amy Lu
"I love this release!" says Presenter Amy Lu. "It's an awesome contrast to the recent releases where there's been more bodyweight and functional movements. This one is pure barbell work and weightlifting.
"I have two favorite tracks: The back track Flatline, taught by Des, is full of emotion. It embodies the essence of BODYPUMP (strong and grounded) in a calm yet powerful way. The Sumo Squat Press in this track drives the intensity and gives it an uplifting training feel. The other one I love is the Tricep track because who doesn't love good old Jenny from the Block?!
"This release consolidates the new innovations of 122 like the Preacher Curl and I's, Y's and T's. A bigger focus on barbell and plate work offers a great opportunity for people to challenge their weights and dial up their strength.
"This was my first time presenting so it was really eye-opening to see the professionalism and hard work from everybody that goes into preparing for filming. I also noticed everyone is constantly snacking or eating and there seems to always be an endless supply of food around!
"This is classic BODYPUMP training with simple choreography, so there'll be plenty of opportunity to just have fun and connect with everyone in the room. It's just lifting some weights with mates, baby!"
BODYSTEP™ 129: MARK NU'U-STEELE
Presenters: Mark Nu'u-Steele, Kaylah-Blayr Fitzsimons-Nu'u, Manami Sato
This release is all about having big fun with athletic passion as we warm up to the song Big Energy. We then push our way through the crowd with some rhythmic Mambos in Track 2, and onward to Peak 1, which is bound to give you the Shivers with a fun vampire theme!
We then Move It in the Mixed Strength track with standing and Plank Jacks to the songs Physically Fit and Jack.
Peak 2 will have you begging for more with the Rotating Leg Abductions. Then we test our core strength and balancing skills with Lunges and Weighted Tilting arm lines. Get ready to party with two moves that combine to create our BODYSTEP TikTok routine to About Damn Time.
We have some great cross training in our Athletic Circuit with plyo training, speed work, and Surfer Burpees, then finish the cardio training with the sassy and empowering track Miss Independent.
In Conditioning 2, we challenge our leg strength with a 'pause' in the Squat Combo. It's all about time under tension training. We finish with some great stretches to cool down with to Say So.
I hope you enjoy the super fun release! Bring on that big BIG Energy!
Mark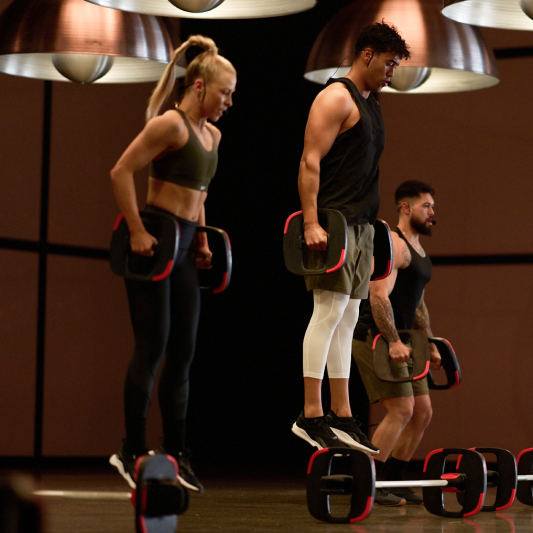 LES MILLS GRIT™ 42: CREATIVE TEAM
Presenters: Erin Maw, Ben Main, Levi Farrell, Grace Wallace
LES MILLS GRIT 42 has arrived, giving you all you could have dreamed of and more!
We've got 2 EMOMs, Dropsets and a Beep Test in this workout. How did we squeeze all of that into 30 minutes?!
There are 5 rounds of EMOMs, giving you plenty of time to coach great technique and drive intensity.
The Dropsets with Lunge and Squat patterns are lower body killers, then we move onto everyone's favorite, the Beep Test! You'll inspire your team through 4 levels of increased speed to take them to what they think is the finish line... Then we come back with EMOM 2 to push us over the finish line!
This round, the Athletic block is mixed with GRIT Strength. Tri-sets and Supersets are a lethal combination to take our performance to the next level! The key is understanding elastic energy, and how we can use it in our training to be even stronger athletes! Your class will love the variations of some classic moves to feel challenged and successful.
Bring your A-game and enjoy taking your class through the challenge that is LES MILLS GRIT 42!
Erin and the GRIT Team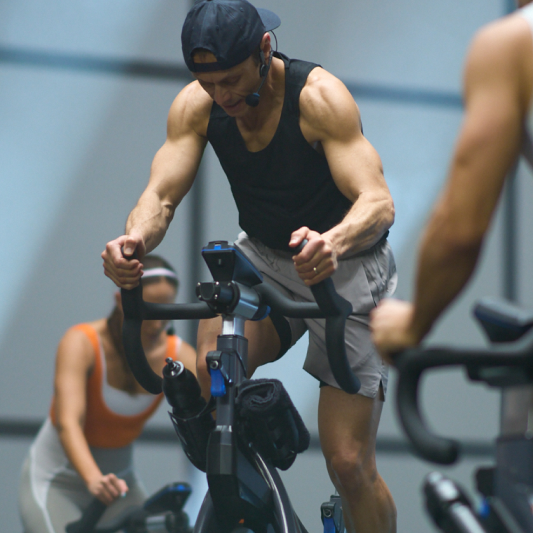 LES MILLS SPRINT™ 29: GLEN OSTERGAARD
Presenters: Glen Ostergaard, Khiran Huston, Emma Alcock
There are some changes to LES MILLS SPRINT this round! Read the full details here.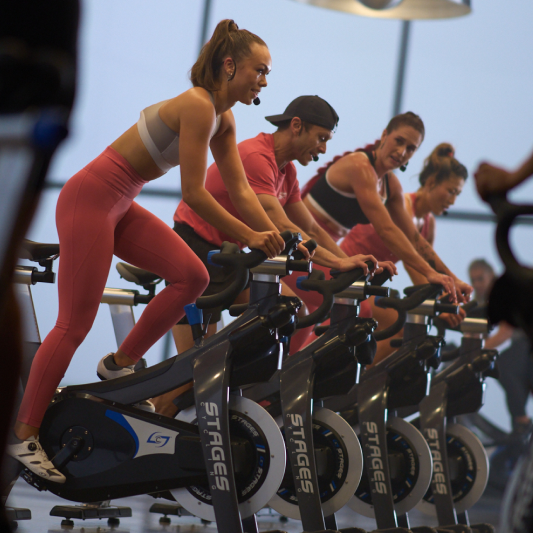 RPM™ 96: GLEN OSTERGAARD
Presenters: Glen Ostergaard, Mandi Hirini, Tommi Wong, Emma Alcock
"Was it 96 or 97? We didn't know! We were just filming a release – and it was a different round for sure!" says Mandi Hirini. "Massive shout out to Glen and the creative team for not only having to create one, but TWO RPM releases this round! Each release gets better and better!
"96 is a PARTY release. It unleashes a little bit of a fun and sass with tracks 2 and 4 – good luck not singing those ones. Launch days are about bringing some attitude for Track 4 and don't be sorry! Track 3 – get your rave kit on 'cause this one is taking it up and you ain't going to want to come down. Very appropriate for a hill track and Tommi worked so, so hard to bring this one to you! Tracks 5 and 7 offer a powerful contrast – captivating us with their emotion before sending us strong into the challenging tracks.
"The workout delivers! Track 5 is a favorite as it brings a different feel to interval training – think power and FULL! Members and Instructors will love this one as there are minimal changes to the resistance. We change our pace to recover, maintain resistance, get ready to go again into the race, climb or attack while being honest with the pressure we need. Enjoy the journey the music creates – you can't beat it when you surrender to the moment!"
Tommi Wong agrees: "This fun release hits us with more classic retro bangers. The beats are undeniably rhythmic and catchy, and will surely get your legs moving for you!
"If I had to choose a favorite track, I'd go with Track 7 Mountain. I love a Seven Lions song and this one gives me goosebumps! The choreography will take your fitness to new heights and Mandi does a great job coaching this one. I'm also a fan of Mixed Terrain Emergency. It's slightly different from the usual Track 4. I hope you will enjoy it with us as much as we did on filming day."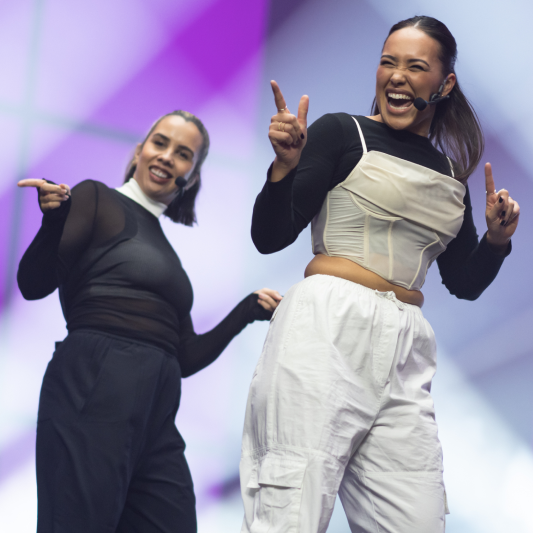 SH'BAM™ 49: CREATIVE TEAM
Presenters: Dannielle Lally, Summer Bradley, Grace Stevens, Bianca Ikinofo
Imagine the best party you've ever been to (you're picturing it, right?). There's great music playing and amazing people around you sharing the experience. Well, you've just described SH'BAM 49!
This release is beyond awesome and stacked with amazing songs and moves right from the start. There's throwbacks, remixes as well as new and current epic tracks that will have you itching to get up and dance! We're talking How Will I Know, we're talking Like A Prayer, SexyBack, Come Get It Bae… what a playlist! You're not going to be able to stop yourself from singing along!
THE TRIP 31: THE TRIP Team
Presenter: Khiran Huston
THE TRIP 31 – V E L O C I T Y
Welcome to a world surrounded by water!
After approaching this civilization from a distance, we explore the inner and outer realms and discover both the old, the new, and the futuristic. The water is ever present and in constant motion which is mirrored by our path and workout. The continuous flow of the ride is occasionally broken by brief moments of recovery that allow riders an opportunity to re-set and re-engage.
Upon entering the core of this realm, we encounter one of the most challenging and athletically intense tracks we have ever designed….
The "Athletic & Animated" focus we introduced in THE TRIP 30 continues here, and it's great to see how Khiran shows this in her own authentic way. The open and inclusive way of allowing each rider to move in a way that works for them continues to be something we actively promote; rider feedback clearly tells us it's working!