SARAH SHORTT:
Hi Nichola, let's start with some inspiration! Could you share with us who your fitness role models are?
NICHOLA SMILES:
Absolutely! I have two fitness role models: Fredia Wilbert, and Terry Mack.
Fredia was the person who inspired me to teach in the first place. I religiously attended her Turbo Kickboxing class every Sunday and I was that timid participant in the very back of the room. Eventually, I gained enough confidence to be that front row "I know the all the moves" participant. We became friends and she was the one who told me, hey, you should become an Instructor.
Terry mentored me after my Initial Training for BODYCOMBAT™, and he really cared about my progress. He had such a strong work ethic, and he was always really honest with me. I didn't actually pass my first video assessment. When I then went to re-film the class, Terry was there and he said to me: "I'll tell you the truth. You sucked." And so I was like, oh wow! But it didn't make me want to quit. I just decided to work hard and keep getting better and better.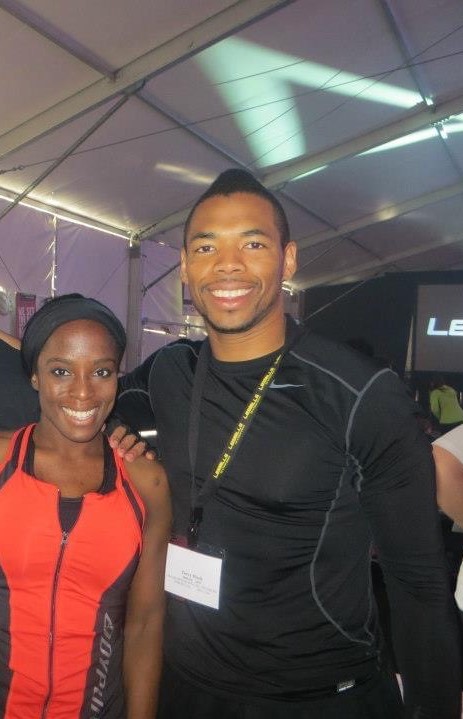 I know you have a story to share about a little girl who considers YOU to be her role model…
Yes!
I teach two classes back-to-back on Saturday morning and I started to notice a little girl with her dad watching me teach before he took her to the kids' clubs. I would see them every week, watching me for 10 minutes or so. Then, one morning I was there waiting for my class, chatting to some members, and there was a Zumba class going on in the studio. I suddenly heard a little girl's voice saying: "Oh, she's not there, she's not there!". And I said: "Here I am, I'm right here."
She ran right up to me and said: "I'm Cora Lynn. And I'm four." I took a photo of the two of us that morning and posted it on my social media, and the response I got was overwhelming. I didn't think it was a big deal but I got so many messages as a result. One person messaged me and said, "I saw that picture and I cried because you don't see a lot of black women held up as role models in the fitness industry."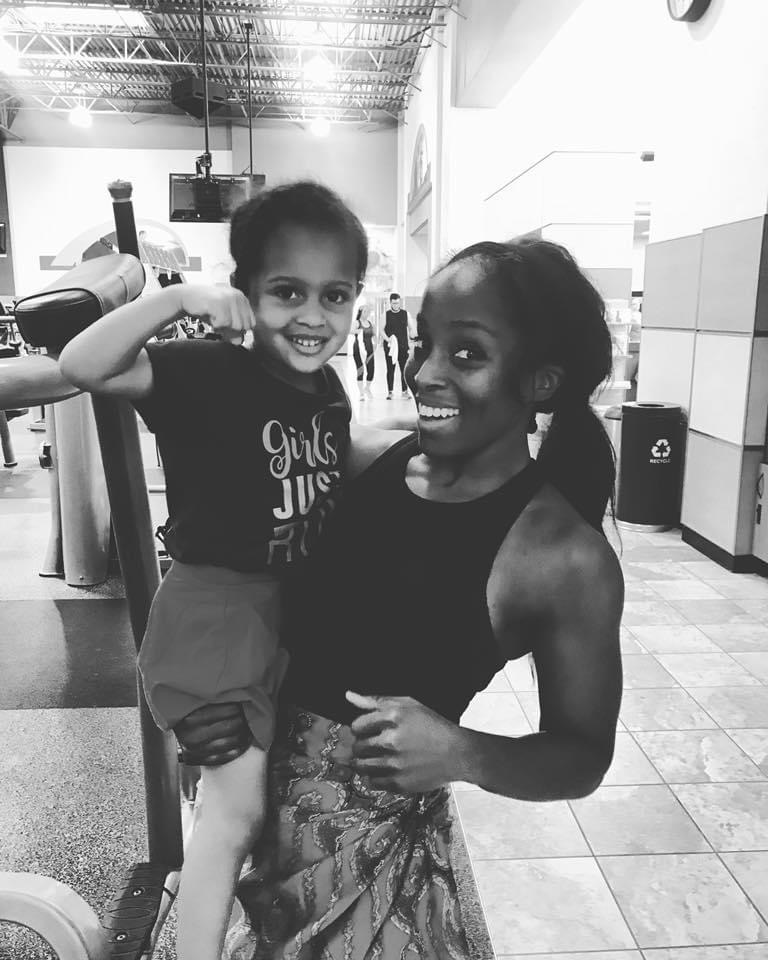 Since that time, we always wave at each other and I will always make sure I say "Hi Cora Lynn," even if I'm in the middle of instructing.
I think adults get same reaction as Cora Lynn when they see someone who looks like them doing what they aspire to do. And not with just race, but even with body types. For a long time society's fitness and beauty standards have excluded people that don't fit a "look". In an industry that has looked like one way for a long time, it is refreshing to see someone different. It's definitely inspiring to see presenters like Lula [Slaughter], Dennis [Toppin], and Marlon [Woods] in the Masterclasses of my formats. I channel my inner Cora Lynn and think YASSSSSSSSSS!!! It is an indication that things are changing.
I remember when Marlon was first on BODYCOMBAT Masterclass and someone commented on social media, "Oh my God, someone who looks like me!". It seemed a shame that here we were in 2016 and people were still amazed to see a black man on Masterclass.
Les Mills has pledged to seven commitments around Black Lives Matter, in particular to have greater diversity in marketing images and on Masterclass. What are your thoughts on how black people and people of color have been represented in the past?
I have been aware that there weren't many people who looked like me on the Masterclass, and on marketing material. But this is a standard that I had become used to. I am aware that I have normalized this awareness and accepted that the fitness industry looks one way. It's not something I would dwell on. It's just one of those things, like, oh, I notice there's not a black person [in Masterclass filming] or that they use the same black person over and over again.
I remember when Marlon was first on BODYCOMBAT Masterclass and someone commented on social media, "Oh my God, someone who looks like me!" Seeing that comment made me feel a bit disappointed with Les Mills. It seemed a shame that here we were in 2016 and people were still amazed to see a black man on Masterclass.
At one gym I teach at we have two Les Mills posters and both feature images of blonde-haired, blue-eyed white women. The marketing material just seems to be consistent with what the standard has always been.
There are times that I have revisited the Les Mills Values and the value of "change the world" has always felt iffy to me. The company has utilized presenters from all continents but still has fallen short of showcasing people that look like me. As a person who is from Ghana, West Africa, it would nice to build a huge fitness community there.
So yeah. It doesn't really feel like we're living up to the value of "change the world" when a lot of people in the world are being excluded. Of course, I want to be included. I want to show that black people can be part of the fitness industry too. And when you always show a certain type of person as standard, it's a bit annoying. Representation matters. I have more of a thicker body, bigger hips, a bigger butt. When I filmed myself to be on the BODYCOMBAT United Release, I thought, oh my God they're going to edit me out. My ass is way too big. I don't fit the type. I'm still a small person but I don't look really lean or skinny like the typical body type you see on Masterclass.
The stereotype of black women is that we're not approachable, or that we have an "attitude".
There has been some push back on social media around the representation targets Les Mills has set for black people and people of colour appearing on Masterclass, with some people calling it "racism in reverse". What do you say to those views?
We have to start from somewhere. And when it feels like people have been excluded because that's just the way the system was set up, then we need to make a deliberate effort to include them. And eventually things will even out and there will be a balance.
I just want people to see that there are other people that look like them out there. Give people the opportunity. It's not like black Instructors or black Presenters never existed before, but it's just that they weren't really utilized. I've been teaching a long time now and I'd say I can count the number of black Presenters I've seen on Masterclass in the big programs like BODYPUMP and BODYCOMBAT on one hand.
I love that Les Mills is taking action and that they're willing to educate themselves as a company, and then share that education with Instructors and their leadership team. I think we're moving in the right direction, but we can't let the conversation die now it's started.
Have you encountered racism in your fitness career?
Implicit bias. And just some weird statements. You know, sometimes people don't like to interact with me because they assume that I'm intimidating. Once they get to know me, they'll be surprised I'm not. They say: "Oh, you're just really nice." And that's the stereotype of black women – that we're not approachable, or that we have an "attitude".
When I got accepted onto the Les Mills US TAP [Trainer, Assessor, Presenter] team, I remember there were all these discussions about diversity on the Facebook page. People were asking questions like, are you picking people for the right reasons? Are you picking the most qualified people? It was around the time I had just joined the team and it really bothered me. I don't want anybody to think that I was possibly chosen because I was black.
A month or two later, I was having a conversation with someone on the TAP team and I was sharing how nervous I was feeling around the expectations of being on the team and they said to me: "Well, you know, you'll do well because you're black."
That comment absolutely ruined it for me. Just ruined it. Even though I knew I was good, that comment played in my head until I presented at my first event. It absolutely sat on my shoulders as a burden and I put so much pressure on myself because I didn't want anybody thinking I got on the team because I'm black; I want them to know that I'm actually a great Instructor. Luckily, I got great feedback after the event, so then I felt I could relax a bit.
But that was always my biggest worry, my biggest limiting belief. I always wondered if my teammates or even the global Instructor cohort thought I was deserving.
If that's your limiting belief, could you share with us your "why"?
I doubted myself for so many years, thinking 'Oh, I'm not as good as this person.' For a long time I was teaching from a place of insecurity. But there was this member, who is now the reason why I teach the way I teach. She is my favorite, favorite person and her name is Alina.
Years ago, Alina was a regular participant. She came to BODYCOMBAT when we had the shorts and the gloves, and she would wear all that stuff too, and she had her favorite spot in the front of the room. She came every week, but then she suddenly stopped showing up. And then I found that she had cervical cancer.
One Sunday, I was getting ready to teach and I happened to see her in the gym locker room. She was wrapping her head and I said: "Oh, you're here!"
She said: "Nichola. I felt good today. And I didn't want to miss your class."
I remember that moment so clearly because then I realized, it's not about me. It's not about how good I teach. She couldn't make it to class on a regular basis but on that day she felt good, so I'd better give her a good class.
Unfortunately, she passed away a year after that. But now I always remember Alina and now I always remember that people are going through stuff, but they've taken to time to show up to my class.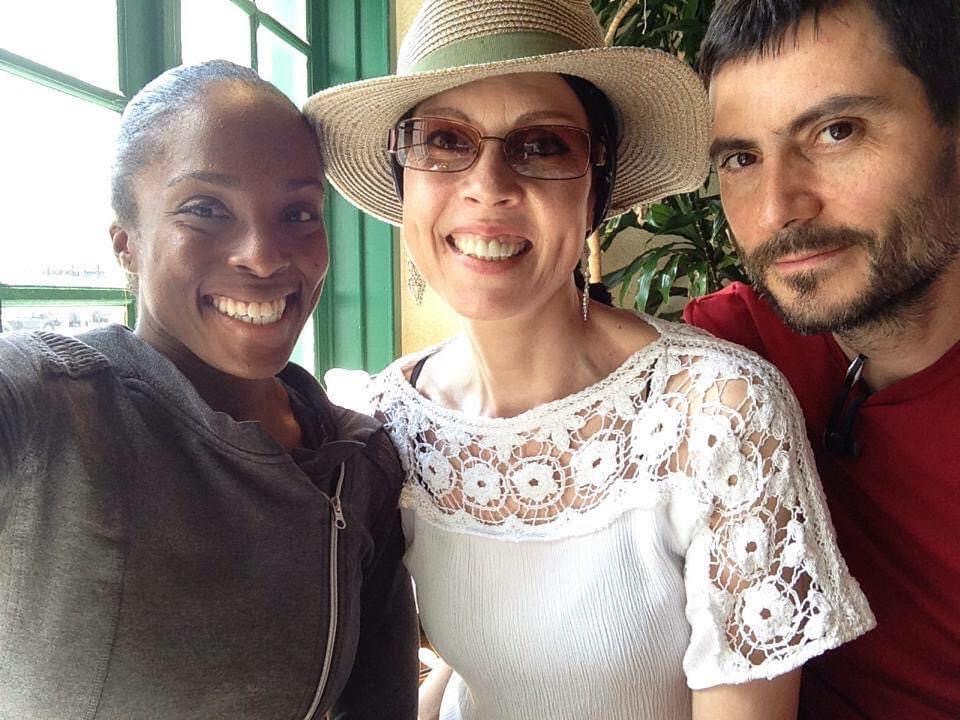 Could you share how you stay motivated on the days that teaching is a struggle? We all have those!
There are days I don't feel like teaching and I remember once having a little mental temper tantrum in the car before class. I was like: "I don't want to teach, I don't want to teach, I do not want to teach!" But then I just thought about that moment when I walked into the locker room and Alina said: "I felt good today". I remember that somebody else might also be feeling good today or needs to feel good, and it's important to them. So I need to play my part and show up and make sure I give them the best class possible.
As a fitness Instructor, I have a huge responsibility to impact so many people's lives. In my journey I have realized most of our members are not there for six-pack abs or achieving the ultimate bikini body. Sometimes they are there for a mental escape from life. Our job is to provide that escape and bring joy during that short period of time. I respect my members' time by bringing my best self and the utmost amount of energy. My mission has always been to inspire happiness through fitness.
Nichola Smiles is a BODYCOMBAT and LES MILLS GRIT Presenter and a BODYPUMP and CXWORX Instructor. She is based in Houston, Texas, where she is also an engineer. Follow Nichola @fittersmiles