Welcome Sharron and Jane! So tell us how Hypervelo began?
Jane: So prior to March in 2020, Sharron and I were both working at a Club in Worcester, teaching RPM, BODYBALANCE and various other LES MILLS classes. We've both been teaching LES MILLS Programmes for over ten years, and just love fitness.
Then Covid-19 came along and suddenly we were in lockdown. We decided just to teach each other at first, to keep ourselves sane more than anything!
Then gradually word got out and people started joining our lockdown classes with the temporary Livestream playlists provided. We actually taught for free from March right through to August.
Incredible! And how did you both decide to create Hypervelo and pursue this as an online business?
Jane: Well, we got to the Summer in the UK and clubs started to open with restrictions, but the feedback we got from lots of people was that they still wanted to workout at home as well as the gym – it had become habitual. So at that point, we decided to create a business Livestreaming classes, we essentially wanted to replicate the thrill of a gym environment online.
For us, that meant a comprehensive offer of weekly classes just like you'd get with a club timetable.
It's true our lives have changed so much. What elements of your teaching have you tried to keep the same with your online class experience?
Jane: Let me show you, here is my online gym! We work through Zoom, and I'd say we have to be a lot more prescriptive. So when you're teaching, let's say for BODYBALANCE, there's a lot of talking involved. This is where it's important to communicate even more so online.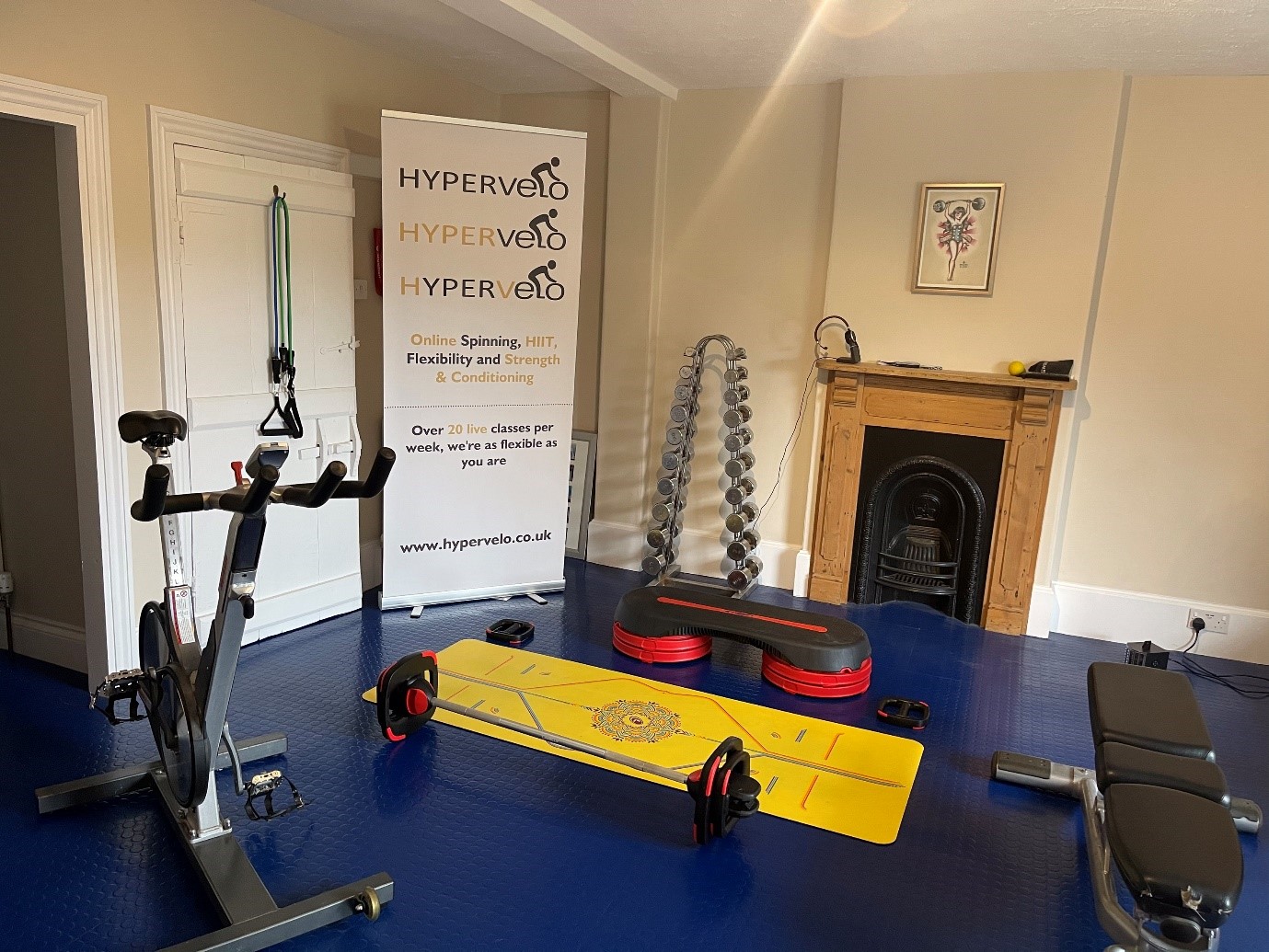 We also limit the number of people who can come to our classes so you can see everybody on the screen. This is important for us to be able to see the movement of participants and coach effectively.
Sharron: For me, I stick to the Programmes I used to teach live in a club. Why? Because I think you're aware of the mistakes that participants can make, you know what people are going to do because you've seen it in front of you in a class.
The same mistakes that participants might make in a studio, are the same ones they'll make online. So you look out for that, it's about the coaching.
So how did you make such a shift from not charging for classes to paid memberships?
Jane: It was actually really simple! The people who had been attending our classes got to the point where they said, you know, we want to pay you for this.
People saw the value we were providing and because we offer different price brackets per month it was quite an easy decision for most members to make. They can pick which membership suits them per month, 4 classes at £15, 8 classes at £21 or even unlimited for £31.
What made you choose Les Mills programmes over going freestyle?
Jane: Because it gives the company KUDOS. We have other people who are doing online classes, and they're doing it with cheaper alternatives. But it's not Les Mills. That for us, gives Hypervelo credibility and differentiates the club in the marketplace.
In terms of challenges to overcome, would you say it's the equipment side of Livestreaming that's hardest, or growing your membership?
Sharron: Both. When you're doing something with technology, there's always a small worry that something is going to go pear-shaped! Those things still stress me out, but I would be the same in a studio. You can worry that the speaker or mic won't work.
We're actually really fortunate that the members are understanding, because we've built that personal relationship with them. It's a real person on the other side of the screen and not a pre-recorded class.
Jane: Yeah, I'll add to that and say, I know more about my online members now than I did when I was teaching in Clubs. It's a real community.
We have a partnership with Les Mills, the same as any club would which allows us to Livestream the original and newest releases.
When you say community, are most of your members local to you or are you starting to see Hypervelo grow to be UK-wide?
Sharron: Completely! We now have members in Worcester, London, Birmingham, Devon and even from holidays in Qatar! It's grown quickly – mostly by word of mouth.
What's really lovely is when they take us on holiday. Members like the fact that they can take their laptop with them anywhere and they're not missing out on a workout.
How do you foresee the future of Livestreaming and Hypervelo post-COVID?
Sharron: Well, we've actually had a consistent rise in members whether we've been in lockdown in the UK, or not.
Hand on heart, when gyms reopened I thought we'd see a lot of members disappear, but they didn't. People have invested in equipment now, businesses have said they won't be going back to an office environment five days a week and their lives have changed.
For good or bad, maybe we needed to adjust how we live in the UK. We were always chasing our tails as a country, and maybe, people now have a better work-life balance.
Jane: It becomes habitual, combined with the investment most people have now made in equipment too. The biggest feedback we've had is that by incorporating working out at home into their routine frees up so much time for them. Coming out of lockdown, I really think people's habits will have changed and I can see a combination of both live and online becoming the norm.