Here's a short story about Tina. She invited 10 neighbors to her home for Tuesday afternoon tea at 2:00pm. Five minutes before 2:00 on the designated day, three neighbors converged on Tina's front porch. They rang the doorbell but received no reply. They waited, then rang the bell a couple more times. At exactly 2:00, Tina whipped into her driveway, brought her vehicle to a howling halt, thrust her driver's door open and hurried to the front porch with grocery bags in each hand.
"Traffic was TERRIBLE!" she said breathlessly, fumbling with her keychain to open the door. Her guests watched in disbelief. Had they made the best decision to accept her invitation?
"Where is everybody?" Tina asked. Her guests shrugged their shoulders and followed Tina inside, where she dropped her bags on the counter and started to boil a pot of water. The threesome stood awkwardly in the middle of the kitchen.
Finally, their hostess instructed them to find a seat in the living room. None of the day's guests had ever been in the house before. They peered around the corner to see a room with chairs and a couch. "This must be it," said one.
Each taking a seat in the silent room, they exchanged light banter for a few minutes before Tina called from the kitchen. "The water is ready! Come grab your cups!"
The guests moved to the kitchen, grabbed their cups, and began to pour boiling water over their herbal tea bags. "Don't pour the water yet," Tina said. "It's not good unless you wait at least 30 seconds."
They were enjoying the visit less with each passing second, but waited the requisite time before pouring the hot water into their cups. They'd barely brought their cups to their lips when Tina gave another growling command: "Don't drink the tea yet. It needs to steep for two to three minutes."
Half an awkward hour later, having finished their cups of properly steeped tea, and somehow having managed a little laughter, each of the neighbors knew one thing: they would never again attend an afternoon tea at Tina's house.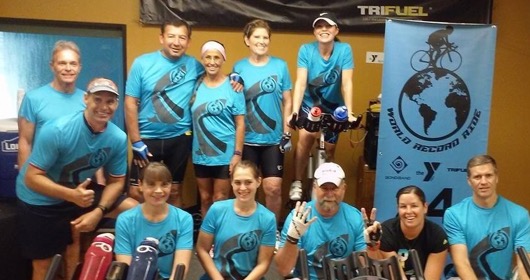 Sadly, the same sentiment holds true for some group exercise classes.
How many times have you stood outside a locked studio door, just minutes before a class is scheduled to begin, with the Instructor nowhere in sight?
How many times have you witnessed a group exercise Instructor running into class, clumsily scavenging through her gym bag in search of keys, music, mic cover, towel or water?
How many times has an Instructor breezed right past you, without acknowledging your presence, only to talk about how tough her day has already been?
How many times have you been a student in a small class and heard the Instructor ask where everyone else is?
How many times have you waited in deafening silence for motivating music before class begins?
How many times have you wondered where the class equipment is located and which equipment you need, but not been properly advised of its location or class recommendation?
How many times have you felt like you were back in elementary school as your group exercise Instructor yelled out commands of "no" to this, "no" to that, "none" of this, "none" of that, "don't do" this, and "don't do" that?
Finally, how many times have you left class without the Instructor even extending a "thank you" for your attendance and effort, or extending an invitation to come back again?
As Instructors, it can be insightful and enlightening to take our fellow Instructors' classes. It is important and helpful to remember what class is like from the vantage of our participants – our guests.
As with guests we invite into our homes, participants are guests we invite into our classes. As class hosts and hostesses, we want to do everything we can to make sure they feel like guests, from the moment they reach the door to the group instruction space, to the moment they leave.
To ensure you are the absolute best class host or hostess you can be, learn from Tina's afternoon tea, and try these five easy steps instead:
Arrive Early:

Get to your class at least 15 minutes before your scheduled start time.

Set the Mood:

Start pre-class music, set up your equipment and class necessities, and make sure everything is clean and orderly for your guests.

Introduce yourself, then welcome, thank, and make your guests comfortable:

Greet your guests as they enter your class, familiarize them with the setting, and show them where all essentials are located.

Give positive instructions:

Instead of telling guests what NOT to do, rephrase your instructions to keep them positive and encouraging, while making sure they make sense. For example, Instead of "Don't stop" try "Stay with it".

Compliment, thank and invite:

Tell your guests something that they did well, as a group or individually. Thank them for their effort and attendance, and invite them back to class.
By consistently incorporating these five easy steps into your instruction you will help create a warm, inviting, comfortable and encouraging class atmosphere that will allow participants to reach their goals and want to come back for more. Instead of "Terrible Tina's Afternoon Tea at 2" you can be the "Hostess with the Mostest", and offer classes that participating guests look forward to, week after goal-achieving week.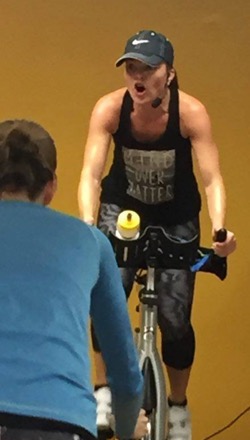 Mary Marcia Brown lives and teaches in Lakeland, Florida in the US. She currently teaches Les Mills SPRINT, and has been a SPRINT Instructor since the very first release. Mary Marcia set the Guinness World Record for the longest static cycling class in July of 2016 (24 hours: 7 minutes: 30 seconds!). When she's not teaching or taking Les Mills classes, Mary Marcia organizes events for the non-profit PHEEL GOOD Foundation, runs outdoors, and writes a monthly column for Running Journal.