IMPROVE CLASS ATTENDANCE
Club Goal

GROWTH THROUGH NEW
PROGRAM LAUNCHES
PROBLEM
Genki, a single site club in Sweden already achieving group fitness attendance >50%, wanted to explore how launching one new program would impact attendance.
STRATEGY
A MARKETING CAMPAIGN TO LAUNCH LES MILLS SPRINT
Genki effectively planned a new program launch marketing campaign culminating in a launch event.
Launched LES MILLS SPRINT™ on January 1st 2019 – adding seven additional classes to the timetable
Utilized a six-week marketing campaign, featuring the collateral provided in the LES MILLS SPRINT Launch Toolkit – including a single launch event
Les Mills provided a trainer three weeks before launch to upskill all staff in product knowledge
RESULTS
52%
increase in group fitness visits in the five months post launch
The new classes were so popular the club soon added another two classes to the timetable, totaling just nine additional classes of the new program.
Achieved a 52% increase in group fitness visits in five months, compared to the same period in 2018 (18,920 versus 12,447)
Achieved an overall increase in group fitness % of total attendance from 53.8% to 65%, compared to the same period in 2018
Download the complete set of growth strategies
Interested in the other four proven strategies for group fitness attendance growth? Download our Guaranteed Growth guide and you'll get the complete set. This guide will give you a blueprint to tackle increasing class attendance from every angle. Each of the strategies has driven real results for our club partners around the world.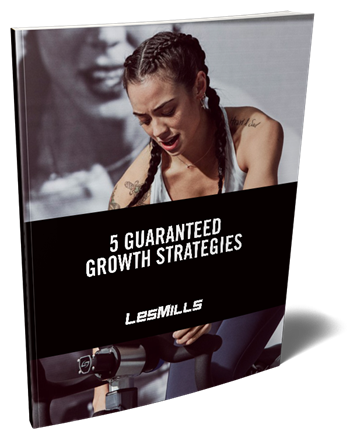 Het formulier bevat fouten
{{validation.errorMessage}}