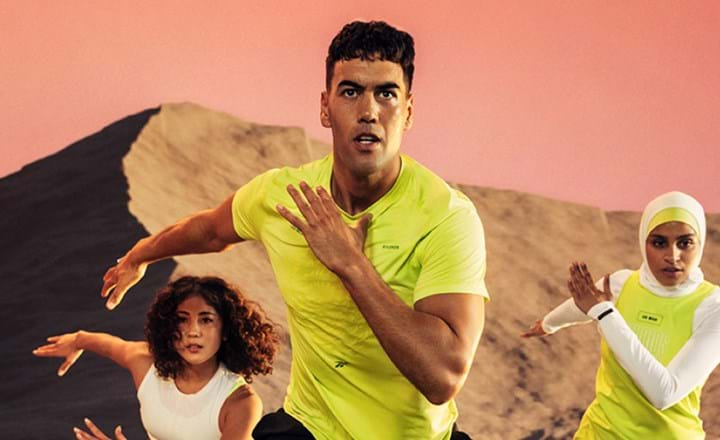 The fitness 'live revival' continues to gather pace. The new 2022 IHRSA Global Report finds a growing number of club operators passing pre-pandemic membership levels, while average attendances are also up in many cases – an encouraging sign for retention.
And the latest consumer intent data from major gym markets suggests further member growth is achievable, with appetite for in-club workouts continuing to trend upwards.
In the US, Google searches for gym memberships were up 22% in June (year-on-year), while it was a similar story in the UK (+16%). As demonstrated by the chart below, this reflects a steady upwards trend towards gym memberships since initial lockdowns started to lift.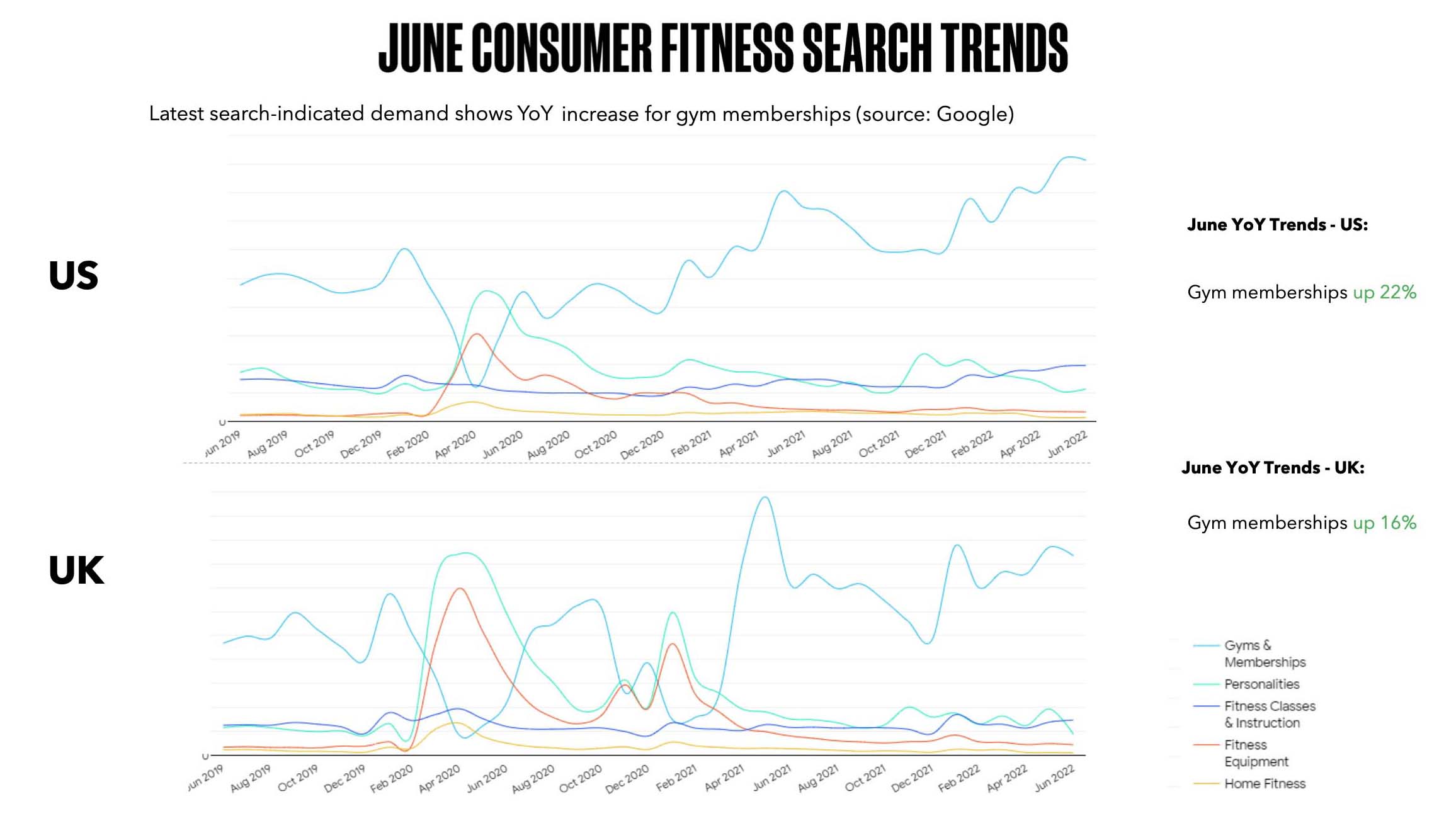 With club membership bouncing back and demand still strong, September presents a timely opportunity for clubs to make the most of this momentum and ramp up their recovery. As the second biggest sales month for the majority of markets, a strong September becomes even more imperative when you factor in the future headwinds of a looming recession and rampant inflation.
So what can your club do to seize the initiative and stand out from the crowd? Here are 7 easy-to-implement plays to make this September your strongest one yet.
1. Map the new market
Considering the societal factors shaping your market and the lives of your target audience is an important part of the planning process.
Although inflation and an imminent global recession may dent consumer spending, history suggests gyms fare better than other leisure sectors during economic downturns. This is often because those tightening their belts tend to 'invest in themselves' and their wellbeing when unable to afford more extravagant pursuits.
The pandemic has been a prime example of consumers prioritizing their health, with 50% focusing more on their wellbeing, according to the Global Fitness Report. Some 82% of consumers regularly exercise (or soon plan to), while 75% of this group do gym-type activities, making fitness the world's biggest sport.
This presents latent growth opportunities for fitness providers in current market conditions. The key is identifying the groups your club is best placed to target.
For example, the pandemic has spawned a new generation of rookie fitness fans who have taken tentative first steps into fitness and are now open to discovering what comes next, with 27% of regular exercisers describing themselves as 'absolute beginners'.
Opportunities abound for operators who can appeal to these groups and understand what they want from a fitness experience, as well as the unique barriers to exercise they face. Instructors and wider staff have a major role to play in ensuring they feel welcome, while helping beginners find intrinsic motivation to exercise is essential for their long-term adherence.
2. Ramp up member referrals
With the cost of buying digital media edging higher, member referrals can be an efficient and highly effective means of generating new leads during the September sales surge.
Leveraging the trend towards social gifting is a great way to encourage members to share special offers with their friends and 'give the gift of fitness.' Rewarding members for encouraging their friends to join ensures the promotion is a win-win, acknowledging their efforts and incentivizing them to become strong advocates for your club.
And while one-time referral campaigns are important, having a consistent loyalty program that motivates members to refer friends all year round is also useful for maintaining momentum.
Reward members by creating a tiered system of benefits depending on the number of people they refer to become full members. This approach can 'gamify' the program, encouraging members to reach the next tier, while providing you with an effortless always-on promotion.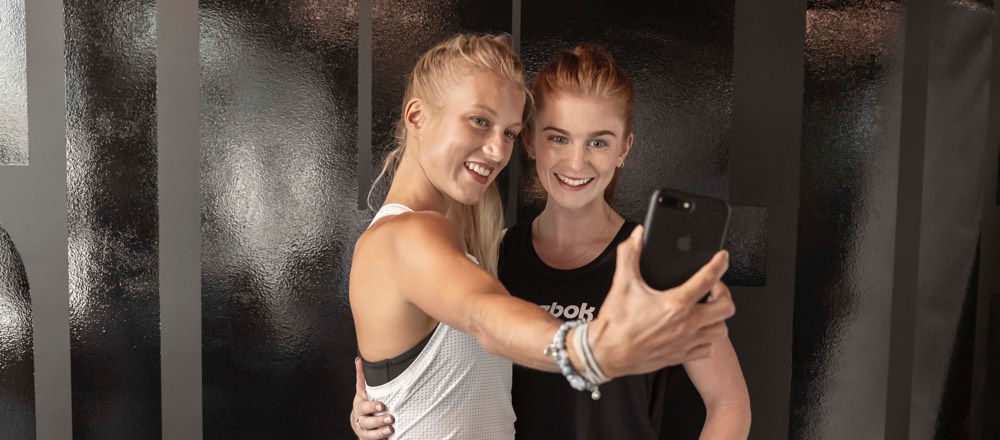 3. Seize on social media
As well as offering incentives for word-of-mouth referrals, driving awareness through your members' social media channels is another great way to get your name out there.
Aside from the Google search trends data, numerous other indicators show that appetite for live fitness experiences in groups is soaring. The 2021 Global Fitness Report found two-thirds of gym members (67%) now prefer working out in groups, while live classes in club are nearly twice as popular as doing livestream classes at home (favored by 44% of members vs 23%).
Unsurprisingly, social activities are the most likely experiences to be shared on social media, so getting your members moving together is the surest way to get them reaching for their smartphones.
"In the clubs I've managed over the years, group exercise has been the number one driver of membership sales and a great source of social media referrals," says world-renowned club operator Herb Lipsman.
"Let's face it, people don't go on Facebook or Instagram to talk about their favorite treadmill or resistance machine, they go on there to rave about the killer class they've just done with an awesome Instructor and to share their sweaty victory selfie. It's a great driver of awareness and exposure for your club and the key to maintaining a healthy pipeline of prospects."
So what can clubs do to spruce up their spaces and encourage members to get snapping?
"Social media – particularly Instagram – has played a big role in helping to bring fitness to the fore," adds fitness design legend Rudy Fabiano. "If you can create a great-looking space to showcase their workout, then members are happy to take snaps, share on social media, and rave about it to their friends."
"Create Instagram-friendly walls that carry your club's name and help members to tell their followers 'This is where I'm at. I'm having fun – why don't you join me?' Get this right and members become a major cog in your social media machine and will soon do your marketing for you."
4. Cranking up conversions
Making a splash on Instagram and getting referrals to visit your club is one thing, but what about making sure they convert into full club members?
"It's no good spending marketing dollars generating leads if you're unable to convert them," says legendary operator Jaci Griffin, Manager of Les Mills New Lynn in New Zealand and a fitness veteran of 35 years.
"We tend to offer a week's free access to our trialists, and we've found those we can steer towards a group workout are seven times more likely to convert than those who stay on the gym floor. It helps them gain an authentic fitness experience, get results, form friendships, and enjoy themselves – all the things that make them stay for the long haul.
"So we strive to embed group workouts into all of our inductions – it also helps us to separate the serious prospects from the 'tire kickers', meaning we can prioritize our focus on the most promising prospects."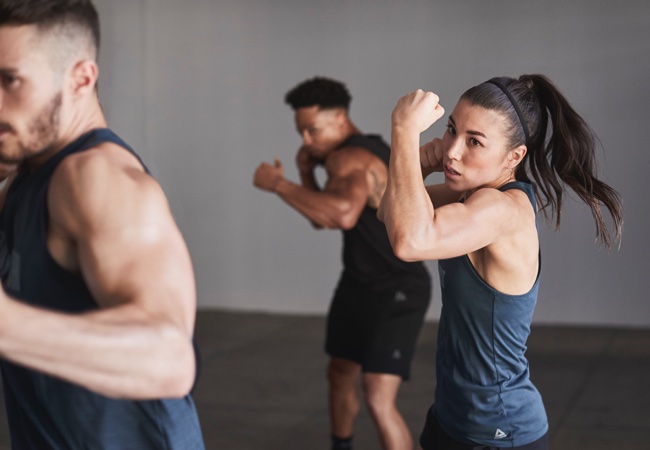 5. Onboarding is rewarding
Assuming you do market like a master and convert like a king, it will all be for nothing unless you can keep new members for the long haul. Too often, clubs focus on the sale and then assume the member will be fine once left to their own devices. But with roughly 50% of members leaving their club each year, this clearly isn't the case. How you onboard a new member is crucial to the long-term success of not only that member, but also your club.
According to Ish Cheyne – Head of Fitness at the 12-strong Les Mills New Zealand (LMNZ) chain of clubs, where group fitness typically accounts for 50% of overall gym attendances – starting a member's journey on a positive note is vital, and helping them build social connections is the easiest way to achieve this.
"Nobody ever left a gym because they had too many friends," says Ish. "So whether it's allowing new members to bring a friend for free for a week, encouraging people to join as a group, or steering new members towards the ready-made community of the group exercise studio, do everything you can to help members develop friendships within the club."
"This not only makes the experience more fun – and therefore something they're more likely to repeat – but it also creates multiple points of contact for them in the club, meaning they'll be missed if they don't attend."
6. Engaging events
One of the best ways to show your club at its lively best is through events. Anyone who's felt the electricity of a live fitness class will testify it's one of the most powerful and motivational workout experiences you can get.
Live classes remain the pinnacle fitness experience, because it's where your people come into their own, building connections, and inspiring participants to beat their best. By tapping into these notions and showcasing your facility at its finest, events have long been a crucial pillar of building a successful club business.
One option could be to follow the lead of the YMCA Association of Northwest North Carolina, which kickstarted its peak sales period with a group fitness rock concert as a means of engaging the community through a dynamic event.
Meanwhile, the JCC in Bridgewater, New Jersey has powered past its pre-pandemic club metrics through a focus on community, with in-club events serving as a central pillar.
"Things like our quarterly Les Mills launches are calendar mainstays that help light a fire under our timetable, but we'll also set up day trips and games nights that don't have anything to do with fitness and are all about dialing up the sense of community," says Fitness Director Jess Kichura.
"We're always striving to add personal touches to our events and marketing that evoke strong emotions and show our members we truly care through action rather than words."
7. Rockstars to the fore
The September surge is also an important time to think about how you leverage your star Instructors – both in-club and online via your marketing and social media channels. With strong consumer demand for social connection, it's inevitable that the people fronting our clubs will have a vital role to play.
Rockstar Instructors are identified as the single most important factor for gymgoers when choosing a live class, favored by 28%, ahead of the quality of music (24%) and type of class (21%). Quality Instructors are cited as a key component of the live revival, meeting strong consumer demand for added motivation and deeper connection in their workouts.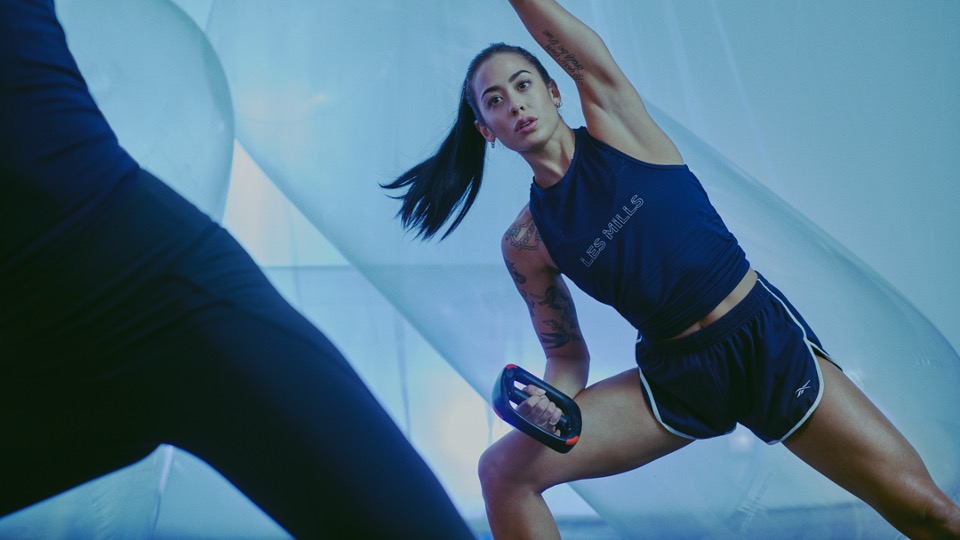 Having great people is particularly important for winning new members. 30% of club prospects say "a good atmosphere" is a key factor in choosing a gym to join, while 59% say staff are also a consideration.
The push towards social fitness will see Instructors at the heart of these experiences, mixing hard and soft skills to bring enjoyment and results. In many cases, the quality of your Instructors will determine whether your new members fall in love with fitness forever or fall away to form part of next month's attrition numbers. Look after your Instructors, and they will look after your members!
8. Double down on digital
The ability to reach beyond your existing membership and attract fresh faces into facilities will be key to not just the September surge, but ultimately your long-term growth. Consider how your digital offerings can drive new leads and prospects in the bustling beginner segment by bringing your authentic club experience into the home to reach groups who wouldn't typically visit your club. This will help them build their fitness skills and confidence at home, before graduating into your facility.
We've entered the age of Omnifitness, with 80% of members planning to continue using digital workouts post-pandemic. Apple, Google and Amazon are making digital fitness moves, but clubs remain uniquely placed to meet consumer demand for a 60:40 blend between live and digital workouts. Seamlessly linking live and digital to provide a complete Omnifitness offering can give you the edge over digital-only players, as well as your club rivals. High-class digital offerings can help clubs win new fans online, build brand affinity, and then eventually convert them to becoming full members of the club.
"We're committed to creating a high-quality digital offering for our members because we can't afford not to," says Henry Vazquez, Creative Services Director at Greater Philadelphia YMCA, which is doubling down on its digital platform to reach wider into the community.
"What we're seeing now in the club industry is reminiscent of what's happened in the television industry over the past decade, as powerful digital players have come to the fore."
In summary
Standing out from the crowd is never easy during peak periods, but a credible and coordinated focus on social fitness experiences can help to attract fresh faces and set them up for a long and valuable stay at your club. By making an impact with your marketing, leveraging events, creating close communities, driving digital, and onboarding with aplomb, your club can get ahead of the competition and put itself on the fast track to sustained success.
FIRE UP YOUR FOOTFALL
Ready to inspire your members and drive additional traffic through your front door? Check out our comprehensive cheatsheets for motivating members on Marketing Studio.
GET THE GUIDES