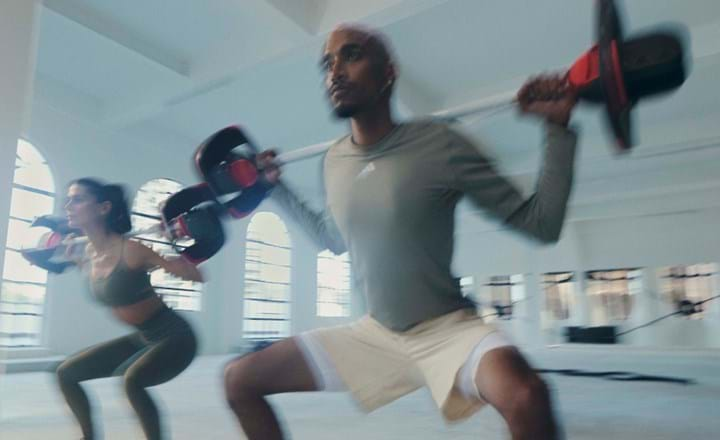 How did you launch LES MILLS STRENGTH DEVELOPMENT in your club?
Scott Elder: We slowly introduced the concept of STRENGTH DEVELOPMENT over 2 weeks. Members were immediately curious, and we received many questions, with all of them eager to try the exciting new program. We also approached specific members we thought would particularly enjoy STRENGTH DEVELOPMENT and benefit from it. This included people who already loved BODYPUMP™ and would benefit from increasing their weight load, or those who already do strength training in addition to classes. These were also very receptive to the idea and quickly signed up.
How did the first workouts go?
The first session was a bit messy! But we didn't let it faze us, as it was brand new for all of us – including our participants. The rhythm of switching weights on the barbell and working at your own pace was new. Then there were exercises like front squats, which not everyone was used to. The Instructors also had to get used to a new way of coaching, too. We planned ahead for any Instructor uncertainties by having two of them teach the first workout together. After the second workout, everyone was exhausted! At the start, we decided to host a short information session about the program, making everything clear about the weight choices and the effect of heavy training in advance. We made things more visual with the help of a flip chart, which went down really well with the members. Explaining the workout in advance for those new to weights allowed us to find a nice operational mode and help everyone realize the benefits of their efforts.
How have you included STRENGTH DEVELOPMENT within your club offering?
We offer STRENGTH DEVELOPMENT as an exclusive 12-week program, which you purchase for €249 on top of your membership fees. The participants choose which training session they prefer and then participate at the same time every week. If participants have missed one or more training sessions, we offer a 13th workout as a catch-up. Members on our Personal Lifestyle Training (for which they pay extra monthly) were allowed to add STRENGTH DEVELOPMENT for free as a value add to for their membership. This allowed us to start with more groups, creating more opportunities (and timeslots) to onboard additional members.
How many new members and existing members are there in the group?
We haven't yet promoted the program externally, so we've mainly been servicing current members so far, although we have recruited one new member via word of mouth. We plan to market the program externally in future and we're also considering promoting it as a 6-week format, to be run twice a week during the summer and winter break. We run Strength Development with a maximum of 12 members per class. That way it allows us to personalize the coaching based on what each participant requires. It helps make the process more personal, in addition to the floor coaching. We also do this with LES MILLS GRIT™, but we're not always able to give the same amount of attention as we can in STRENGTH DEVELOPMENT.
Why should a club add STRENGTH DEVELOPMENT to its timetable?
There are lots of BODYPUMP or GRIT participants who are looking to improve their strength and power, but they don't get the results they want, because these classes are more about muscular endurance and raising the heart rate. As a result, they're still looking for a class that gives them the feeling and outcomes they're seeking. STRENGTH DEVELOPMENT delivers on improved strength and gives them an excellent grounding for when they're ready to move on to free weights. In addition, it's a great add-on for the club, which builds a buzz among members and generates more revenue.
Do you have any tips for other clubs or fitness entrepreneurs?
Make the program as exclusive as possible! For example, offer a piece of education as a workshop, or focus on each training session with a short piece of information in advance, so that there's a clear difference between STRENGTH DEVELOPMENT and existing classes. I'd also urge them to learn more and get better at strength training. It will help them inform everyone – from staff through to members – about the new program, its benefits, and its unique format. Like anything, everyone has to be behind it 100% for it to achieve its full potential.
READY TO UNLEASH YOUR NEXT GENERATION OF MEMBERS?
STRENGTH DEVELOPMENT has been crafted to meet the specific demands of Gen Z and put your club in the fast-lane for growth.
DISCOVER MORE