Fitness is in your blood, you were a track athlete who began working at the family gym while you were still at school, and now you're the creative director of various programs, including BODYPUMP™, BODYBALANCE™ and now LES MILLS BARRE™. Has dance always been a part of your life too?
I love how dance combines the athleticism of sports with the beauty of art. Dancing is the peak of human existence. My mother has always said that there are few shortcuts to happiness, but dance is one of them. I couldn't agree more.
I never did classical ballet as a child, but I did contemporary dance and gymnastics, and hip hop as a young teen. I've always loved to dance. I even gave up track for it – my coach told me my dance classes took up too much time so I would have to choose one or the other. I chose dance!
And more recently you've done authentic ballet training?
Yes! This involved a lot of hard work with an incredible teacher, Kathy Curwen-Walker. It was like being a small child again – learning to move in a foreign way.
So it was a challenge?
Everything is challenging about ballet! The point is that a ballet dancer performs intense physical feats while making it look effortless. Ballet dancers are among the world's strongest athletes, their grace and elegance shaped by focused, intense training. While it may look beautiful, don't underestimate the burn!
When you set out to develop Les Mills' new barre program your goal was to remain respectful of the ballet foundations, yet make it accessible to many. What did this involve?
My aim was to deliver the athletic results of true balletic training in a workout set to cool music and customized to suit group fitness. It's this combination of the traditional and the modern that gives LES MILLS BARRE its unique edge.
It came together very naturally. It always seemed logical to have a block of cardio, then add strength work and finish with a touch of fantasy. The workout begins with a warm-up followed by a sequence of cardio-esque training, building to a cardio peak. We then move into ballet strength, using light weights and finish with targeted balletic conditioning to complete your full-body training.
I chose the music by what felt the best to move to, and the choreo came from the natural progression of movements as your body warms up, combined with the feel of the music.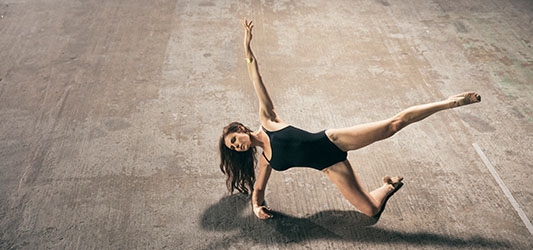 Why did you develop a barre class without a physical barre?
The main reason was because we wanted to make the program accessible for everyone, and not everyone has access to a barre. I played with the concept of using a SMARTBAR™, but it felt silly. The best thing to come from this lack of equipment though is the fact that it forces your body to do the work, targeting the core and accessory muscles more as you have to balance constantly. Without the traditional barre as assistance, the muscles supporting the body's stability and strength become the focus.
You're married to a dancer, has your husband G's influence rubbed off on the workout at all?
No, G doesn't like ballet and even refuses to be my test dummy on new tracks. But G's influence on my own dancing began years ago when I was a young teen and went to his hip hop classes in the city. He has always been an inspiring mover, and there is nothing more attractive than a man who can dance.
Does this mean LES MILLS BARRE is just for those who know ballet?
I am proof that this is not the case. The format allows you to pick up each movement slowly, and there is adequate coaching and learning time, so you won't be left behind.
I think that, in terms of complexity, it is easier than dance classes like BODYJAM™ and SH'BAM™, so I would recommend barre to someone who wasn't comfortable attending a dance class.
It's more "workout" than "dance class". It is more controlled, and it is tough – but just because it's not a conventional dance class doesn't mean it's not fun. Do you have fun in a BODYPUMP class? Yes! Will you have fun in LES MILLS BARRE? Definitely!
But clearly, it's tough – so having fun isn't the only benefit?
It builds strength, shapes and tones the muscles throughout the body, and improves postural alignment. After having my last child, my body was wrecked, and ballet is what put it back together. The strength and control required is like nothing else, and without any impact. It has also increased my glute, leg and foot strength so dramatically, I can move so much more powerfully in other programs.
It has changed my life in almost every aspect; in fact my body is stronger and fitter than it was even before children, and thanks to the daily meditative state dance puts you into my mind is so much clearer. I am happier.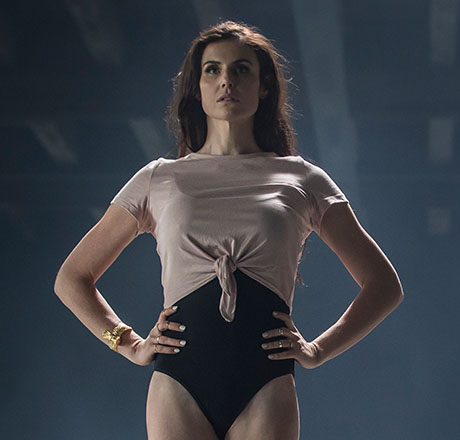 LES MILLS BARRE classes are currently available on LES MILLS On Demand and will be landing in clubs around the world from March 2018.
Learn more about LES MILLS BARRE here.