Women who have just had a child are much more likely to suffer anxiety and other mental health issues than others – and their suffering has been amplified in recent years. According to a 2020 study, 40 percent of postpartum women now report depression (compared to 15 percent pre-pandemic) and 72 percent report moderate-to-high anxiety (compared to 29 percent pre-pandemic). It seems that the common motherhood challenges, such as sleep deprivation, medical complications and lack of self-care, have been exacerbated by pandemic-induced restrictions and isolation.
Exercise is well regarded for easing anxiety and stress and providing neurological benefits across the board, and this is certainly the case for new mothers. Research shows postpartum women who gradually return to exercise four to six weeks after delivery report lower depression and anxiety than those who do not meet the guidelines for physical activity. And now, thanks to a new study published in March 2022, we know that all it takes is a small amount of activity to make a big difference.
Over eight weeks, 21 women (between six weeks and nine months postpartum) participated in a bi-weekly group exercise program. The workouts were short 45-minute sessions with plenty of options to increase or decrease the intensity, based on fitness and time since birth.
Immediately after each session, participants reported a significant decrease in state anxiety, and after eight weeks experienced lower levels of anxiety and depression. They increased autonomous regulation (a measure of self-initiation), suggesting they valued exercising for personal interests and values rather than external pressure. The exercise also contributed to their basic psychological needs, increasing feelings of autonomy and competence and perceptions of bonding and relatedness.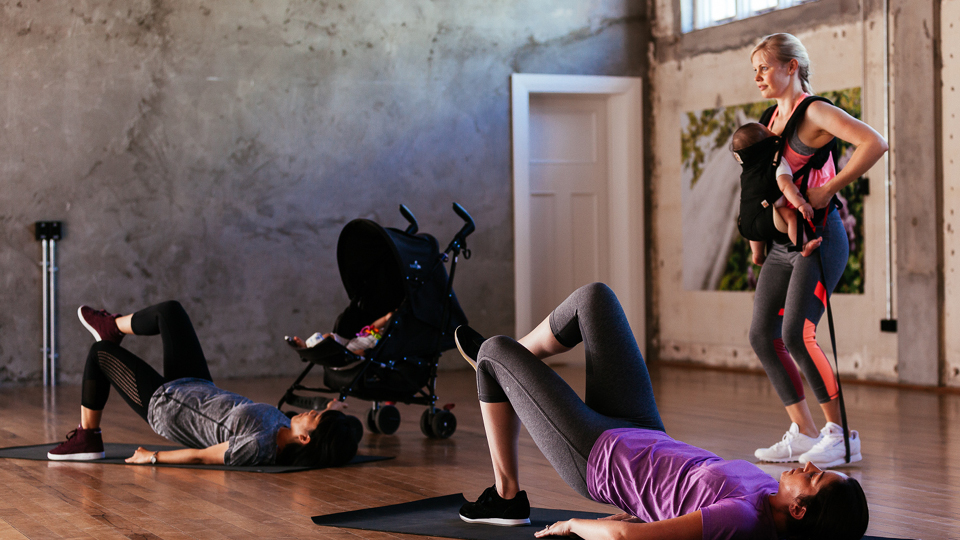 Getting together is key to overcoming exercise barriers
For new moms, the barriers to exercise are plenty. During pregnancy, physical activity levels and exercise self-efficacy are reduced, and this can often continue into the postpartum period. Add the additional challenges of physiological change, childcare constraints, a lack of an exercise partner and support, and it's easy to understand why many new moms don't make exercise a priority.
This is where group exercise comes in. Science shows when you work out with others, you work out harder, you enjoy it more, and you're more likely to stick with it. Although the mothers in this most recent study exercised outdoors (at the time this was due to covid restrictions) there was still a strong element of groupness during each workout. This is reflected in their improved feelings of bonding and relatedness – and the fact they stuck with the regular workouts.
Being outdoors, the mothers were also able to bring their babies to the group fitness class, which eliminated one of the key barriers to exercise engagement. Earlier studies have shown no significant difference in anxiety outcomes when 45-minute aerobic exercise sessions were completed with or without the baby present. The Instructor provided options for using the baby as weight if the mother had to hold or attend to the baby during the workout.
Taking options and tailoring training to suit your physical (and mental) capabilities is key, says Dee Rowell, a Les Mills Presenter and new mom who recently returned to fitness. "I would hate for women to think that someone like me, who was super fit prior to pregnancy, was just going to bounce back. That's not been my journey at all! ... I made a promise to give myself time and grace and remember what my body has been through … I now have a new appreciation for moving slower."
Read more about Dee Rowell's postpartum journey here.
HOW TO SAFELY RETURN TO EXERCISE POST-BIRTH
The American College of Obstetrics and Gynaecology recommends new mothers gradually return to physical activity four to six weeks after delivery (working towards 150 minutes of moderate to vigorous physical activity per week at some time after this time point).
Seek advice from your doctor or midwife before returning to exercise.
Take things slow and listen to your body. If you don't feel right exercising, stop straight away, and if you don't feel like exercising one day (or one week, or even one month!), it's okay. Just get back into it when you feel ready.
Ease back into exercise at home with our range of post-pregnancy sessions or find a group workout near you.