Ben and I had agreed to meet at a local café for our interview, and when he arrives he's looking slightly freaked out, having just come off a Lime Scooter in what he describes as a, "dumb move, I was showing off, tripped off in the gutter, fell over and my hood came over my head! I stood up and checked to see if anybody had seen me, I was so embarrassed!" His knee is cut and bleeding and after we get the First Aid kit from the waiter who obviously recognises Ben from Les Mills Auckland City - "oh no! No more classes today!" – we sit down to catch up as Ben applies multiple band aids to his knee…
SARAH SHORTT: How did you first get into teaching?
BEN MAIN: I went overseas to play rugby in the UK and after I'd been there for six months I broke my leg. I came back to my home in Dunedin, New Zealand pretty much straight away and started attending Les Mills as a member, using BODYPUMP™ as rehab. The light weights were good to get back into weight training and the squats and lunges were really good for my ankle stability and flexibility, which was so stiff at the time I could barely even squat.
The Group Fitness Manager said, hey have you thought about doing Group Fitness? I was like, ah, nah not really… but then I thought about it and I wasn't really doing anything else at the time. At this stage I had probably been clear of my injury for three or four months and I was still going to the classes because I actually quite enjoyed them. So I said, yeah sweet as, I'll give it a crack… went away and learned a CXWORX™ release for my Instructor audition and to this day it is still the most challenging track I've ever done! I can't remember the release but it was the longest track ever with this awful hover that felt like it went on for about five minutes…
After my audition the GFM said, OK I might get you to do BODYPUMP – so obviously I didn't do a very good job at CXWORX – and I went away and learned BODYPUMP 85. From there I picked up BODYATTACK and then LES MILLS GRIT™ a few months later.
What has teaching done for you?
Oh man, it's given me huge confidence, especially with skills in public speaking. It's taught me a lot about training, but also has taught me a lot about myself. I've been thrown in the deep end so many times. When the pressure is on, I've learned that I will fight and put in as much work as necessary to deliver the best I possibly can. I've walked away from every single filming round with a new skill.
It's improved my time management - which is the thing I'm worst at – but being on the road has also taught me how to handle myself in bigger cities: how to be prepared, how to connect and chat with lots of different people from different cultures.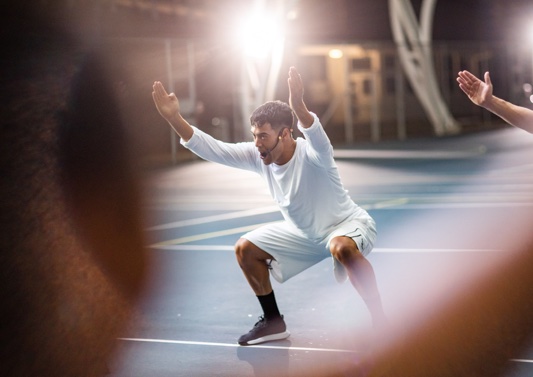 When I was pretty fresh into filming, it taught me how to hold my own space. It can be quite intimidating when you encounter senior Instructors who have been around for years and wanting to hold down their positions. I'm not saying I'm threatening them but I've walked into their world, into their area, so I had to learn how to handle that because it can be easy to back down and feel too scared to show my best in front of other people.
Yeah, so when you are working with other really established Instructors, how do you handle that mentally?
Be confident that you haven't just been put there. You've done all the hard work in the background, and just because people haven't seen how hard you've been working doesn't mean you haven't earned your place. For me it's all about self-belief and having the confidence that I'm providing something different.
Everybody provides something different and that's why people get opportunities. If you think of the All Blacks, why do they have three first fives? Because they all provide something different: one could be an amazing goal kicker, one might be a great runner with the ball and another will have a different skill - and the skills of the team you're playing against will determine which player they're going to put out on the field. The cool thing is that you're an option: you're someone different.
How has your rugby training background helped you in your career and mindset now?
Team sport has taught me heaps. I'm a competitive person. Not against other Instructors - but competitive with myself to keep me focused and checked in.
Rugby definitely instilled a hard work ethic from a very young age, and got me into that mindset of having fun with exercise, 'cause I love watching and playing sports. I'm a big team player and love that environment. Obviously we're not in a team when we're teaching our classes but when we're teaching programs like LES MILLS GRIT, you can create the feel of a team environment.
What do you love about Group Fitness?
The thing that hooked me in was the energy, the type of energy that you could throw out during a class. I love music and going as hard as you can in a workout to loud as tunes is a great feeling. One of best things is the feeling you have when you leave the class. That's the best feeling, leaving on a high knowing that you worked hard – it's a cool routine to get into.
Train hard, good music, good people… who wouldn't love it?
What was it like moving to Auckland?
The one thing I wanted to do when I got to Auckland was stay true to who I was and teach exactly the way I did back in Dunedin and I think I have done that. I've gained more skills and knowledge along the way but I don't think I've changed a hell of a lot, which is cool.
Coming in to teach at Les Mills Auckland City brought some challenges… you know, in terms of Group Fitness, this club is it! This is the Mecca and you've got some big dogs teaching in there and it can be very intimidating. I remember walking in there and teaching a few classes and had some of the more senior Instructors give me a bit of a stare down, sussing me out a bit. It actually took a while to build their trust but the most important thing for me was to stay true to myself and do what I do because I love it.
Are you close to your family?
Yes, extremely close.
My Pop passed away 2 months ago – my Grandad – and my Nana is still around so I'm super close to her. When I was growing up, my mum and I lived with my Grandparents until I was 8 or 9 and so did my aunty and my other cousin who's like my sister – she's 3 weeks apart from me. It was the best upbringing ever, so much fun and always stuff going on. I'm so thankful for all the things they've done for me. Playing sport I used to travel all around the country and they'd always follow me and drive me to all these different places. Without them I wouldn't be doing any of the cool stuff that I'm doing now.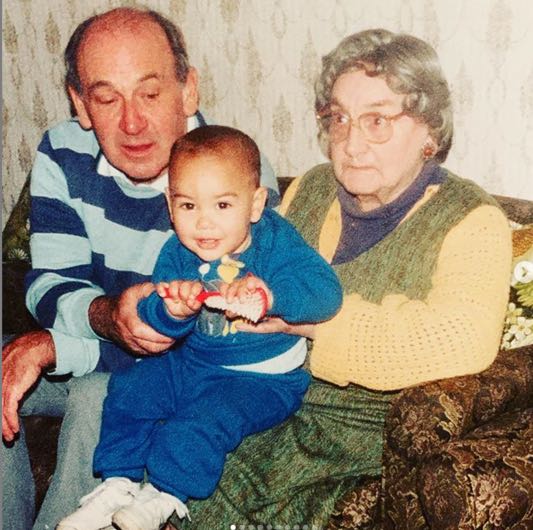 What's been the most challenging situation of your life?
Probably Pop passing away. We have never had a death in our immediate family, so that was really hard. Watching him go through everything that he went through, figuring out how to deal with it, that's been really challenging.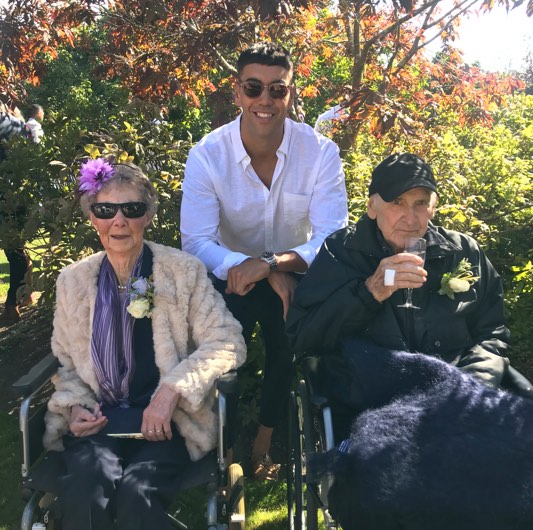 So how do you cope with that and come back to teaching?
I was actually in Mexico at the time of his death. I got a phone call and my family were like, don't come home, we're not going to have a funeral now we're going to have a celebration when everyone can come home. Greta [my girlfriend] and I went out and had a beer for Pop and skyped the family back home.
But as soon as I got back to New Zealand, I was straight into filming. I told a couple of the other presenters what had happened, but I just wanted to stay focused and not think about it too much. There were a couple of moments that were hard, but I'm pretty good at focusing on the task at hand. It was good to have something to take my mind off that stuff and it wasn't until I got home and was with my family that I could just let go. It would have felt weird if I was doing that stuff by myself. I almost put my feelings on pause until the time was right to grieve and be with the family.
During that time, coming in to teach, I just thought about having fun and I knew that Pop wouldn't want me to do anything different, because his motto for life was having fun.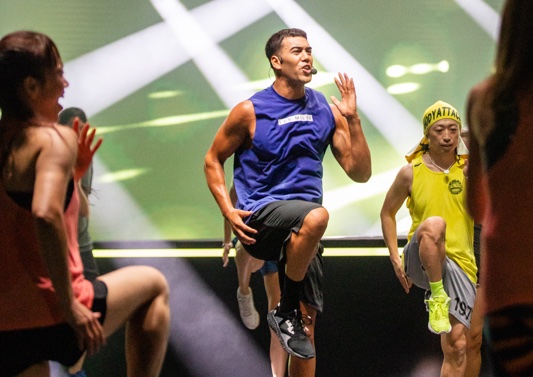 If you had all the Instructors in the world in one room, in what would be your advice?
Remember why you do it. For me, it comes back to having fun. If you're not having fun yourself, how can you expect other people to in your class to have fun? Working out is hard enough, so if it's fun and enjoyable, people are gonna work 10 times harder. It's about creating a good time. Fun is the key word. Is you could take anything away from this interview – fun is my motto.
What would you tell your 16 year old self?
Probably to eat better 'cause I used to love eating junk food! Pizza is my favorite… my mates actually organised my sixteenth birthday party at Pizza Hut - back in the day when it was all you can eat – and afterwards we went out drinking and I fell through the roof! I was hanging there with my legs dangling through the room like this [demonstrates] and I had to pull myself up, and we all sprinted off… that was the end of the party!
I would tell myself to eat better and also make the most of the time I had with my mates at that age cause high school was definitely the best time of my life and I guess… don't follow what other people do - choose your own path. Because I went to uni and studied design and marketing and finished that degree but I reckon I would actually have benefited more if I had taken a gap year.
Anything people would be surprised to learn about you?
I used to eat chicken nuggets in the bath. They are also one of my favorite foods and when I was a little kid I used to love eating chicken nuggets - and I used to do that in the bath, haha.
Do you ever do that now?
No! I can't remember the last time I had a chicken nugget.
The other thing is that as a kid I used to do Cook Island dancing. My Dad is half-Tahitian, half-Cook Island and growing up my cousin and I went to this thing called Language Nest where you learn about Cook Island culture. I hadn't ever done Cook Island dancing again 'til Greta and I went over to the Cook Islands, and then it came back to me!
And also that I love watching "The Hills: New Beginnings". I live with my girlfriend plus six other girls so we all watch it together, it's just such an easy watch!
Erin Maw mentioned I should ask you about the LES MILLS GRIT filming where you drank someone else's water?
[Laughs] Yeah, OK. We were filming GRIT Cardio 20 and I just remember that they were pumping the smoke machine. My mouth got so dry whilst I was coaching that as soon as my track had finished and Makisi [Marcus Wong King] started teaching, I went out and floor coached just to find some water. I did a token, "good stuff mate", then picked up someone's drink bottle and just started chugging back their water. I think it actually got caught on video. But hey - if you know your members, it's all about those connections…!
But yeah. That was definitely a funny moment
What was your most memorable filming?
Probably my very first one. I was a shadow in BODYPUMP 95 and I remember it for two reasons: number 1 – it was weird being on stage and having Glen in front of me because I was so used to seeing him on a TV screen and learning from him like that.
And the other reason it was a weird filming was because the guys I was filming with, from the UK, offered me a drink and said, take this, it's pre-workout. I was like, sweet as, but I'd never taken pre workout before and they said, maybe take another scoop because you're a big guy. They gave me this bottle and I chugged it back before the filming and I just remember in the warmup I couldn't feel my lips! My lips were numb, my ears were on fire and I was just trying to keep a straight face but my whole face was on fire and I don't think it stopped until we hit the shoulder track. Obviously it got me through it but that was the most memorable filming!
Also, filming BODYPUMP in Sweden. I remember being on stage and I could only see three or four rows in front of me because everything else was blacked out, and then as soon as the beat dropped in the squat track the whole place lit up. That was a pretty cool feeling, I could feel the bass rattling through my body and I just remember thinking, this is a long way from that little stage down in Dunedin.