Over the last 6 months, you may have noticed that we've had a big focus on promoting LES MILLS GRIT™. It's an opportunity for everyone in the Tribe to focus on one program for six months, and use this focus as a way to raise awareness of Les Mills and have more conversations with clubs not only about that program, but ALL programs. Raising awareness means more classes for all of us, which can only be a good thing!
We have two of these program-focuses a year, and during these six-month phases you will see a lot of our imagery, social media and recruitment focusing on that program. In no way does this mean that we're not feeling the love for our other programs; it just means that we're concentrating our efforts on the benefits of this program as a way to start the conversation with clubs that either aren't yet licensing Les Mills programs, or are licensing some of our programs but haven't yet introduced LES MILLS GRIT (for example).
So why am I telling you this? Because the next program-focus, kicking off in mid-September, will be focusing on everybody's favorite Mixed Martial Arts program, BODYCOMBAT™!
WHY BODYCOMBAT?
A few reasons!
From an industry perspective, we've seen a recent trend towards combat based fitness which has created an opportunity for us to start or re-start with conversation with clubs around BODYCOMBAT.
From a program perspective, BODYCOMBAT has undergone something of a reinvention over the last few years:
Changes to the music
If you're familiar with BODYCOMBAT, you might remember that there were some big changes made on Release 70 onwards to the music, with a shift towards using more commercial music, drum and bass, and big lyrical songs. This was done to ensure that the program continues to stay relevant and attractive to the next generation.
Simpler choreography
The choreography is easier to follow so the learning curve isn't as steep for new people, or for Instructors to memorize! Fewer combinations are now included in each track, allowing participants more time to practise the moves so they can feel successful. Floor work (pushups, burpees etc) was added to Track 5 – inspired by MMA strength and conditioning.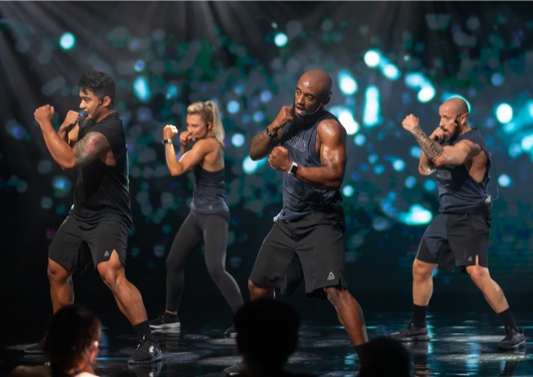 Different coaching language
Whereas our coaching used to revolve around martial arts and fighting, today we focus more on the training benefits of the workout. The language is less aggressive and less intimidating, and we practise the moves for longer - thereby allowing us more space to coach them. As Dan Cohen puts it, "the information now comes through a garden hose rather than a fire hose!" There is less overloading people with lots of information around the different martial arts.
More options for all fitness levels
The lower intensity options are now way more visible. Whereas in the past they were just demonstrated for one rep on Masterclass, you'll now see one presenter demonstrating the low option throughout the entire track, ensuring we can cater to a wider range of fitness levels. And for those who want a crazy hard workout, because the choreography has been simplified, it is easier to achieve the peaks of intensity. Therefore if you WANT the intensity – it is higher!
Clothing
Our clothing is now more generic. Previously there was a definite BODYCOMBAT "look" with boxing shorts, gloves and MMA clothing – this apparel was found to create barriers for new participants. It felt more like an "exclusive club", and beginners couldn't just walk in and feel like they fitted in. Today you're more likely to see Rach in tights than boxing shorts – ensuring BODYCOMBAT feels more like a workout that anyone can jump into.
I ALREADY TEACH BODYCOMBAT, WHAT DOES THIS MEAN FOR ME?
More teaching opportunities! We are going out to clubs with the message that they need to be licensing BODYCOMBAT in their facilities, so this means more classes for us all.
It also means that we'll be helping you to promote your classes on social media with some slick filters and stories. We'll also be sharing lots of content around BODYCOMBAT including Instructor stories and interviews with our favorite Presenters.
In addition to this, we are going to be running an introductory program for new participants to follow to help familiarise themselves with the moves and fitness. As soon as this program is ready, we will share it with you so you can help get even more people into your classes!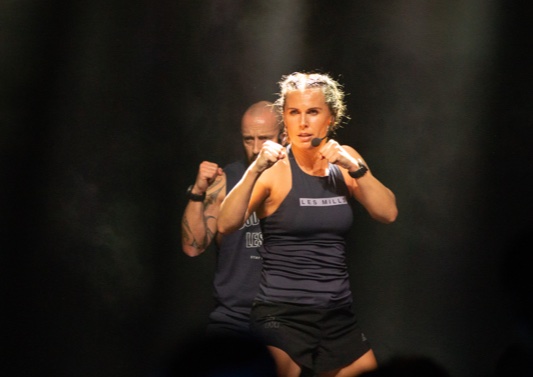 I DON'T TEACH BODYCOMBAT, WHY SHOULD I PICK IT UP?
I asked this question to Auckland-based Tauvaga Siolo and Vili Fifita, who many of you will recognise from LES MILLS GRIT and BODYCOMBAT Masterclass. They explained that as teaching BODYCOMBAT "makes you feel unstoppable. There's an emotional release that comes with the music and going hard out punching and kicking." The physical benefits are huge, with those who are teaching BODYCOMBAT finding they get super lean and fit. Plus there's an ongoing mastery element to the program – because BODYCOMBAT has an ever-growing catalogue of moves and combinations, there's always something new to learn and become proficient in.
So what are you waiting for? Find a training and start practising your uppercuts, because BODYCOMBAT is coming to a club near you!