Here's an actual conversation that occurred in a WhatsApp group with some regulars in my BODYPUMP™ class:
Member 1: Who's going to BODYPUMP tonight? Hopefully the 'resolutioners' have quit already so it's not manic busy.
Member 2: No, they're still there in larger numbers than usual. So many of them.
Member 1: Don't they realize their job is to subsidize our membership fees… not to actually turn up to the workout?!!
All jokes aside, and my "BODYGRUMP" (as they call themselves) members bemoaning the fact that some new person has nabbed their spot, there's a hard grain of truth here. Throughout January and February, we'll see a whole bunch of new faces in our classes, and it feels really good, right? After all, we all want to teach to packed rooms. However, come March, April, May… we often see our numbers start to drop off as "new year, new me" resolutions start to wane.
By giving those new people some love and helping them stick with the fitness habit, we can turn that revolving turnstile of back-rowers into our loyal front row. Here are 5 key plays to keep your new people coming back for more:
Emphasize the immediate wins
Let's face it – many people are joining the gym for less than positive reasons: they don't like what they see in the mirror; they've been told by a health professional that they need to work out; they know that they "should". When I worked as a gym instructor at Les Mills Auckland City, we were told that everyone generally joins with the same motivation: get fit, tone up, lose weight.
Of course, the downside to these motivations is that results take time. They're not going to lose those extra kilograms from attending two RPM™ classes. Their blood pressure won't be lower after their first BODYCOMBAT™ session. They won't have drastically changed their body composition from attending one LES MILLS GRIT™ workout. I see it time and again, where people join the gym, hit classes hard for a few weeks, then feel disheartened when they haven't got the results they wanted overnight.
That's why it's key to share the immediate benefits that we get from exercise. The fact it's a state change that will instantly change how we feel. The hit of endorphins that will make us feel happier. The way that embracing stress in our workout will make us less stressed in everyday life. The instant improvements to our sleep and appetite regulation. If the class you teach has a cooldown, that's the perfect time to reiterate these instantaneous wins.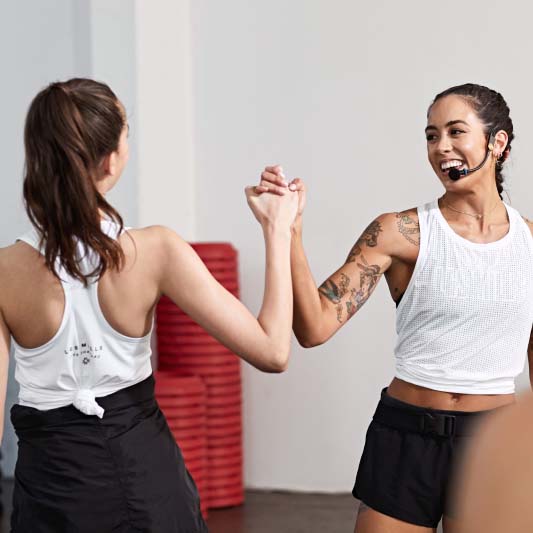 Make it social
How we onboard a new member is crucial to their long-term success – and that of your club. Although 81% of fitness beginners are interested in group workouts, two-thirds (66%) say they currently prefer to exercise alone, suggesting a self-belief barrier that needs to be overcome before beginners feel at ease.
If we can make people feel comfortable working out in a group, they're more likely to keep coming back. Fostering a sense of community starts with the Instructor; it's up to us to make our studio a welcoming, friendly environment. One easy way is to introduce new people to our regulars: we all know those members who are super-friendly and will be delighted to help the new person set up their station in BODYPUMP™ or their bike in LES MILLS SPRINT™!
"Nobody ever left a gym because they had too many friends," says Ish Cheyne – Head of Fitness at the 12-strong Les Mills New Zealand (LMNZ) chain of clubs, where group fitness typically accounts for 50% of overall gym attendances. "So whether it's allowing new members to bring a friend for free for a week, encouraging people to join as a group, or steering new members towards the ready-made community of the group exercise studio, do everything you can to help members develop friendships within the club."
"This not only makes the experience more fun – and therefore something they're more likely to repeat – but it also creates multiple points of contact for them in the club, meaning they'll be missed if they don't attend."
Give people autonomy
Here was the next chain of conversation in our WhatsApp group:
Member 1: I did notice last week that Sarah doesn't offer the option of a 'SMART START'!
It's easy to forget, when we're conditioned to our programs, that surviving an entire 45 or 60-minute workout can seem incredibly daunting to our newbies. Offering SMART START, where we remind members they can leave when they've had enough and gradually build up to the full workout, is a great way to give people autonomy.
Additionally, if you're teaching weight-based programs, encourage new people to start light and get their technique right before they progress with load. In high-cardio programs like BODYATTACK™ and BODYSTEP™, making sure you show modifications and lower-impact options can be the difference between people feeling successful or not. I felt terrible when a member in my BODYATTACK class told me that she felt like a failure because she couldn't do all the plyometric lunges in Track 4. Now, I remind people that it's okay to stop and take different options to get through the workout.
Needless to say, I made sure to offer SMART START when I taught my class last night.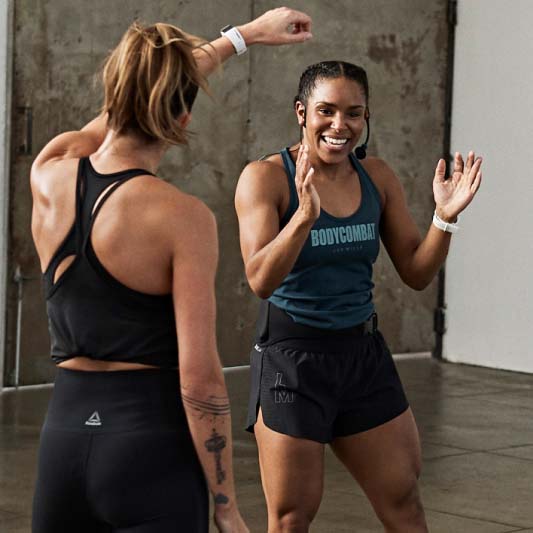 Script new motivation cues
If you're looking for inspiration you could do worse then check out cues from the queen of motivation, Khiran Huston. Here's some gold from LES MILLS GRIT Strength 35:
"This is the stuff you're addicted to: this feeling, the challenge, the heart-rate spike, the open-mouth breathing. This is the stuff that you come back for and only GRIT can give you this. […] Finish what you started. We're creating good habits. Good habits become routine, they become part of our life, we get fitter, we get healthier, and we feel real good."
When asked how she creates her cues, Khiran says: "I guess I do have a particular style and it's definitely intrinsic motivation. I've never been about the aesthetic, ever. I'm always about the feeling of exercise because that's authentic to me and I also think that caters to a larger number of people: feeling good because you chose movement today.
"In terms of updating my motivation, I listen to a lot of podcasts and I read a lot about different techniques and ways to achieve goals. My bible books are "Atomic Habits", by James Clear and "Relentless" by Tim S Grover. I also love Agile Coach podcasts because they're all about mindset. They're about experimentation and inspection and adoption."
At this time of year, it's particularly important to consider how our words are landing with our members. "I encourage you to think about the program from a participant's perspective," says Khiran. "Sometimes we can be in teacher mode constantly and forget what it's like to be a beginner or a regular participant. Different people are going through different stages in their fitness journey and they've been with the program for different lengths of time. We can be so fixated on "I have to learn the choreography and then I have to hit these coaching layers" that we forget about the fact that we're actually teaching fitness. And not only that – we're providing people with a fitness experience. At the end of the day, it's the experience that will get them coming back not only to that program, but to you as an Instructor."
Get the party started
The new releases are about to drop, which means one thing: launch week! With the Global Fitness Report revealing two-thirds of gym members (67%) prefer to work out in groups, live classes remain the pinnacle fitness offering and launch week is where we get to do what we do best – make people fall in love with fitness.
Teach with someone new, dial up the fun factor, and encourage members to get involved in the theme. Tell new members that launch is the perfect time to try a program since the release will be new to everyone. And if your club is hosting an open day, encourage your regulars to bring along their friends and family to try your class out!