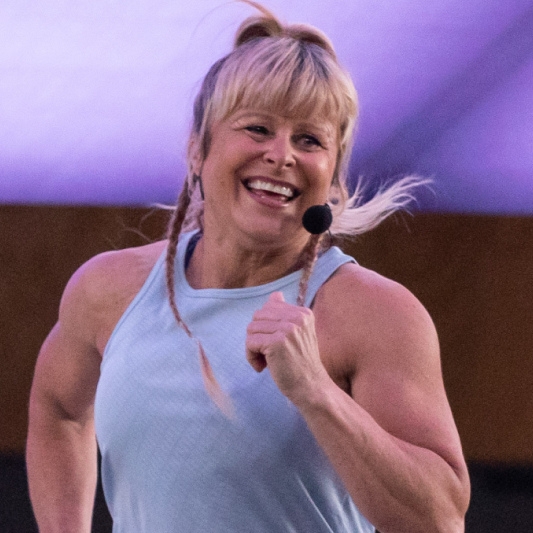 Lisa Osborne (Australia/New Zealand)
What is equity? When it comes to working in fitness, equity means equal opportunity for all. To me, that means if you can complete the task – you should be given the opportunity. Nobody should be refused a chance based on their shape, size, age, skin color or sexual orientation. The criteria shouldn't be based on any reason other than if you can do the job.
Yes, I've experienced bias in my career because of my age and my lazy eye, but I'd like to say how thankful I am to have had more positive experiences than negative. Everyone's different and I believe everyone has something special and unique to offer. I know what mine is, and I use it to keep me focused on my mission and inspired to work hard. Every time I get asked to do an overseas trip or booked for an event I think: 'They still want this old girl?' LOL!
I look up to those women who stand proud in their bodies, who do what they love. I look up to women who don't let others set their path – who don't follow 'the norm' because people say they should. Just because something was done a certain way in the past doesn't mean we have to do it that way now.
When it comes to getting older, I've worked super hard to maintain my fitness, improve my teaching and keep adapting to stay up to date with the industry. I might not be in my 20s, 30s, or even 40s anymore, but I get up in the morning and train hard to maintain my strengths and skills so I can continue to perform at my very best. I've had a total hip replacement that limits my choices, so I've had to adapt my training to what I can do now. My age and my hip are a reality but they're no reason to stop training or inhibit my mission and goals. My motto is: "adapt, react, then GET ON WITH IT!"
Five years ago, I was told I would never participate in, let alone teach, group fitness again after my hip replacement. Since then, I've lived every single day like I'll still be doing what I love tomorrow! I often get thrown comments like "You're too old for that", but I never let it knock me down. I work on being strong in my mind and body, so negativity and bias can't inhibit my passion. Nobody should have to deal with those things. I look up to everyone who can stay positive and fight through hardship, bias and discrimination.
BODYATTACK™ is a program that includes everyone! It's not about control, but rather it's the program of joy, color and fun which generates awesome results. For as long as I've been teaching BODYATTACK, it's been about high energy, options for all, and inspiring people to just enjoy fitness. Our motto has always been: SWEAT, SMILE, SHARE ENERGY AND EMBRACE THE CHALLENGE. We want everyone to join in and share our passion for fitness. The program has progressed with fitness trends to remain current, but at its core the essence has remained the same: inclusive for all.
Here are the things I believe make a great woman:
Be brave.
Be strong in body and mind.
Be unstoppable.
Be you.
Be kind.
Be open to learning! Try new things and adapt as needed; growth is what enables us to be the best version of ourselves – feed the body and feed the brain!
Work as a team player! Don't try to do everything yourself – be open to others' opinion, knowing that working together is always better. Share visions and aspirations!
Be you! Know who you are and what you stand for. Be proud of all that makes you, you! Never make excuses for your uniqueness and never apologize. Step into courage and allow yourself to be seen!
Love ❤️ and see the positive. ⭐️
Smile and the world smiles back at you – lift people up!
Smile and you will feel the warmth fill your soul.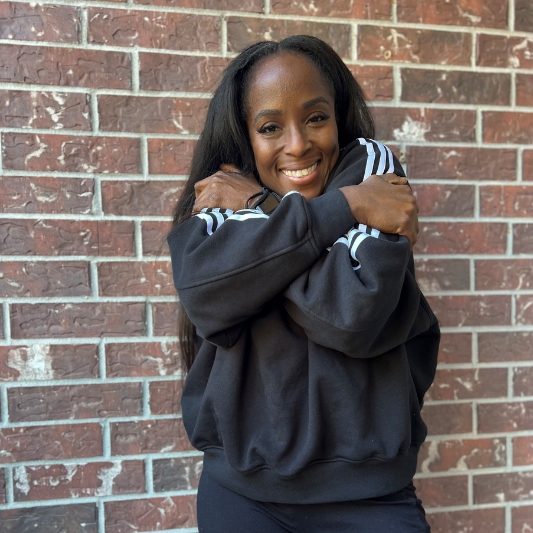 Nichola Smiles (US)
When I got accepted onto the Les Mills US TAP [Trainer, Assessor, Presenter] team in 2018, I remember there were all these discussions about diversity on the Facebook page. People were asking questions like, are you picking people for the right reasons? Are you picking the most qualified people? These questions eventually started to bother me, sparking some limiting beliefs. I didn't want anybody to think that I was chosen because I was meeting a 'diversity quota'.
A month or two later, I had a conversation with someone on the TAP team. I was sharing how nervous I was feeling around the expectations of being on the team and they said to me: "Well, you know, you'll do well because you're black."
That comment tainted my initial experience of joining the team. Even though I knew I was 'OK', that comment played in my head on repeat. When I got requested to present at my first event, it sat heavily on my shoulders, causing me to put unnecessary pressure on myself. I didn't want anybody thinking I got on the team because I was checking the diversity box; I wanted them to know that I was actually a great Instructor and was deserving. Luckily, I got great feedback after my first event so I felt I could relax a bit, ignore the social media dialogue.
The reality is that diversity, equity and inclusion is imperative in the fitness space. Fairness in fitness is about everyone having the ability to participate regardless of their environment or circumstances. To commit to their value of Changing the World, Les Mills strives to showcase various backgrounds, ethnicities, and cultures. Throughout the pandemic the Les Mills audience expanded, especially through LES MILLS+. For many years the fitness industry had showcased one look – which a lot of people didn't see in themselves. Representation matters: it opens the door for opportunities to be given, voices to be heard, journeys to be experienced.
Equal pay among men and women is still a work in progress in the fitness industry. I experienced one incident where things felt really unfair: I worked for a gym where I knew male instructors were getting paid more than me. I brought it to the attention of one of my managers, but I was too vague about what the real issue was. I requested to get more pay because of my qualifications and my performance. In the end I received a small pay increase but it still didn't match that of my male colleagues. At the time, I decided to let the issue go but eventually the nagging sense of things being unfair returned. I knew I taught more classes than my male colleagues, had equal or more attendance than them, and extra credentials. I approached management again but this time I was direct and called it for what it was: equality in pay.
I was surprised this occurred in the fitness industry when it's largely dominated by women. It's something I'd expect to see happen in the industry I work full time in [engineering] but I never imagined I'd have to justify my worth in the gym, where the only point of difference between myself and the male Instructors was our gender. Being a group exercise is not my primary source of income, but I firmly believe individuals should be compensated based performance, accreditation and/or experience. Always, know your worth.
I hope that, through my actions, I help other women feel empowered to do anything. To be bold in their thinking and in their lives. One thing I truly love is to see others win! I love celebrating other people's success. In fitness, the competition can get pretty ugly and stupid. There's a place for everyone; everyone's unique and can bring something special into the fitness space. My overall goal is to create a healthier planet so the more people around to bring that to fruition, the better.
An inspirational quote that I love and I live by is: "Celebrating another woman's triumphs or success will never take away from your shine or glory. If anything, it'll add to it and create more light." – Alex Elle. I want to be that woman that will always celebrate another woman's success, and always uplift them – whether they're in the room or not.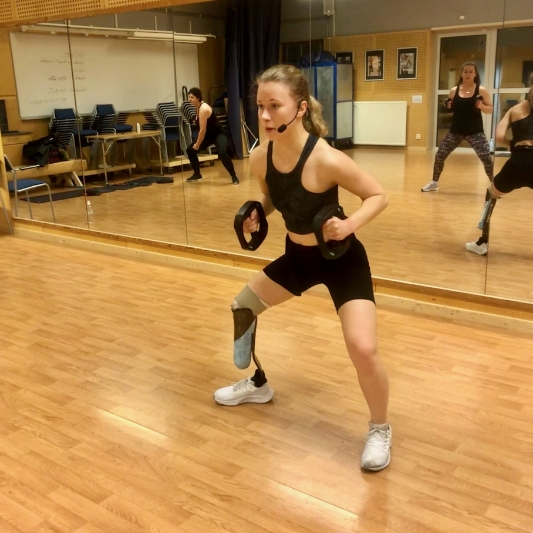 Emelie Roslund Grönlund (Sweden)
My relationship with exercise hasn't always been great. I was born with something called fibula hemimelia, meaning I was missing a fibula. My leg was also underdeveloped and shorter than the other, and because of the missing fibula I had a malformed ankle and foot. During my childhood it was hard to keep up physically with the other children and I hated everything to do with sports and exercise.
After several years of surgery, in November 2016 I made the decision to have my foot amputated. This significantly increased my ability to be more active, but I retained the mindset that exercise was boring, strenuous, had nothing to offer me. In PE we were given an assignment to come up with our own workout routine to do at home for a couple of weeks. I was unmotivated and didn't know what to do, so my mom encouraged me to accompany her to the group fitness classes she attended. At first I was skeptical, but decided to give it a go, with BODYPUMP™ and BODYSTEP™ being the first programs I tried. I fell in love with the workouts, the music, the overall feeling of being connected to the other participants and the Instructor. After the assignment ended I found myself wearing workout clothes all day, just waiting to attend evening classes.
After the pandemic, some of our Instructors retired and the gym manager asked if I wanted to become a teacher. At first I wasn't sure I'd be fit enough, but eventually decided to give it a go. I'd experienced first-hand how much impact Instructors can have on people, and thought it would be incredible if I could have a positive influence on people too. I decided to train in LES MILLS TONE™ as it's a really fun and inclusive program and has all the elements you need: strength, cardio, balance, coordination etc. while at the same time offering many alternatives.
My heart beats hard for the disabled community. People with disabilities are less physically active than the general population due to lack of availability, support and often a lack of self-confidence/efficacy. This is one of the reasons that disabled people generally have poorer health than the overall population, especially women. I think that it's really unfair and it doesn't have to be that way.
We need more representation. We often see disabled people in the Paralympics, or doing some impressive extreme sport, but not so much in everyday exercise/fitness situations. Not everyone wants to become an athlete, run a marathon or climb high mountains. Some people just want to find a way to get their body moving, get their heart rate up and improve their strength. I believe showing disabled people in a more everyday exercise context would be easier to relate to and would inspire others, disabled or not, to believe they can do it too.
To me, fairness in fitness means everybody should have the same opportunities to create and maintain a healthy lifestyle. It's important to embrace variety, make efforts to increase accessibility to the fitness industry, and ensure people feel like they belong.