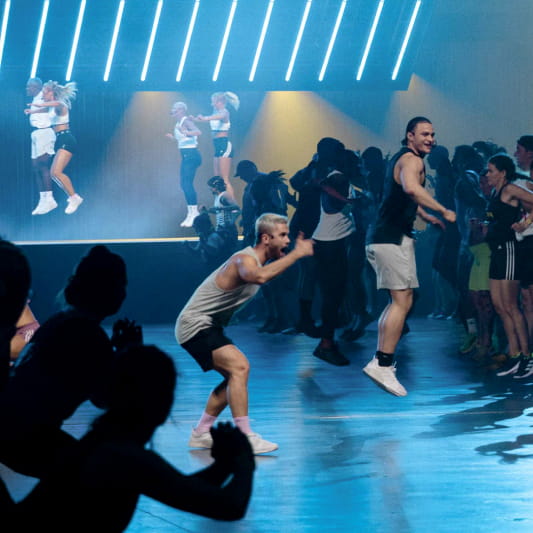 BODYATTACK™ 122: LISA OSBORNE
Presenters: Ariane Luçardo, Ashley McCallum, Bhaskaran Balasamy, Billy Magg, Gina Bryant, Jackson Fuafiva Osborne, Joscelin Campbell, Lauren Hodoval, Lisa Osborne, Marcy Holloway, Martine Matapo-Kolisko, Maxime Vigeant, Simon Nilsson, Terrell Lawrence, Victor Casanova
Welcome to BODYATTACK 122, where it's all about festival vibes and providing plenty of options to cater to the people in front of you!
"Why are Instructors and members going to love 122?" asks Joscelin Campbell. "The music! This is one of those releases where every song is great with mass appeal. There's a real mix of old and new. It's also a super-inclusive workout where everyone will feel like they've worked and played hard.
"My favorite song is 'Dance With Somebody'. This remix has a very special feel to it. It's visceral — when the first beat drops, I get goosebumps and my heart skips a beat every time! When the beat kicks in, it really gets you ready to move — it's pure BODYATTACK energy!
"Lisa did a great job of mixing familiar moves into fresh new combinations throughout this release:
Mixed Impact sees the return of the Cross Pattern Run, as well as a new arm line – the Lat Pulldown. It's a little different to past releases because we pull the elbows higher and then back to the ribs — rather than hips – on our usual bicep curl arm lines. This activates the upper back.
Athletic Strength has a great Knee Repeater to Lunge combo with Kettlebell Press arm line, making the workout feel really functional.
The Running and Interval tracks have some fun new arm lines to look out for, which will really challenge core stability.
The Core track has a fresh new Oblique and Pike Crunch combination to bring us home strong!"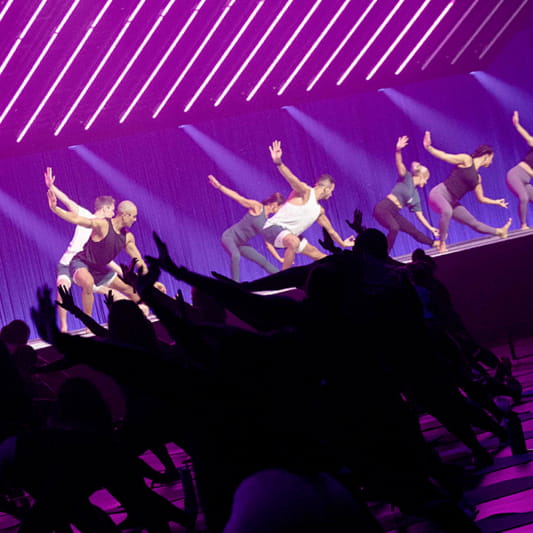 BODYBALANCE™ 102: JACKIE MILLS AND DIANA ARCHER MILLS
Barb Knutson, Berti Voigt, Bram Prima Halim, Caio Cestari, Eileen Post, Elly Nunga, Goedele Peerlinck, House Chaalane, Jessica Wong, Khiran Huston, Marika Berninge, Michelle Estrada, Otto Prodan, Rebecca Reznicek, Stacy Dee Rathbone, Trang Le Thu
You're going to love BODYBALANCE 102, which has a focus on loving oneself and promoting a sense of healing. The flows are simple, allowing you to be immersed in the moment and fully present in the body, mind and breath.
There are plenty of new moves to keep you and your members engaged: "In the Thai Chi track, you have the option to add a mudra," says Marika Berninge. "Mudras can promote concentration and calmness, and it's such a beautiful detail to add in the beginning of the class! We have some beautiful arm movements in both the Standing Strength and Balance tracks. In fact, my favorite track is 3a because of the beautiful wrapping arms in the Sun Warrior sequence, where we get to experience a deep healing sensation
"In the Twist track we have a Scorpion Twist which feels really nice for the lower back. We press up to the elbows to take the twist more into the thoracic spine. We've got a lot of time in these positions to explore and release tension around the whole spine."
Barb Knutson also loves the new wrapping arm line: "It's absolutely beautiful and supports the transition into Eagle Arms, which is a genius way of helping our members to achieve the pose. I love this release because it gives us the freedom to just be in the moment, enjoying and expressing ourselves through the music and the moves."
Jessica Wong adds: "This release is healing and nurturing, the perfect balance to a Les Mills double (or triple) workout day or at-home workout. It's relaxing and calming, but also powerful with very challenging Core Abdominal and Back tracks!
"We also have the option to delay our Hip Opener track until after our Core tracks, which allows us to delve deeper into our stretches as we shift the energy down for meditation and relaxation.
"There are plenty of options in this release, such as in Track 6, 'All Eyes' where everyone can choose to move at their own pace through the Striking Cobra. As my friend Michelle says: "Your movement, your flow!". This is your release and your experience — enjoy!"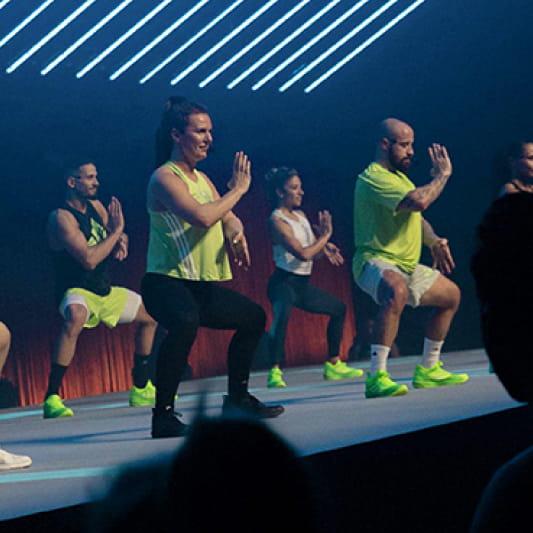 BODYCOMBAT™ 97: DAN COHEN AND RACHAEL NEWSHAM
Presenters: Aluma Karisi, Amelia Garcia, Ana Malvaez, Andrea Illanes, Andrew Watson, Anthony Oxford, Beth Finnie, Dan Cohen, Eileen Post, House Chaalane, Justine Collado, Kamil Zielinski, Lana Aitken, Levi Farrell, Lula Slaughter, Pedro Pena, Rachael Newsham, Regina Sahara, Sebastian Jaramillo, Thais Basílio, Tyla Tobin, Vili Fifita, Windy Gao
"I have two favorite tracks in this release!" says Justine Collado. "1A because of the lyrics. It's a song about someone who was in a difficult situation and found freedom through faith and love. Now, they feel free to be themselves and share that love.
"And then I love track 6. It's a fun track with leg-crushing choreography, especially the Double Pulse Lunge! You can bring out the Key Element of Performance and just have fun. It's the kind of track that will fill the dancefloor at a party!
"I also adore track 5 because it's infectious. You get to dial the intensity way up, especially on the Jab, Cross, Upper, Decoy switch. The lyrics with that combo are brilliant. Whatever someone is going through, this is one of the moments in to LET IT OUT!"
There's also plenty of innovation in this workout. Beth Finnie adds: "In track 5 we have a new variation for the push-ups/strength endurance block at the beginning called the 'Tricep Blaster' and it's awesome! Such a challenge for the triceps, which we don't tend to work as much in BODYCOMBAT. Track 6 also has some funky new movement patterns with the Esquiva and moving from corner to corner for that super agile Capoeira feel. Oh, and we can't forget the track 7 Muay Thai knee variation… KILLER for the obliques!"
The Masterclass video may look slick, but there were some challenges for the team during filming: "On stage, we could barely hear the presenters on the mic, so we couldn't go off their cueing," says Andrew Watson. "It really came down to the ability for each of us to 'feel' one another thanks to all of our practice and rehearsal. It was an incredible experience to share with presenters from all around the world."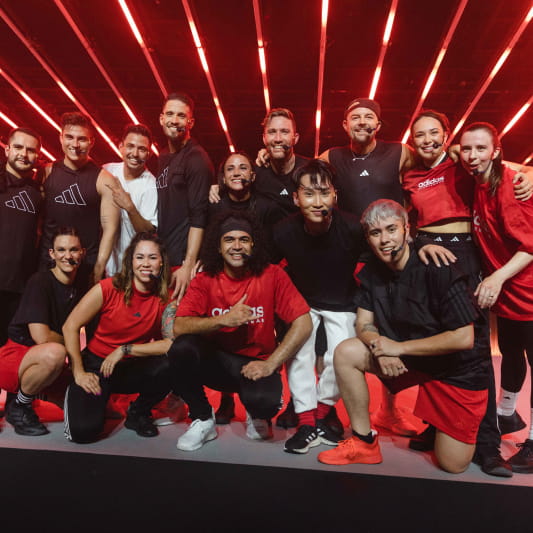 BODYJAM™ 106: GANDALF ARCHER MILLS
Presenters: Alyx Sparrow, Angel Everardo Elizondo, Ba Hieu Nguyen, Charlotte Ranque, Colleen King, Dannielle Lally, Eric Ripley, Erich Soares, Gandalf Archer Mills, House Chaalane, Jessica Kahn, Jordan Kelly, Meno Thomas, Sebastian Jaramillo
"Holy sweet baby cardio, BODYJAM 106 is everything!" says Colleen King. "Westside Story starts with some poppin' funky freshness before lifting us into space in the first block with a fun laser show. It then drops us back into nostalgic feels that take our heart and soul for a ride.
"There is no doubt that Instructors and members will fall in love with BODYJAM 106 because of the music, the feels, and the challenge. The new music is massive and there's a tremendously special song in the back half that quietly sneaks back in but will swerve your soul upside down.
"What's my favorite song? I'm a huge Rhi-Rhi fan, so 'Rude Boy' got me like Giddy up, giddy up, giddy up, babe! I think many people will love it (and laugh) when 'Pew Pew Pew' hits.
"In terms of innovation, you know G always has something up his frayed cutoff sleeves. Eric Ripley kicks us off using his rippling muscles to flex us through some poppin' and lockin'. This was a new style of dancing to me that was super fun to learn and explore in my body.
"For many of us on that stage, LES MILLS LA was our first Masterclass filming after loving and teaching this program for so many years. Jess, Alyx, and I started out as BODYJAM Assessors on the LMUS team. Sharing this experience with them meant the world to me."
Sebastian Jaramillo adds: "What do LA vibes make you think of? Well you'll find all of that in this release: fresh, innovative music, well-known songs you'll want to sing along to, moves to bring out your best dancer spirit and show off with your participants… it's sassy, fierce and SEXYYYYY!
"For me, Track 2 felt like being at a carnival! The music will transport you somewhere warm where you want to party all night long.
"Everything on this release is unique, so dance, enjoy and bring that Jaaaaaam energy to the people in your club!"
"Instructors and members will love this release because of the older gems," says Jordan Kelly. "If you love house music, euphoric music — the late 70s, 80s, 90s feel — this is the release for you. It is go, go, go, not much breathing space, but I know it's going to go down a storm!"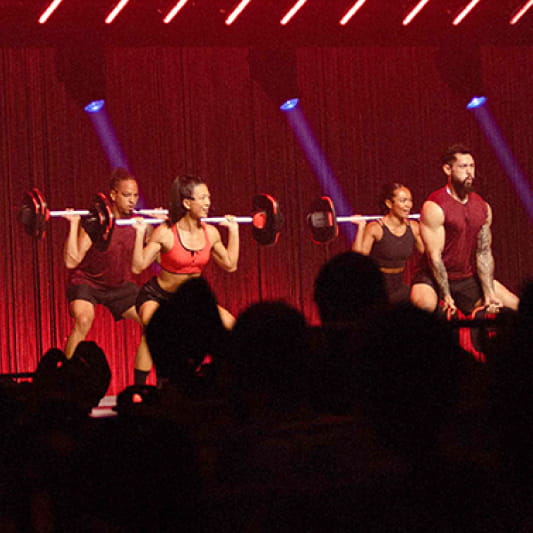 BODYPUMP™ 127: GLEN OSTERGAARD
Presenters Amy Lu, Anthony Oxford, Ben Main, Bronté Terrell, Charlotte Ranque, Des Helu, Glen Ostergaard, Honey Wu, Hope Bowie, Lauren Vibbert, Levi Farrell, Lula Slaughter, Maxime Vigeant, Rebecca Reznicek, Trae Tripoli
BODYPUMP 127 is on fire! It's got all the ingredients that make an epic workout: plenty of challenge, lots of contrast in the music, and high repetitions to deliver the results our participants come for.
"Get ready for the lunge track," says Hope Bowie. "The Backward Stepping Lunge with Knee Lift is a burner! The triple extension of the hips, knees and ankles in this move can ultimately help us jump higher, run faster and push away from the ground with more force. This is why BODYPUMP is one of the best cross-training workouts in the world.
"My favorite track is Squats. The moment you think the first combination has kicked your butt hard enough... the beat drops again and we double the intensity and the repetitions. Excuse me?!? By the time we finished that track, the sweat was pouring off me and my legs were shaking. I personally love that type of challenge!"
There's also lots of cool innovations in this release too: "The 45-minute alternative tracks have some movement patterns we haven't seen before," says Trae Tripoli. "In the Triceps/Biceps you'll see a Plyo Pushup, and we also perform a standing Tricep Kickback/Bicep Curl combination.
"The Lunges/Shoulders Track has an Off Set Cobra with Arm Circles, which is extremely challenging. You start from a low hand position with a short front leg load and circle the arms wide towards center slowly, and then slowly bring the arms back to starting position. Even using 2.5kg plates felt very tough for this move. You'll definitely need to coach people to go light, focus on range of motion, and prepare for an incredible burn!"
Lauren Vibbert explains why her favorite song is the Back track: "It's the song 'Anywhere'. You know those tracks that when you hear them, you look up the song and add it to your playlist right away? This is one of them! It has all the feels, the highs and lows, and the corresponding choreography feels so powerful. It's an experience you can get fully immersed in."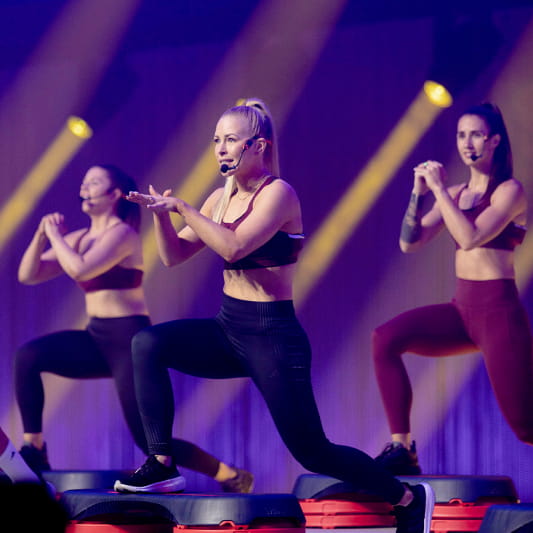 BODYSTEP™ 133: MARK NU'U-STEELE
Presenters: Abbey Munro, Andres Camargo, Janice Years, Emma Alcock, Erin Maw, Ethan Morrow-Wilson, Flávia Luz, Jennifer Shook, Kaylah-Blayr Fitzsimons-Nu'u, Keri Lillienfeld, Mark Nu'u-Steele, Michael Chidley, Mohamed Bounaim, Otto Prodan, Siobhan Ozanne
"Peak 2 — Lateral Cardio is hands down the song of the release," says Michael Chidley. "The song has incredible contrast in the verses and choruses. The choreography and the intensity match the powerful builds in the track soooo well and let me tell you, when the beat drops, it AB-SO-LUTE-LY SLAPS! When I play the song back now I get goosebumps — the energy and feeling in the room during this track was next level. Vibes!
"The strength tracks stand out for me in terms of innovation. Track 7 is the highlight with a new take on the Clam. Erin serves some spicy feels and there is no way you can poker face your way through this section. Best of luck y'all...!
"BODYSTEP 133 delivers athleticism, fun and freedom. The workout has so many opportunities for Instructors to bring out their personality, create vibes in their studios, and empower their members to enjoy the benefits of our program. This is my favorite release so far in terms of the new format, and not just because I got to share in it."
Janice Years adds: "The newest innovation, and theme, for release 133 is Offbeat Training, meaning that you can move faster or slower than the beat to give your body what it needs. My favorite track is Peak 1, I absolutely adore the highs and lows in the Freeze Leg Extension portion of the track!"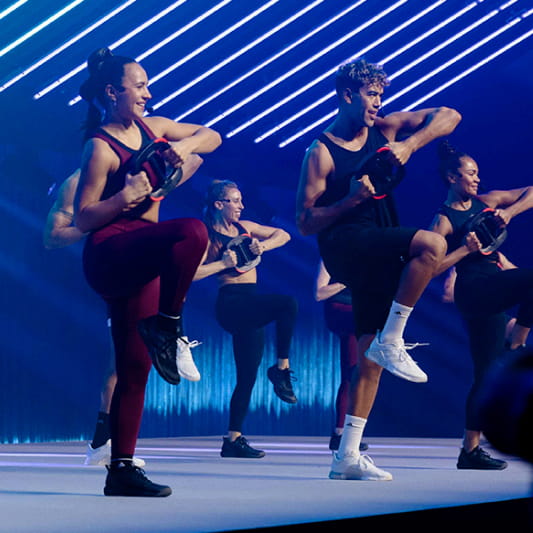 LES MILLS CORE™ 52: CREATIVE TEAM
Presenters: Amy Fisher, Ashley Lyon, Ben Main, Berti Voigt, Bronté Terrell, Bryan Barrera, Caroline Hall, Demetria Wilson, Henry Liu, Kate Stevens, Keri Ball, Martine Matapo-Kolisko, Omer Azaria, Otto Prodan, Stelios Aggelis, Vili Fifita
LES MILLS CORE 52 is jam-packed with innovations to take you and your participants' core strength to the next level.
"Track 2 has a new Rolling Side Hover with Arm Reach," says Ashley Lyon. "There's the option to add a leg lift for a great stability and balance challenge. Track 3 has a Zig Zag Woodchop with Knee Lift which is very cool. The Pendulum Combo is a fun challenge for the obliques and there's great cross-sling training with Row/Leg Extensions. And, wow, Glute Isolation — performing an entire track with the resistance band is a game changer!
"My favorite track was probably Track 4 Hips and Glutes. The song is cool and fresh, the movements are simple, but very effective. I also really enjoyed Track 2 with the Hover variations, and Track 10 is such a lovely release and stretch to end this epic workout.
"People are going to love this workout because of the great music and moves that are both fresh and familiar. CORE 52 is all about progression. I love how we start from a base exercise and then build from there! Try the different formats and bonus tracks — they are all SO good!"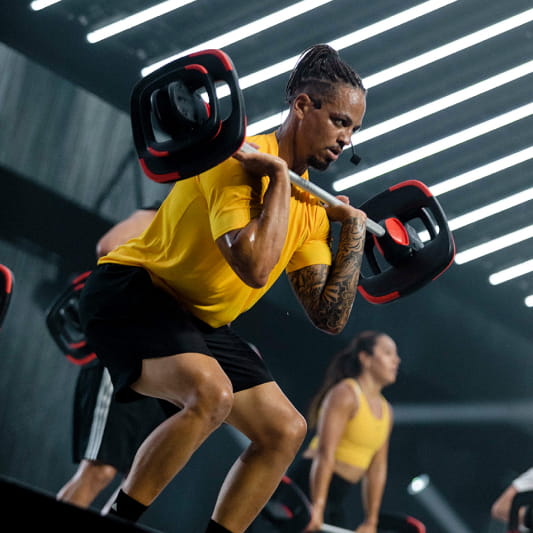 LES MILLS GRIT™ 46: ERIN MAW
Presenters: Andrea Hateley, Ann McArthur, Annette Perkins, Anthony Oxford, Bas Hollander, Ben Main, Billy Aw, Bree McElroy, Bronté Terrell, Diego Ortiz, Dimitris Kotsos, Erin Maw, Jackson Fuafiva Osborne, Jesus Betancourt, Karola Schulz-Misic, Konsta Kossi, Levi Farrell, Mahmoud Abdulsamad, Sara Green, Savannah Palmer, Serena Patel, Will Lee, Yale Qin
"GRIT Strength 46 is epic!" says Will Lee. "The music will keep you pumped as you make your way through the challenging moves, including the new Clean & Double Press. This variation gets the heart rate up fast.
"My favorite track is Track 3, 'Beast Mode', because that's exactly how you'll feel in this workout!"
Konsta Kossi adds: "The highlight for me was Track 5, Ladder Up Ladder Down, because it's super simple and effective. Climbing as high as you can and then letting the music drive you to give your best as you fight on the way back down. Clean and presses and squats — what else do you need?!"
"GRIT Cardio 46 is simple, athletic and is just next level fire!" says Karola Schulz-Misic. "Moves like the 'piston' deliver some serious athletic training inside that HIIT feel we know and love. I have a soft spot for the 1:1:2 track, but I have to say the Coach Call track is just unreal — both the music and moves!
"The 'typewriter' makes a comeback from older releases. It's an awesome move that improves our co-ordination and upper body/core control and keeps us in that high heart rate zone."
Annette Perkins says the presenting team bonded before filming: "We had a fantastic time drilling, practising and rehearsing for this big event. We were prepared for anything! And luckily, we know how to work hard... because we had to do Track 4 (Coach calls) THREE times due to technical issues!
"It was a lot of GRIT and a lot of Coach Calls — but as they say, third time is the charm. The Masterclass you'll see is the third and final run of it. We were absolutely smashed, yet enjoying the immense challenge that is GRIT. The Performance element of GRIT — showing enjoyment whilst smashing it — came out quite authentically in that third time. Lucky us and everyone at LES MILLS LIVE LOS ANGELES getting to do our favorite track over and over again!"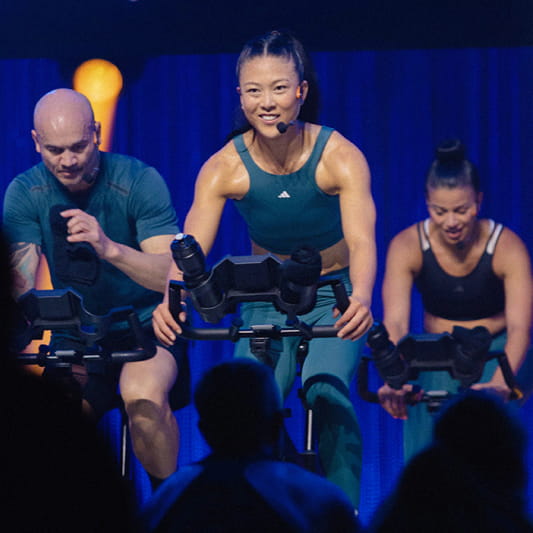 LES MILLS SPRINT™ 33: GLEN OSTERGAARD
Presenters: Amy Lu, Anni Klaus, Billy Aw, Emma Alcock, Glen Ostergaard, Jamila Greene, Jen Parrish, Khiran Huston, Megan Cloe, Nagham Albeitawi, Pete Peterson, Sanna Ronkko
"The overall theme for SPRINT 33 is quality over quantity," says Jamila Greene. "It's about making sure everyone gets the most out of each effort, so coaching with clarity, and nailing the basics is key. The Workout Plan is simple to learn, with that familiar HIIT feeling we SPRINTers LOVE. The music is everything!
"I love the Sprint Tabata track we see in both tracks 3 and 5. It's short, sweet, and effective. The Tabatas are strategically placed to serve as re-energizers for the body. They're still challenging, but allow for the heart rate to drop just a bit in preparation for the bigger efforts in tracks 4 and 6. I love this one because I love sprints and riding fast... and the song is perfect for this type of effort. You ALMOST forget you're working hard because the song is so good! 'Big Bank', baby!"
Pete Peterson says the highlight of the release for him is Track 4: "I'd train to this song every single day and never get tired of it! Just when you think you can't take anymore, there's a subtle shift in the beat that keeps driving you hard. It's Strength Power at its finest, so really crank this one and go hard at it!
"Jumps are on trend and 32 gave us a taste… in 33, there are some powerful short jumps which will get your heart rate into that training zone fast. Your legs and lungs will burn with excitement! I remember trying to get out some coaching during these interludes and it felt like a jumble of words because I couldn't catch my breath. I haven't seen the final cut yet, so I'm hoping for some post-production magic!"
"My favorite song is hands down the power finisher, track 6, 'Lean On You'," says Jen Parrish. "The whole release is terrific, but this song is so uplifting and such a great high to end on. The Workout Plan is challenging, but this song will just put a huge smile on your face. It's so powerful!
"The innovations come in the infusion of research updates on long and short HIIT. Stacking them in such a way to optimize the training is really the "special sauce" of the release and it was great to hear the team break it all down. These are things you don't really appreciate when you're in the workout itself."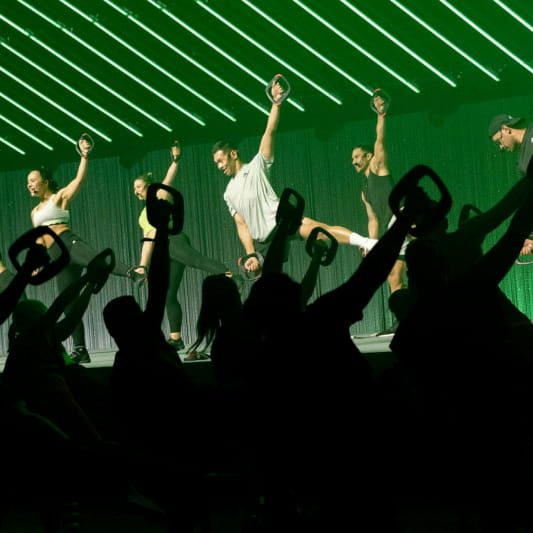 LES MILLS TONE™ 23: CREATIVE TEAM
Presenters: Bram Prima Halim, Des Helu, Jackie Barron, Julia Scheve, Katie Kneupper, Kaylah-Blayr Fitzsimons-Nu'u, Khiran Huston, Lula Slaughter, Mariana Almeida, Mark Nu'u-Steele, Martine Matapo-Kolisko, Michal Okmianski, Vili Fifita, Vivian Gill
Get ready for LES MILLS TONE 23, an incredible fusion of athleticism, fun music, and lots of options for all!
"TONE 23 is such an amazing release!" says Katie Kneupper. "It's super athletic with very fun music and it's got tons of opportunity to be a low-impact athlete and get a great workout — low impact does NOT mean low intensity. It hits you with innovations right up front which return throughout the release, so you get familiar with them and reap the benefits.
"I love a good burpee track and Peak Cardio 3 does not disappoint! There are tons of options to be the athlete you want to be, which is so cool. But I can't count out the glute track… just when you think it's over, it keeps going — it's deceptive, challenging and fun.
"This release has a new side lunge variation where you open and close the arms. It's going to bring tons of thoracic mobility to our upper back and it's threaded throughout the release so we get very comfortable with it. It's so cool! There's also a massive focus on global glute training so get ready for a booty burn! So good!"
Jackie Barron reveals her favorite track is Peak Cardio 2 (track 4): "I LOVE the music. We have our first new combo from the Warm-Up which has great feels, followed by our high-energy 3 or 7-step run combo. It's challenging whether you're taking the low or high-impact options, and super fun!
"TONE is only going in one direction and that is UP! The music just keeps getting better — I'm so excited for this one to drop. I honestly think TONE has the best music of all the programs, and this release flows really nicely."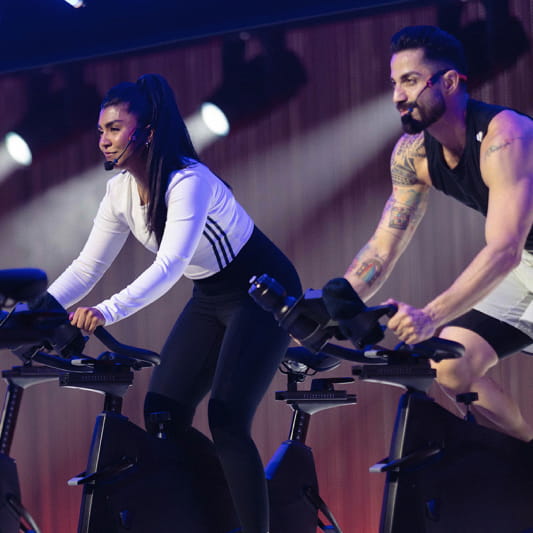 RPM™ 100: Glen Ostergaard
Presenters: Amy Lu, Axel Sevieri, Bas Hollander, Billy Aw, Bobby Santoso, Bram Prima Halim, Chelsea Savage, Eric Kouka, Glen Ostergaard, Julien Duffour, Kevin Mansuy, Kim Gibas, Mike Murphy, Nasreen Merouane, Phylis Xiao, Rawan Alsa'adi, Vincius Ribeiro
"Everyone needs a role model, especially at the beginning," says Glen Ostergaard. "I wanted to be like Mike [McSweeney, previous Program Director for RPM]. He was an awesome athlete, taught his programs how they should be taught, he didn't take any attitude from anyone, no fluff, he just delivered the product and he created an energy in his classes. He was one of those iconic athletic Instructors that people aspired to be like. You need someone like that at the beginning until you find yourself as an Instructor.
"Mike choreographed the first 25 releases, and I took over on RPM 26. One of the key things about this class is that we made it a celebration about past presenters. People will see that when they watch the Masterclass. My whole script was about remembering teachers like Mike and Steve Renata and Pete Manuel.
"What's really cool about this release is that I've used the very first Warm-Up song that was ever used in RPM — on RPM 1. I used the same sort of mix that Mike used when he put the release together. That sort of set the tone for the release. I tried to make the music quite retrospective. Everyone will recognize them — they're all classics, old-school hits. It's quite a sing-along release. Eighties, nineties, remixes — that sort of thing. It's a really fun release and it's a great way to celebrate 25 years of music and RPM workouts!"