Physical fitness was not a part of Magda Newman's childhood in Poland. She showed musical promise at a young age and competed in classical piano competitions from age six. Her music teachers stressed the importance of protecting her fingers, which required her avoiding sports and school gym class.
Music remained the center of Magda's life through graduate school, but when her son, Nathaniel, was born her world turned upside down. Nathaniel was diagnosed with with Treacher Collins Syndrome. The first thing Magda noticed was that he had no external ears. How he would hear music? She quickly realized he had more serious problems to overcome.
Treacher Collins Syndrome affects people differently, but its main characteristics involve deformed facial bones. In Nathaniel's case, his cheekbones developed in a wall behind his nose, making nasal breathing impossible. Without support from cheekbones, the eyes droop. Nathaniel was missing lower eyelids. His lower jaw was disproportionately small and prevented him from eating by mouth for several years, causing him to rely instead on a gastronomy tube (G-tube). He breathed with help from a tracheostomy until a ground-breaking surgery at age 13, and has so far endured 67 craniofacial surgeries related to his condition.
The family worked closely with doctors at NYU Medical Center to get Nathaniel the help he needed. They also worked with geneticists before becoming pregnant with a second son, Jacob, who was born without complications.
Meanwhile, Magda was experiencing numerous unexplained complications of her own. After Jacob's birth, she lost 70 pounds in a week. For six months she was weak, had unexplained severe back pain, and often felt like she was having a heart attack. She was told it was all in her head, that she had postpartum depression, and she was repeatedly misdiagnosed.
Finally, one doctor discovered the truth. "Tumors basically crushed my spine in two spots and I wasn't able to walk. I thought I was having a heart attack because the tumors were pressing on my heart. By the time I was diagnosed with cancer, I was in the last stage, given maybe eight weeks to live."
At age 27, she received strong chemotherapy for eight months for Non-Hodgkin Lymphoma. Her oncologist told Magda the chemo would "cure her or kill her." It cured her.
A year later and still weak from chemo, a job promotion for Magda's husband, Russel, meant the family moved to Connecticut. A new friend asked Magda to join her at a group exercise class. She initially rejected the idea. "How can I go to the gym? Look at me! I'm the sick girl. I just finished chemo for cancer."
But her friend wouldn't take no for an answer. "I thought, 'I'm just going to hide in the back, I'm going to use the least weight I can possibly use'," Magda recalls. Little did she know that one class could change her life. "I was hooked from the moment the music started." She was amazed by the Instructor, the dedication of the people around her, and even admired the "cool and colorful gym clothes" members were wearing.
"I found my happy place," she says. "I told my friend I was joining the gym because of this class."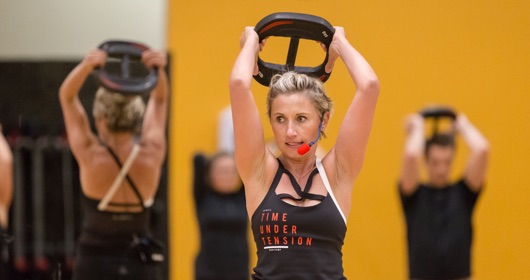 The "sick girl" with spinal fractures and lingering effects from chemo attended class three to four times a week. She slowly shifted from the back of the room to the front. Gym time became her time to do something for herself.
"I had never exercised my whole entire life. I wanted to have some muscles. I had none – literally just hanging skin." Magda saw herself transform in the gym mirror. "I started loving what I saw there. I didn't look like the sick girl. I started getting muscles. I could see my biceps, my triceps, my quads. I felt like a million bucks. I felt so strong."
After a year, Magda decided to become a group fitness Instructor. "I started thinking, 'I am a concert pianist. I am missing something. I am missing being on the stage. I can teach this. I love it so much!'" After discussing it with her husband, she decided to go for it. "Fitness is my calling, my passion. My heart started beating faster every time I walked into class." She realized she experienced the same endorphin rush in class that she used to feel playing piano on stage.
She met her goal and became a certified Instructor. She loved helping members of all levels, especially those recovering from illness and injuries. Then one day while teaching, Magda's hip suddenly stopped working. She couldn't squat. Going straight to the doctor she learned the chemo had destroyed her hip and she'd need a total hip replacement. Most people would have been in extreme pain leading up to such an event, but Magda's nerve damage from chemo had masked the signs.
Magda amazed her doctors with a quick recovery and says her pre-surgery physical fitness level helped her get back to teaching just eight weeks after surgery.
When the family relocated to Reno, Nevada, for Russel's work and also to be closer to Nathaniel's new team of Seattle-based doctors, and Magda began searching for a gym. Finding one that offered BODYPUMP, she earned her certification. She loved the simplicity of the movements, the safety, options, fun, and the great results BODYPUMP provides.
Then one day in class Magda started coughing. This time she was shocked to learn from her doctors she had stage four cancer – of a different kind. Her doctors recommended specialized treatment in New York City or Seattle for stage four Hodgkin's Lymphoma. The tumor was wrapped around her windpipe. "I was told that without treatment, in five to six days, I was going to choke to death."
Days later she started an aggressive chemotherapy protocol in Seattle. Every 21 days she underwent five straight days of constant chemo for a total of eight rounds. Each time she checked into to the hospital for a five-day stay, she packed her light dumbbells, kettlebells, and BODYPUMP releases to stay motivated and fit. "I didn't want to look like the sick girl. Mentally I felt like I could do something for my body and release the stress. I wasn't going to think about cancer. My next goal was to find a gym and teach."
She beat cancer again. A little while later she auditioned at Gold's Gym and was brought onto the team. As if all this wasn't enough, throughout this time, Nathaniel was having multiple surgeries related to his craniofacial condition.
Fitness was Magda's outlet. "Instead of taking antidepressants, drinking, or something else to make myself happy, fitness was my medicine, my escape. Instead of going shopping and spending money to become happy, I would teach BODYPUMP. I love to sweat! You feel like you accomplish something when you work out and lift weights. For me personally, it's my hour of BODYPUMP. Because of it, I'm a better human, mother, and wife."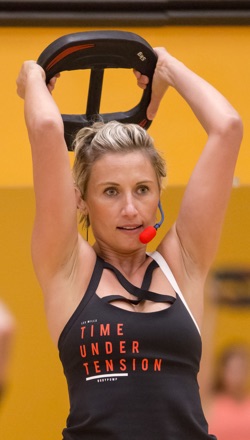 Meanwhile another miracle was unfolding. The movie version of the children's novel, Wonder, by R. J. Palacio, was released in late 2017. Starring Julia Roberts and Owen Wilson, it revolves around a fictional character named Auggie, who has Treacher Collins Syndrome, just like Nathaniel. The author had met Nathaniel through her research at NYU Medical Center, and invited him to visit schools and make public appearances with her to promote the book's message of acceptance and kindness.
Nathaniel was even considered for the leading role in the movie, says Magda, but a planned major surgery interfered with the filming schedule. However, Magda says Nathaniel was part of the inspiration for the prosthetic mask worn by actor Jacob Tremblay. "They tried to build Auggie's face based on Nathaniel's".
The Newmans visited the movie set while Magda was still going through chemo, and also attended the premier in Hollywood. "Wonder has created awareness about any type of disability," says Magda. "Nathaniel doesn't get the stares at the playground that he did before, and people, especially kids, are embracing the fact that he's different. It's made a tremendous difference."
Today Nathaniel is doing well after his latest major surgery and the year of recovery that followed. Magda is writing two books; a memoir of her own experiences, and another of Nathaniel's life and how he continues to overcome severe challenges.
She continues to teach BODYPUMP and remains devoted to being strong and healthy. She particularly praises BODYPUMP for allowing a woman with a fractured spine, artificial hip, living with the effects from chemo, to safely exercise. "This is a perfect example of how safe it is. You are basically standing in one spot, your spine is always straight, and you can build muscles around it," she says. "You don't get injured because of the joint alignment. It works, it really works, I just love it and it changed my life."
Photo Credit: Stephanie Rubyor Photography