SARAH SHORTT: Hi G, BODYJAM has recently landed on LES MILLS+ and you've just wrapped up filming the 100th release of this epic dance workout. What makes BODYJAM different from other dance workouts?
GANDALF ARCHER MILLS: Doing any normal dance class you don't generally have a high level of exertion, but what's different about BODYJAM is that it's a huge workout. Once you've done a new release three or four times and you have a better knowledge of the choreography, you can really work yourself up into quite the fitness frenzy.
When I tell my fitness watch that I'm about to do a dance class, it's like: 'Cool, I'm ready to track you.' And then I do BODYJAM and my watch is like: 'What is wrong with you? Nobody has ever danced this hard in the history of the world!'
The other thing about BODYJAM is that the rewards are different from other programs out there. You do a BODYPUMP™ workout and you know it's working because your biceps hurt, or you do BODYATTACK™ and you know it's working because you're exhausted. Whereas in BODYJAM – that can't breathe cardio exertion is there if you want it, but that's not the main point of the class. The key feature is that you get to feel the music and move your body in really inventive ways. It's incredibly rewarding for your mental health, your soul, and your happiness to dance with a group in these different styles.
What you get from BODYJAM is wellness. It's more along the lines of what you get from something like yoga, where you experience this beautiful state change into something euphoric and happy. You leave a BODYJAM class and your world is filled with more light than before.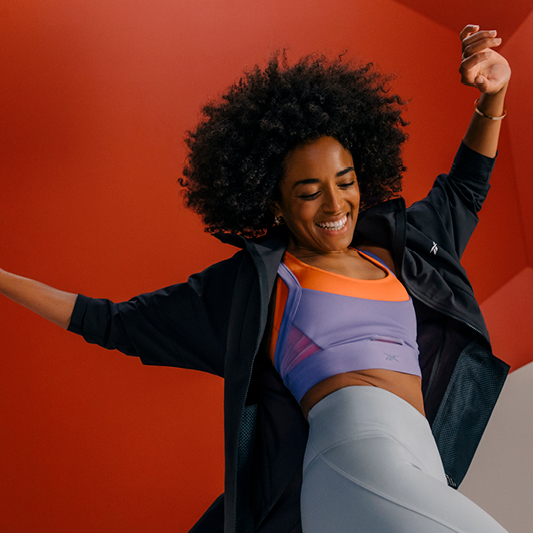 You've been choreographing the program for a long time now. Can you share a little about the history?
BODYJAM was born out of the world of 90s hip hop workouts and a class at Les Mills Auckland City we used to call "cardio funk". Les Mills had already launched BODYPUMP and BODYSTEP™ internationally and saw the opportunity to offer a dance-based workout to clubs. BODYJAM was developed in New Zealand in the late 1990s, and launched on the global stage with release 15.
I was actually involved right from the start. The original BODYJAM choreographer was an amazing woman called Ruth Pirihi, who also taught dance classes at my school. When I was 12, she got a group of four of us to start teaching classes, and so every morning before school we would teach these 10-minute aerobics/hip hop routines to the rest of the kids. ('Teaching' might be a bit strong. We got on stage, pushed play and would do a lot of movements to 2Unlimited who created the banger of all bangers: Get ready for this.)
When I started college at 14 I enrolled in a course Ruth was running to train group fitness Instructors and she enlisted me – along with a few others – to start contributing to the BODYJAM choreography. Every week my Mum would give me five dollars to go buy a cassette tape with the latest song I loved. I'd turn up to those sessions with my new tape and say: "Let's choreograph something to this." We'd make something up and then go teach it that night in a BODYJAM class. Ruth taught me so much about choreography and how to create simple routines with lots of feel. In those early days, seeing how everybody worked, how everybody operated, the commitment to dance and the love of music and movement had a huge impact on me as a teenager.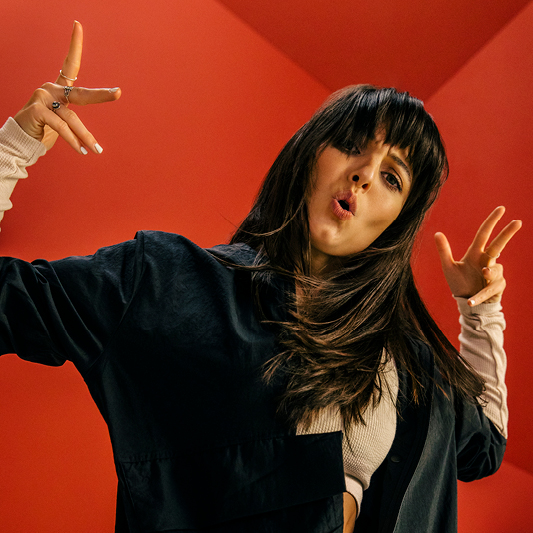 And when did you start choreographing the class?
I don't think I contributed any choreography to BODYJAM 1, but I definitely added some choreography to BODYJAM 2. I was part of the team that was on the videos of BODYJAM when it was only being taught in New Zealand.
Then, when Ruth left Les Mills in 2004, they asked me to choreograph the next release – which turned out to be my audition for the role of Program Director. I put together some interesting ideas that nobody had seen before, plus I did a backflip… and I got the job! I've put together every release since then. I've worked with a few different choreographers, including Guillaume Lorentz, Magnus Ringbur and Parris Goebel, but mostly it's just me by myself with my headphones on in the studio.
The music is such an important part of BODYJAM – you started sourcing cassette tapes and now you've progressed to creating bespoke tracks. Is this your favorite part?
Right now, I love making the music. I really love the challenge of designing songs. The song structure, the sounds, the bells, the drops... I love the whole process.
I love it 'cause when I start a song, there's nothing there. I get to make every single decision. It's like writing a novel and starting a blank page that you get to fill with your words. You get to decide every single element of every single sound that goes anywhere in the song and change it to suit where you think it should be. It's complete creative freedom.
And what's your stand-out most amazing BODYJAM experience?
I'll never forget BODYJAM 74 at the Grand Palais with 5,000 French people. I loved the music, the dance styles, the simplicity and complexity… and I had 5,000 people all doing this new release they'd never seen before and going crazy. When it finished, I was completely overwhelmed and full of emotion. I went to the back of the room, found some concrete steps to lay down on and stared at the ceiling for like 20 minutes, needing the space to process what had just happened.
What can we expect with future BODYJAM workouts?
In BODYJAM we get to experiment a lot – with music, style, and class structure. Looking forward, we filmed the latest release using this insanely beautiful new technology called XR – extended reality – where the cameras and computers talk to one another to create this incredible three-dimensional world around the presenters on the stage in real-time. When you see the release, you'll know what I'm talking about because it looks completely bonkers, which I think is a cool way to showcase where BODYJAM is going.
Learn about the science behind BODYJAM and how dance benefits every body.
This article originally appeared at www.lesmills.com/instructors/instructor-news/bodyjam-100/