Low-impact is an unfortunate name really. After all, if you're spending time working out, you want it to make a difference. Low-impact suggests that your efforts could be inconsequential. But that's certainly not the case. Low-impact workouts deliver results on all sorts of levels.
The low-impact element actually relates to your joints. Any type of movement that is done in a fluid motion, or is gentle on your joints, is considered low impact. Swimming, cycling, yoga, and walking are the most popular examples. While these activities don't put a lot of pressure on your joints, they can still put your heart and muscles under the pump – and that's what delivers the strength and fitness gains you're after.
Low-impact exercise is ideal for beginners
Most low-impact exercises can be done at varied paces, which makes them suitable for all fitness levels. Starting your fitness journey with low-impact exercise is a great way to find your feet, learn moves without over-exertion, and build solid exercise habits. It can increase your fitness, help improve posture, develop your core, and build muscular strength, so you can launch into more powerful, higher-impact movements.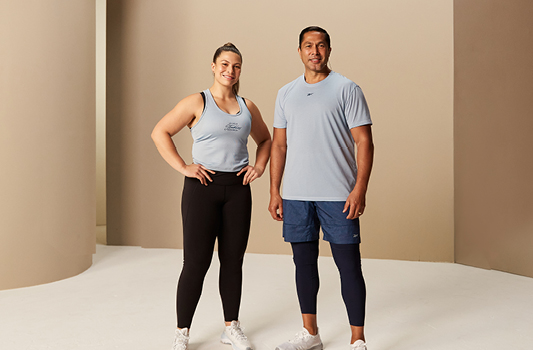 Low-impact exercise can be great if you're injured
If you've suffered an injury, low-impact exercise can be your best friend. It puts no added stress on your joints, so it's a great way to maintain mobility and fitness as you recover. Additionally, some low-impact exercises, such as yoga, focus on developing flexibility, which helps develop balance and stability – key to injury recovery and ongoing injury prevention.
Low-impact exercise can work wonders for all
Just because they are low impact, doesn't mean they are low intensity. Many exercisers of all fitness levels choose low-impact workouts as part of their training program. If you've ever used an indoor cycle or rower you'll know you can very quickly raise your heart rate and take low impact training from moderate to high intensity.
When traditional low-impact movements – such as cycling, swimming and rowing – are done at pace, this type of exercise can quickly transport you to the moderate-intensity training zone. You will raise your heart rate, build strength and improve cardiovascular fitness. Yoga is another low-impact style of exercise that delivers remarkable health benefits. And there are plenty more. Even workouts like BODYATTACK™, BODYCOMBAT™ and BODYSTEP™, which conjure up visions of leaping, jumping and kicking, are packed with low-intensity modifications. Jumping lunges can be swapped for backward stepping lunges, air jacks can be grounded, and jump kicks can be done sans jump.
"It's all about time under tension," says Bryce Hastings, Les Mills Head of Research. "Just think of one of those dreaded wall sit tests. Building pressure within the target muscles challenges our ability to deliver oxygen and creates fatigue. That fatigue opens the door to the myriad changes we see at the muscular level."

Can HIIT be low-impact?
High-intensity training is synonymous with burpees, tuck jumps and other power-packed movements. In most cases, it is anything but low-impact. However, there are some exceptions, such as LES MILLS SPRINT™. After completing a study into the power of high-intensity interval cycling, Dr. Jinger Gottschall concluded that this form of HIIT on a bike is an effective, low-impact alternative to traditional high-intensity interval training. "We've long known that high-intensity exercise can make a significant difference in overall health and fitness in a relatively short amount of time, but because this type of exercise often involves weight-bearing impact, it hasn't been a viable option for those who suffer foot, knee, and lower back pain. These findings suggest that low-impact interval cycling can achieve similar results to weight-bearing HIIT."
High-intensity interval cycling is also ideal if you're looking to introduce high-intensity to your training. "There is no complex technique to master and you manage your own resistance," says Bryce Hastings. "It allows you to safely push your body through high-intensity intervals and swiftly boost your fitness levels."